Click Here for More Articles on BEAUTY & THE BEAST
Photos: Beauty and the Beast Closing Night
After enchanting audiences for more than 13 years, Disney's Beauty and the Beast took its final bow at the Lunt-Fontanne Theatre (205 West 46th Street) on Sunday, July 29th.  The Broadway production played 46 previews and 5,464 regular performances.  Donny Osmond, who was previously seen in Beauty and the Beast, played Gaston for the closing night performance.
Beauty and the Beast officially opened on Broadway on April 18, 1994 and played at the Palace Theatre for the first five years of its run. The production transferred to the Lunt-Fontanne Theatre on November 11, 1999.  The musical is the 6th longest-running Broadway show of all time. 
The musical, directed by Robert Jess Roth, features Alan Menken's Academy Award-winning score, with songs by Alan Menken and the late Howard Ashman (including the Academy Award-winning title song and the show-stopping "Be Our Guest"), plus songs written especially for the stage by Alan Menken and Tim Rice (including "If I Can't Love Her" and "A Change In Me").   The production also features a book by Linda Woolverton, author of the original screenplay and choreography by Matt West.  Sets are by Stanley A. Meyer, costumes by Ann Hould-Ward (Tony Award-winner for Beauty and the Beast) and lighting by Natasha Katz (Tony Award-winner for Elton John and Tim Rice's AIDA). 
The cast at closing included Anneliese van der Pol as Belle, Steve Blanchard as the Beast, Stephen Buntrock as Gaston, David Devries as Lumiere, Jeanne Lehman as Mrs. Potts, Glenn Rainey as Cogsworth, Jamie Ross as Maurice, Ann Mandrella as Babette, Mary Stout as Madame de la Grande Bouche, Aldrin Gonzalez as Lefou, and Trevor Braun and Marlon Sherman alternating in the role of Chip. 
Visit www.disneyonbroadway.com for more information.
The Final Bows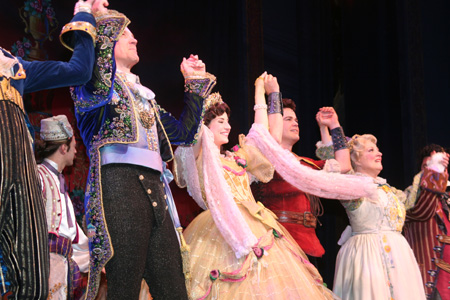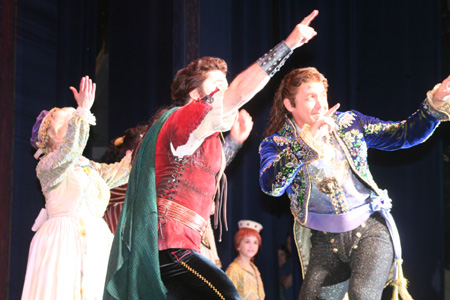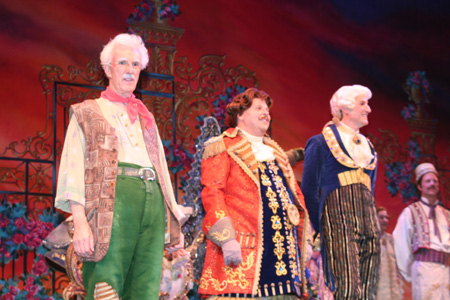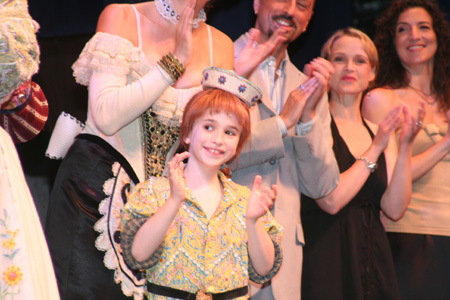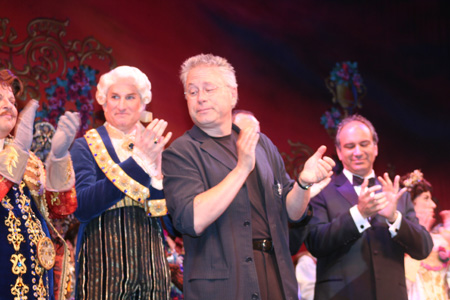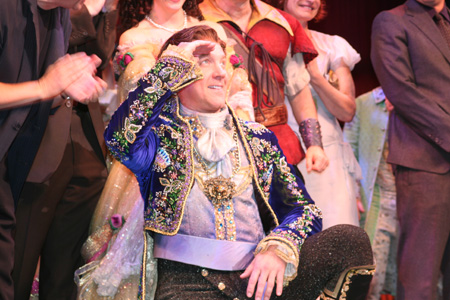 Andrea McArdle (former Belle)

Ashley Brown (former Belle, Mary Poppins)

Robert Jess Roth (Director)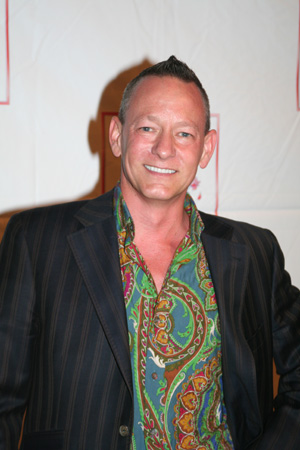 Stanley A. Meyer (Set Design)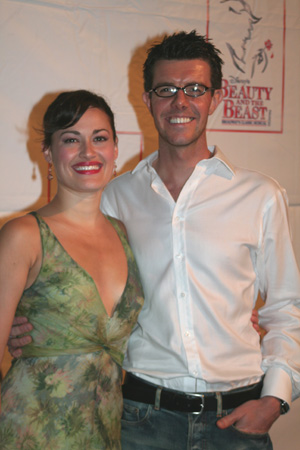 Ashley Brown and Gavin Lee (Mary Poppins)

Alan Menken (Music)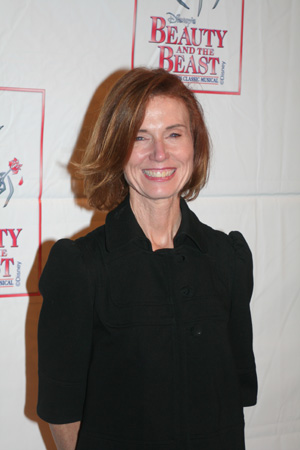 Linda Woolverton (Book)

Trevor Braun (Chip)

Jamie Ross (Maurice)

Matt West (Choroegrapher)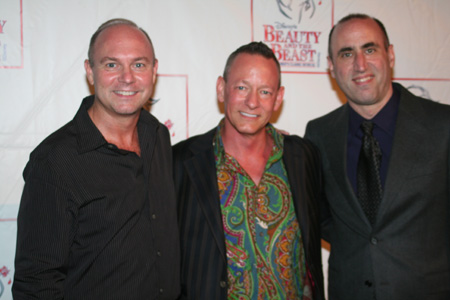 Matt West, Stanley A. Meyer and Robert Jess Roth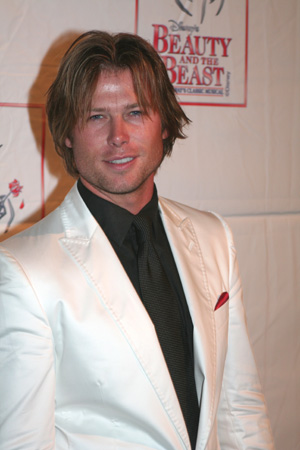 Jacob Young (former Lumiere, ABC's "All My Children")

Christen Steward and Jacob Young

Mark Rozzano (Associate Producer) and Jacob Young

Aldrin Gonzalez (Lefou)

David deVries (Lumiere)

Bill Nabel - Who was with the show from
workshop to final performance (Ensemble, u/s Lumiere, u/s Cogsworth, u/s Maurice, u/s Monsieur D'Arque)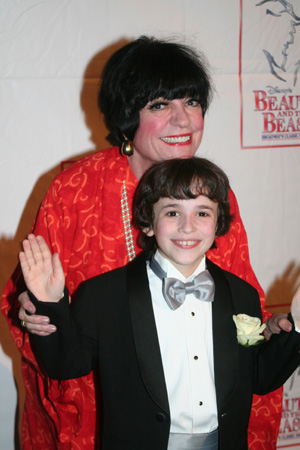 JoAnne Worley and Trevor Braun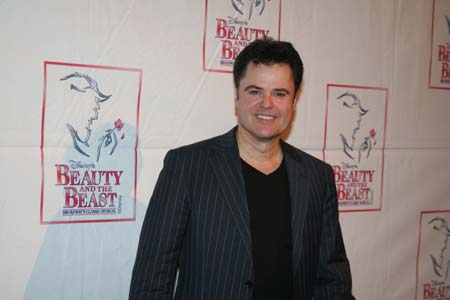 Donny Osmond (Gaston)

Christy Carlson Romano (former Belle)

Keith Fortner (Ensemble/Swing, u/s Lefou), Connor Gallagher (Young Prince, Doormat, Ensemble, u/s Lefou) Ana Maria Andricain (Ensemble, u/s Belle), Christopher DeAngelis (Ensemble, Salt, u/s Lumiere)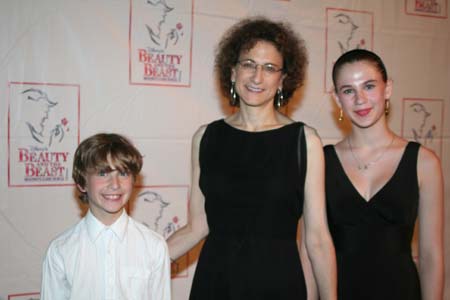 Natasha Katz (Lighting Designer) with her family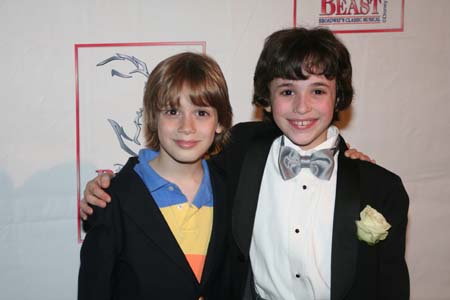 Two Chips - Marlon Sherman and Trevor Braun

David Spangenthal (Ensemble, u/s Beast, u/s Gaston, u/s Monsieur D'Arque), Daria Lynn Scatton (Ensemble, Swing, Dance Captain), Rod Roberts (Ensemble/Cheesegrater), Billy Vitelli (Ensemble, Book Seller, u/s Monsieur D'Arque, u/s Maurice, u/s Cogsworth)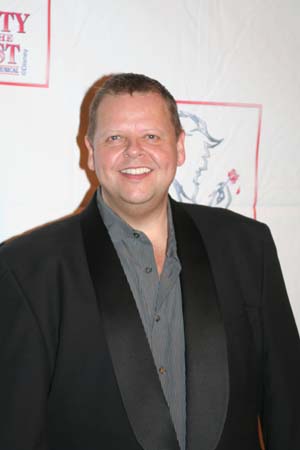 Glenn Rainey (Cogsworth)

Jeanne Lehman (Mrs. Potts) with her husband

Ann Mandrella (Babette)

Steve Blanchard (Beast)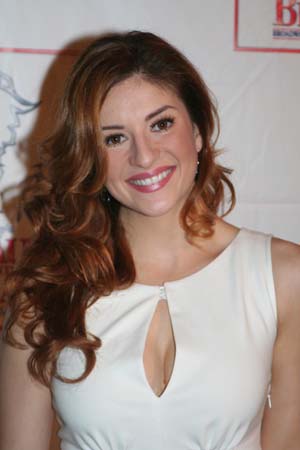 Anneliese van der Pol (Belle)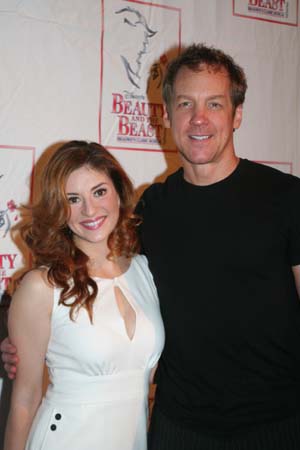 Anneliese van der Pol and Steve Blanchard

John Tartaglia (former Lumiere, Disney's "Johnny and the Sprites")

Mary Stout (Madame de la Grande Bouche)