Photo Coverage: BYE BYE BIRDIE Celebrates Box Office Opening With $10 Tickets, Prizes And More!
Roundabout Theatre Company (Artistic Director, Todd Haimes) presented a huge event this morning, Monday, August 10th, 2009 at 11:45AM to celebrate the box office opening at Broadway's new Henry Miller's Theatre (124 West 43rd Street). The box office officially opened at 12:00PM with tickets on sale to the general public.
Ticket buyers and fans of Bye Bye Birdie were invited to the Henry Miller's Theatre on August 10th to:
PURCHASE $10 tickets for the 1st preview of Bye Bye Birdie, generously made possible by Bank of America.
MEET the dreamy star who will play "Conrad Birdie" Nolan Gerard Funk from Nickelodeon's "Spectacular!" & meet the award winning Composer Charles Strouse & Lyricist Lee Adams. Conrad's screaming fans and the official Birdie fan club lined up early!
BIG prizes! The first 50 fans in line received a Bye Bye Birdie lunchbox and one lucky lunchbox contained 2 tickets to the opening night performance - and after party with the cast - courtesy of Bank of America!
MORE giveaways! Additional fans in line got the chance to receive an original Bye Bye Birdie Playbill from 1960 and have it autographed by Charles Strouse & Lee Adams.
The Henry Miller's Theatre is Broadway's newest and greenest theatre. Tickets are on sale through January 10, 2010. Bye Bye Birdie is the inaugural production of the new Henry Miller's Theatre, which is located in the new Bank of America Tower at One Bryant Park. Performances begin September 10th and the official opening is October 15th, 2009.
For more information about the show, please go to www.byebyebirdieonbroadway.com.
After a 48 year absence, Roundabout Theatre Company presents the first new Broadway production of Bye Bye Birdie as the inaugural production of the new Henry Miller's Theatre (124 West 43rd Street). Bye Bye Birdie will star John Stamos (Albert Peterson), Gina Gershon (Rose Alvarez) & Bill Irwin (Mr. Harry MacAfee) with Jayne Houdyshell (Mrs. Mae Peterson) & Dee Hoty(Mrs. MacAfee).
The cast will also feature Matt Doyle (Hugo Peabody), Jake Evan Schwencke (Randolph MacAfee), Allie Trimm (Kim MacAfee) and as "Conrad Birdie" Nolan Gerard Funk. Robert Longbottom will direct and choreograph Bye Bye Birdie with a book by Michael Stewart, music by Charles Strouseand lyrics by Lee Adams.
In Bye Bye Birdie, the exuberant rock n' roll musical comedy, it's 1960 and hip-swingin' teen idol superstar Conrad Birdie (Funk) has been drafted into the army. Birdie's manager Albert (Stamos) and his secretary Rosie (Gershon) have cooked up a plan to send him off with a swell new song and one last kiss from a lucky teenage fan... on "The Ed Sullivan Show"!
Bye Bye Birdie received the 1961 Tony Award® for Best Musical and features such beloved songs as "Put on A Happy Face," "Kids," "Spanish Rose," "The Telephone Hour" and "A Lot of Livin' To Do."
Major support for Roundabout Theatre Company provided by Bank of America. Lead support for this production provided by Roundabout's Musical Theatre Production Fund partners: Perry and Marty Granoff, The Kaplen Foundation, Peter and Leni May, John and Gilda McGarry, Tom and Diane Tuft. Generous support also provided by The Blanche and Irving Laurie Foundation.
Bank of America is a major supporter of arts and heritage in the United States, and increasingly in Europe. Its support is built on a foundation of responsible business practices and good corporate citizenship that helps improve access to the arts and arts education in local communities nationwide. Bank of America offers customers free access to more than 120 of the nation's finest cultural institutions through its acclaimed Museums on Us® program, while the Art in Our Communities program shares exhibits from the bank's corporate collection with communities across the country through local museums. In addition, the Bank of America Charitable Foundation provides philanthropic support to museums, theaters and other arts-related nonprofits to expand their services and offerings to schools and communities. Bank of America's unique arts and heritage program makes good business sense by providing customers with a distinct benefit, while supporting the economic and cultural vitality of the communities it serves.
Roundabout Theatre Company's mission has remained consistent for 42 years. At the very heart of the not-for-profit company is a commitment to re-energize classic plays and musicals by teaming great theatrical works with the industry's finest artists, providing great theatre and a quality experience to their subscribers. Each year, over 40,000 subscribers see up to eight new productions at Roundabout all at a cost well below Broadway box office prices. An equally important core value of the organization is its dedication to providing the highest possible level of customer service to its audiences and loyal subscribers. Friendly and welcoming staff, comfortable state-of-the-art venues, audience enrichment programs, and initiatives such as ACCESS ROUNDABOUT, are all an integral part of the Roundabout experience.
Roundabout Theatre Company currently produces at three permanent homes each of which is designed specifically to enhance the needs of the Roundabout's mission. Off-Broadway, the Harold and Miriam Steinberg Center for Theatre, which houses the Laura Pels Theatre and Black Box Theatre, with its simple sophisticated design is perfectly suited to showcasing new plays. The grandeur of its Broadway home on 42nd Street, American Airlines Theatre, sets the ideal stage for the classics. Roundabout's Studio 54 provides an exciting and intimate Broadway venue for its musical and special event productions. Together these three distinctive venues serve to enhance the work on each of its stages.
American Airlines is the official airline of Roundabout Theatre Company. Roundabout productions are made possible, in part, with public funds from the New York State Council on the Arts, the New York City Department of Cultural Affairs, the National Endowment for the Arts; and the New York State Office of Parks, Recreation and Historic Preservation.
Roundabout Theatre Company's 2009-2010 season includes Mark Saltzman, Irving Berlin &Scott Joplin's The Tin Pan Alley Rag, directed by Stafford Arima; Patrick Marber's After Miss Julie, starring Sienna Miller & Jonny Lee Miller, directed by Mark Brokaw; Michael Stewart, Lee Adams and Charles Strouse's Bye Bye Birdie, starring John Stamos, Gina Gershon, Bill Irwin & Nolan Gerard Funk, directed and choreographed by Robert Longbottom; Carrie Fisher's Wishful Drinking, directed by Tony Taccone; Theresa Rebeck's The Understudy, with Julie White, directed by Scott Ellis; Adam Gwon's Ordinary Days, directed by Marc Bruni; Noël Coward's Present Laughter starring Victor Garber, directed by Nicholas Martin; and Tennessee Williams' The Glass Menagerie directed by Gordon Edelstein. Roundabout's sold out production of The 39 Steps made its second Broadway transfer to the Helen Hayes Theatre on January 21, 2009.
For more information, visit www.roundabouttheatre.org.
Photos by Walter McBride/Retna Ltd.

'Conrad Birdie' Meets His Fans, Nolan Gerard Funk makes the scene!

Nolan Gerard Funk is Broadway's 'BIRDIE'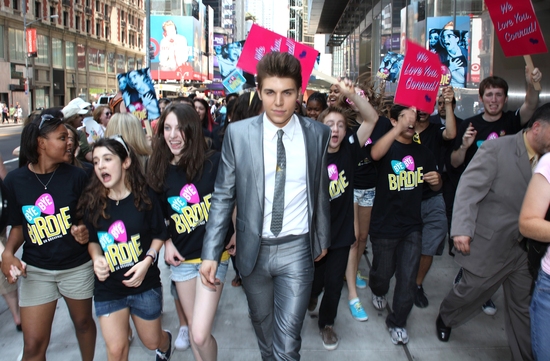 Nolan Gerard Funk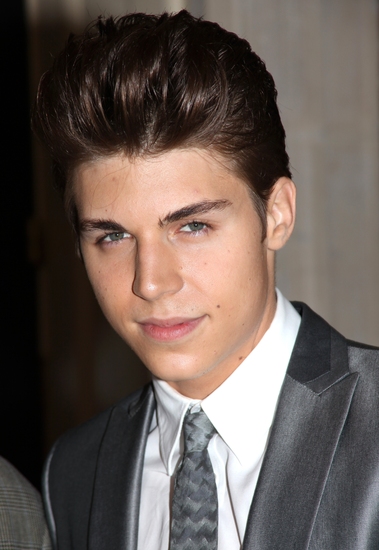 Nolan Gerard Funk

Nolan Gerard Funk

Nolan Gerard Funk

Nolan Gerard Funk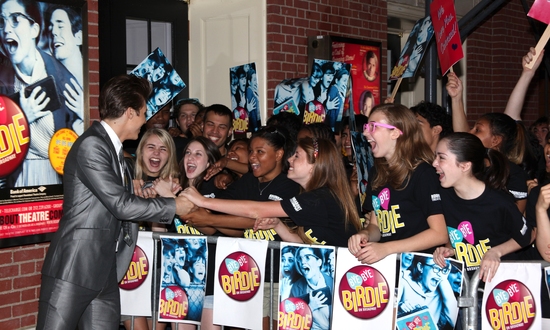 Nolan Gerard Funk and his swooning fans

Nolan Gerard Funk

Nolan Gerard Funk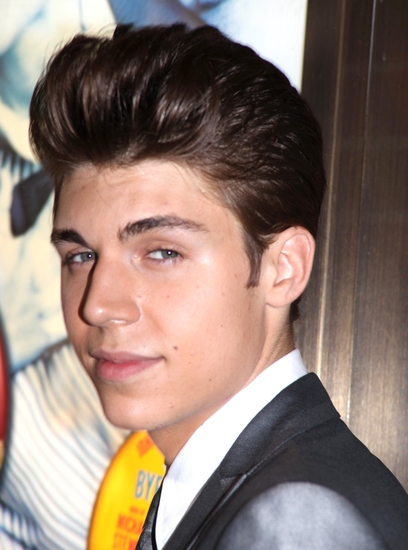 Nolan Gerard Funk

Nolan Gerard Funk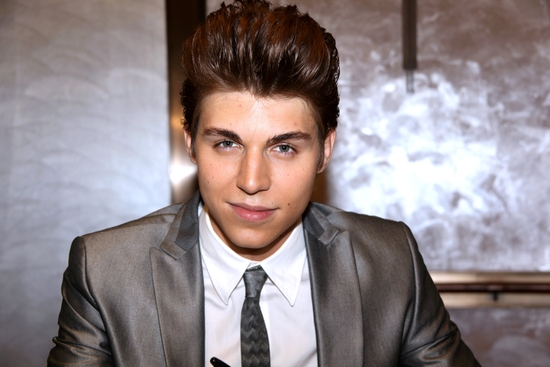 Nolan Gerard Funk

Nolan Gerard Funk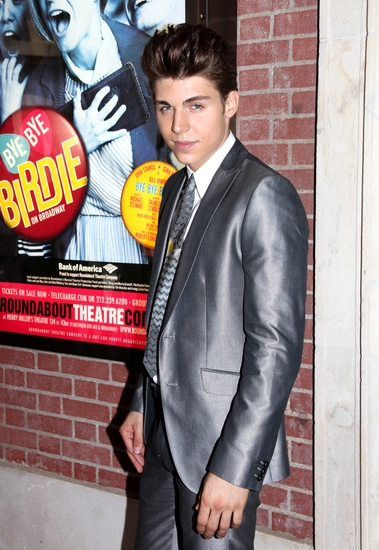 Nolan Gerard Funk

Nolan Gerard Funk

Nolan Gerard Funk

Nolan Gerard Funk

Nolan Gerard Funk

Nolan Gerard Funk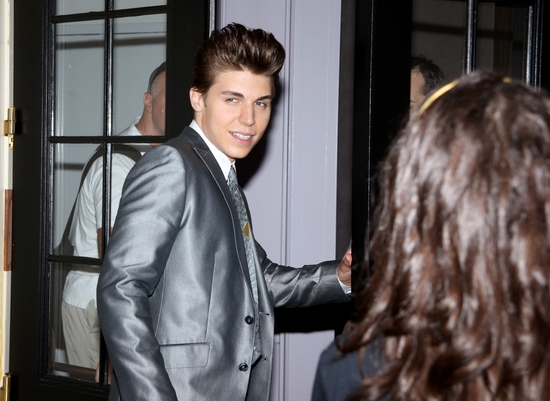 Nolan Gerard Funk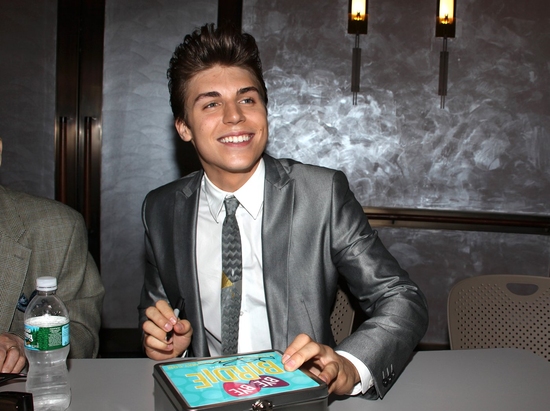 Nolan Gerard Funk

Lee Adams, Charles Strouse and Nolan Gerard Funk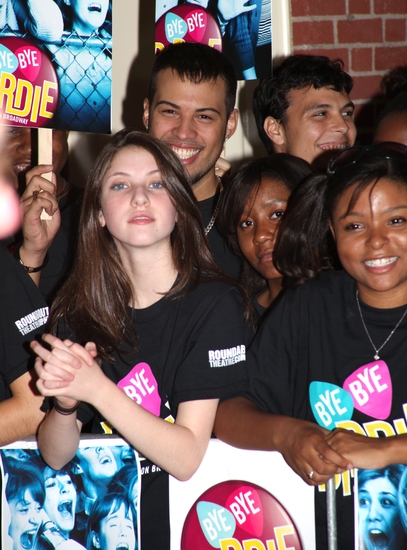 'BIRDIE' fans unite!

Two lucky 'BIRDIE' gals!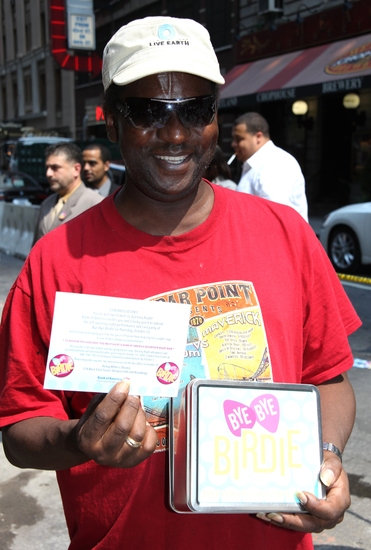 'BIRDIE' Contest Winner Erich Robinson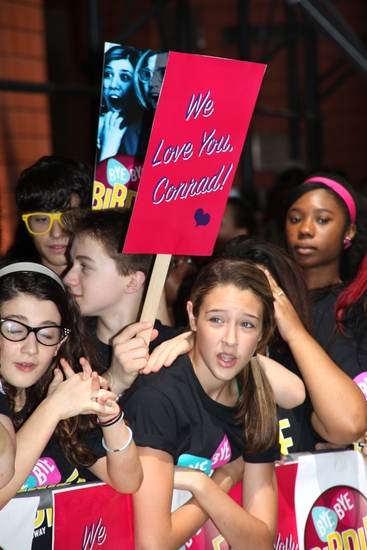 'Bring Back BIRDIE'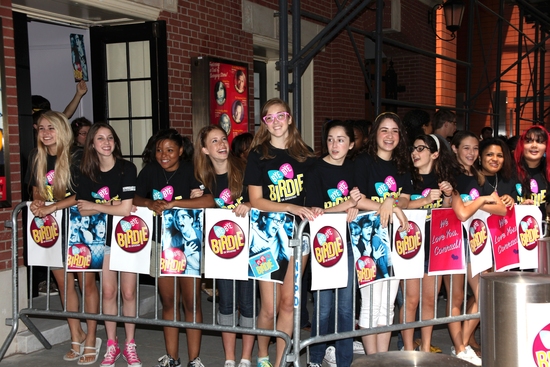 'BIRDIE' we love you!

'BYE BYE BIRDIE' fans show off the cool swag!

The much coveted BYE BYE BIRDIE lunchbox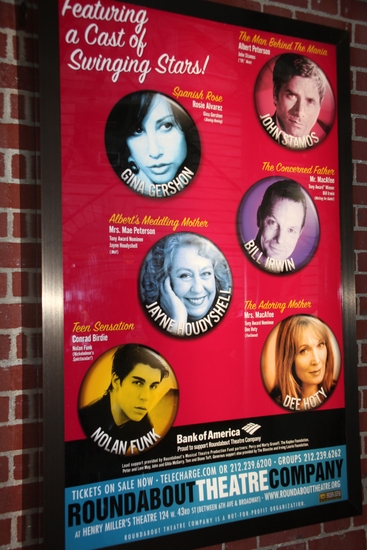 BYE BYE BIRDIE on BROADWAY!
Related Articles