Phillipa Soo, Steven Pasquale, Ali Ewoldt And More Nominated for Helen Hayes Awards
Productions under consideration in 2022 included 39 musicals, 97 plays, and 38 world premieres.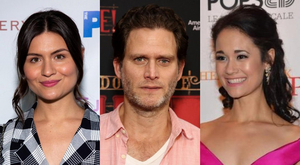 Tonight, at a celebration honoring theatre excellence on stages across the Washington area, theatre artists, administrators, patrons, and special guests gathered in The National Theatre's Helen Hayes Gallery for Theatre Washington's announcement of nominees for the 37th Helen Hayes Awards, which will be presented on Monday, May 22 at an event at the Anthem.
This will be the first in-person Helen Hayes Awards ceremony since 2019. The Awards for productions in the calendar year 2019 were presented virtually in 2020 and productions were not adjudicated during the Covid-19 pandemic in 2020 or 2021.

Theatre Washington President and CEO Amy Austin was joined by 2020 Helen Hayes Award recipients or those representing recipient productions, including Jose Carrasquillo, Kelly Colburn, Ashleigh King, Billie Krishawn, Alberto Segarra, and Greg Watkins, to welcome the audience and announce the nominations. Austin commented, "It's no secret that the theatre industry has been through an unprecedented few years. I am enormously proud of the work that has emerged despite these challenges. The Helen Hayes Awards are one way to recognize and express gratitude to Washington, DC-area theatre-makers who provide meaning for our community. To be back in person this year, to reflect on and celebrate the extraordinary work created on our stages, is moving."

Recognizing work from 131 eligible productions presented in the 2022 calendar year, nominations were made in 41 categories and grouped in "Helen" or "Hayes" cohorts, depending on the number of Equity members involved in the production. Nominations are the result of 40 carefully vetted judges considering 2,146 individual pieces of work, such as design, direction, choreography, performances, and more. Productions under consideration in 2022 included 39 musicals, 97 plays, and 38 world premieres.
Signature Theatre and GALA Hispanic Theatre saw the most number of nominations for a theatre, with 30 and 20 respectively. The most nominated productions include: ON YOUR FEET! La historia de Emilio y Gloria Estefan ¡EN ESPAÑOL! at GALA Hispanic Theatre (with 15), The Color Purple at Signature Theatre (with 13), John Proctor is the Villain at Studio Theatre (with 11), and tick, tick...BOOM! at Monumental Theatre Co (with 11).

The John Aniello Award for Outstanding Emerging Theatre Company is recognized each year by the Emerging Theatre Committee of Theatre Washington. This year's recipients are Ex-Pats Theatre and Prologue Theatre. Qualifying theatres must produce at least one show per year, with a minimum of nine performances each, for two consecutive years.

Bonnie Nelson Schwartz will receive the 2023 Helen Hayes Tribute Award. Nelson Schwartz is the founder and original producer of the Helen Hayes Awards and is a Broadway and television producer with more than 100 plays, films, television programs and concerts in Washington, DC, New York and London to her credit. Her project Traveling While Black was nominated for a 2019 Emmy Award for Outstanding Original Interactive Program. Schwartz recently produced the Global Climate Uprising Festival for the Glasgow Climate Summit in Scotland.

Named for actor Helen Hayes - a Washington native and legendary First Lady of the American Theatre - the Helen Hayes Awards has honored excellence in professional theatre throughout the Washington region for more than three decades.
---
2023 Helen Hayes Awards Nominations
Outstanding Choreography in a Musical - Hayes
Kelly Crandall d'Amboise, She Loves Me- Signature Theatre
Dane Figueroa Edidi, The Color Purple- Signature Theatre
Parker Esse, Catch Me If You Can- Arena Stage
Katie Spellman, A.D. 16- Olney Theatre Center
Lorna Ventura, American Prophet- Arena Stage
Outstanding Choreography in a Musical - Helen
Justin Calhoun, Rocky- Toby's Dinner Theatre
Maurice Johnson, Once on This Island- Constellation Theatre Company
Mark Minnick, Monty Python's Spamalot-Toby's Dinner Theatre
Luis Salgado, ON YOUR FEET!*- GALA Hispanic Theatre
David Singleton, The Spongebob Musical- Toby's Dinner Theatre
David Singleton, tick, tick...BOOM!- Monumental Theatre Co
Outstanding Choreography in a Play - Hayes
Sylvia Hernandez-DiStasi and Tracy Walsh, The Notebooks of Leonardo da Vinci- Shakespeare Theatre Company
Sandi Holloway, The Till Trilogy: The Ballad of Emmett Till- Mosaic Theater Company
Ashleigh King, Which Way to the Stage- Signature Theatre
Jesse Korvasky, Much Ado About Nothing- Shakespeare Theatre Company
Pilobolus, The Tempest- Round House Theatre
Outstanding Choreography in a Play - Helen
Maryam Najafzada, The Servant of Two Masters- Synetic Theater
Douglas Dubois and Ryan Sellers, Shakespeare in Love- The Keegan Theatre
Emily Sucher To Fall in Love Nu Sass Productions
Irina Tsikurishvili, Dracula- Synetic Theater
Irina Tsikurishvili, Host & Guest- Synetic Theater
Outstanding Musical Direction - Hayes
Liz Filios, Shaina Taub, and Manny Arciniega, The Tempest- Round House Theatre
Joseph Joubert and Paul Byssainthe, Jr., American Prophet- Arena Stage
Mark G. Meadows, The Color Purple- Signature Theatre
Rickey Payton, Sr., The Till Trilogy: The Ballad of Emmett Till- Mosaic Theater Company
Christopher Youstra, Meredith Willson's The Music Man- Olney Theatre Center
Outstanding Musical Direction - Helen
Marika Countouris, tick, tick...BOOM!- Monumental Theatre Co
Walter "Bobby" McCoy, ON YOUR FEET!*- GALA Hispanic Theatre
Ross Scott Rawlings, Monty Python's Spamalot-Toby's Dinner Theatre
Ross Scott Rawlings, The Spongebob Musical- Toby's Dinner Theatre
Elisa Rosman, Once on This Island- Constellation Theatre Company
Outstanding Costume Design - Hayes
Kara Harmon, The Color Purple- Signature Theatre
Brandee Mathies, Nollywood Dreams- Round House Theatre
Yvonne Miranda, Ain't No Mo'- Woolly Mammoth Theatre Company
David I. Reynoso, Into the Woods- Signature Theatre
Alejo Vietti, She Loves Me- Signature Theatre
Outstanding Costume Design - Helen
Flo Arnold and Janine Sunday, The Spongebob Musical- Toby's Dinner Theatre
Jeannette Christensen, ON YOUR FEET!*- GALA Hispanic Theatre
Elizabeth Morton, Shakespeare in Love- The Keegan Theatre
Kendra Rai, Dracula- Synetic Theater
Erik Teague and Alison Samantha Johnson, Under the Sea with Dredgie McGee- 1st Stage
Outstanding Lighting Design - Hayes
Jesse Belsky, John Proctor is the Villain- Studio Theatre
Colin K. Bills, Hi, Are You Single?- Woolly Mammoth Theatre Company
Peter Maradudin, The Color Purple- Signature Theatre
Nicole Pearce, Catch Me If You Can- Arena Stage
Alberto Segarra, The Joy That Carries You- Olney Theatre Center
Thom Weaver, The Tempest- Round House Theatre
Outstanding Lighting Design - Helen
Christopher Annas-Lee, ON YOUR FEET!*- GALA Hispanic Theatre
Ian Claar, Dracula- Synetic Theater
Venus Gulbranson, tick, tick...BOOM!- Monumental Theatre Co
David A. Hopkins, The Spongebob Musical- Toby's Dinner Theatre
Paata Tsikurishvili, Host & Guest- Synetic Theater
Outstanding Set Design - Hayes
Scott Bradley, The Notebooks of Leonardo da Vinci- Shakespeare Theatre Company
Daniel Conway, The Tempest- Round House Theatre
Lee Savage, She Loves Me- Signature Theatre
Lee Savage, Into the Woods- Signature Theatre
Luciana Stecconi, John Proctor is the Villain- Studio Theatre
Outstanding Set Design - Helen
Nadir Bey, The Rainmaker- 1st Stage
Clifton Chadick, ON YOUR FEET!*- GALA Hispanic Theatre
Matthew Keenan, Shakespeare in Love- The Keegan Theatre
Shane Lowry, The Spongebob Musical- Toby's Dinner Theatre
Michael Windsor and Yaritza Pacheco, tick, tick...BOOM!- Monumental Theatre Co
Outstanding Sound Design - Hayes
Nick Hernandez, Dear Mapel- Mosaic Theater Company
Nick Hernandez, Nollywood Dreams- Round House Theatre
Ryan Hickey, The Color Purple- Signature Theatre
Andre Pluess and Adam W. Johnson, The Tempest- Round House Theatre
Kathy Ruvuna, John Proctor is the Villain- Studio Theatre
Outstanding Sound Design - Helen
Draper Carter, tick, tick...BOOM!- Monumental Theatre Co
Irakli Kavsadze, Host & Guest- Synetic Theatre
navi, Under the Sea with Dredgie McGee- 1st Stage
Yaritza Pacheco, The Servant of Two Masters-Synetic Theatre
Matthew Rowe, ON YOUR FEET!*- GALA Hispanic Theatre
Outstanding Media/Projections Design - Hayes
Bradley S. Bergeron, FIRES IN THE MIRROR****-Theater J
Kelly Colburn, Dear Mapel- Mosaic Theater Company
Mona Kasra, The Till Trilogy: Benevolence- Mosaic Theater Company
Jared Mezzocchi, We declare you a terrorist....- Round House Theatre
Aaron Rhyne, Much Ado About Nothing- Shakespeare Theatre Company
Outstanding Media/Projections Design - Helen
Jeremy Bennet, Elegies: A Song Cycle- The Keegan Theatre
Jeremy Bennett, Yoga Play- The Keegan Theatre
Kelly Colburn, La Casa De La Laguna***- GALA Hispanic Theatre
Patrick Lord, ON YOUR FEET!*- GALA Hispanic Theatre
Zavier Augustus Lee Taylor, The Amazing Adventures of Dr. Wonderful (And Her Dog!)- The Keegan Theatre
Outstanding Performer - Visiting Production
Bridgette Amofah, A Monster Calls- The Kennedy Center
Kevin Chamberlain, Guys and Dolls- The Kennedy Center
Alex Edelman, Just for Us- Woolly Mammoth Theatre Company
Steven Lee Johnson, To Kill a Mockingbird- The Kennedy Center
Melanie Moore, To Kill a Mockingbird- The Kennedy Center
Steven Pasquale, Guys and Dolls- The Kennedy Center
Anita Reynolds, A Monster Calls- The Kennedy Center
Phillipa Soo, Guys and Dolls- The Kennedy Center
Richard Thomas, To Kill a Mockingbird- The Kennedy Center
Jacqueline Williams, To Kill a Mockingbird- The Kennedy Center
Outstanding Supporting Performer in a Musical - Hayes
Frenchie Davis, The Color Purple- Signature Theatre
Kaiyla Gross, The Color Purple- Signature Theatre
Andrew Morrill, Meredith Willson's The Music Man- Olney Theatre Center
Katie Mariko Murray, Into the Woods- Signature Theatre
Tracy Lynn Olivera, Disney's Beauty and the Beast- Olney Theatre Center
Solomon Parker III, The Color Purple- Signature Theatre
Maria Rizzo, She Loves Me- Signature Theatre
Nicki Runge, Meredith Willson's The Music Man- Olney Theatre Center
Bobby Smith, She Loves Me- Signature Theatre
Danielle J. Summons, The Color Purple- Signature Theatre
Outstanding Supporting Performer in a Musical - Helen
Alex Alburqueque, REVOLTOSA (The Troublemaker)**- GALA Hispanic Theatre
Alex De Bard, tick, tick...BOOM!- Monumental Theatre Co
Tyler Dobies, tick, tick...BOOM!- Monumental Theatre Co
Joey Ellinghaus, Monty Python's Spamalot-Toby's Dinner Theatre
Joey Ellinghaus, The Spongebob Musical- Toby's Dinner Theatre
Caroline Graham, Little Women- NextStop Theatre Company
Ashley Johnson, GHOST, The Musical- Toby's Dinner Theatre
Madelin Marchant, ON YOUR FEET!*- GALA Hispanic Theatre
Kamila Rodríguez, ON YOUR FEET!*- GALA Hispanic Theatre
Fran Tapia, ON YOUR FEET!*- GALA Hispanic Theatre
Outstanding Supporting Performer in a Play - Hayes
Michael Kevin Darnall, The Hot Wing King- Studio Theatre
Nate Dendy, The Tempest- Round House Theatre
Ignacio Diaz-Silverio, John Proctor is the Villain- Studio Theatre
Billie Krishawn, The Till Trilogy: The Ballad of Emmett Till- Mosaic Theater Company
Hassiem Muhammad and Ryan Sellers, The Tempest- Round House Theatre
Kate Eastwood Norris, Our Town- Shakespeare Theatre Company
Brandi Porter, Ain't No Mo'- Woolly Mammoth Theatre Company
Deidre Staples, John Proctor is the Villain- Studio Theatre
Dani Stoller, My Body No Choice- Arena Stage
Craig Wallace, Our Town- Shakespeare Theatre Company
Outstanding Supporting Performer in a Play - Helen
Ian Armstrong, The Playboy of the Western World- Solas Nua
Fabiolla Da Silva, The Revolutionists- Prologue Theatre
Crystal Henry Arful-Addoh, From the Mississippi Delta- The Essential Theatre
Tom Howley, Twigs & Bone- Nu Sass Productions
Michael Innocenti, The Outsider- The Keegan Theatre
Karen Kelleher, Shakespeare in Love- The Keegan Theatre
Marissa Liotta, Do You Feel Anger?- Theater Alliance
Arika Thames, The Revolutionists- Prologue Theatre
Jon Townson, Shakespeare in Love- The Keegan Theatre
Evelyn Rosario Vega, La Casa De La Laguna***- GALA Hispanic Theatre
Outstanding Lead Performer in a Musical - Hayes
James Caverly, Meredith Willson's The Music Man- Olney Theatre Center
Ali Ewoldt, She Loves Me- Signature Theatre
Nehal Joshi, Catch Me If You Can- Arena Stage
Kristolyn Lloyd, American Prophet- Arena Stage
Adelina Mitchell, Meredith Willson's The Music Man- Olney Theatre Center
Nova Y. Payton, Grace- Ford's Theatre
Nova Y. Payton, The Color Purple- Signature Theatre
Hayley Podschun, Catch Me If You Can- Arena Stage
Bobby Smith, No Place to Go- Signature Theatre
Vishal Vaidya, Meredith Willson's The Music Man- Olney Theatre Center
Outstanding Lead Performer in a Musical - Helen
Gaby Albo, ON YOUR FEET!*- GALA Hispanic Theatre
Jessica Barraclough, Xanadu- Workhouse Arts Center
Kyle Dalsimer, The Spongebob Musical- Toby's Dinner Theatre
Samuel Garnica, ON YOUR FEET!- GALA Hispanic Theatre
Sally Imbriano, Lucky Stiff- NextStop Theatre Company
Katie McManus, Little Women- NextStop Theatre Company
Christian Montgomery, tick, tick...BOOM!- Monumental Theatre Co
Graciela Rey, Make Way for Ducklings- Adventure Theatre MTC
Harrison Smith, Elegies: A Song Cycle- The Keegan Theatre
Laura Virella, REVOLTOSA (The Troublemaker)**- GALA Hispanic Theatre
Outstanding Lead Performer in a Play - Hayes
Ryan J. Haddad, Hi, Are You Single?- Woolly Mammoth Theatre Company
January LaVoy, FIRES IN THE MIRROR****-Theater J
Lillian Oben, Nine Night- Round House Theatre
Jon Hudson Odom, Ain't No Mo'- Woolly Mammoth Theatre Company
Nancy Robinette, The Trip to Bountiful- Ford's Theatre
Juliana Sass, John Proctor is the Villain- Studio Theatre
Jordan Slattery, John Proctor is the Villain- Studio Theatre
John Douglas Thompson, Merchant of Venice- Shakespeare Theatre Company & Theatre for a New Audience
Justin Weaks, There's Always the Hudson- Woolly Mammoth Theatre Company Antonio
Michael Woodard, The Till Trilogy:The Ballad of Emmett Till- Mosaic Theater Company
Outstanding Lead Performer in a Play - Helen
Zach Brewster-Geisz, The Outsider- The Keegan Theatre
Michael Burgos, Fade- Unexpected Stage Company
Tamieka Chavis, The Rainmaker- 1st Stage
Terrance Fleming, Shakespeare in Love- The Keegan Theatre
Jamil Joseph, The Playboy of the Western World- Solas Nua
Jaucqir LaFond, Blue Door- Perisphere Theater
Ashley D. Nguyen, Shakespeare in Love- The Keegan Theatre
Susan Marie Rhea, The Outsider- The Keegan Theatre
Nutsa Tediashvili, The Servant of Two Masters-Synetic Theatre
Vato Tsikurishvili, The Servant of Two Masters-Synetic Theatre
Outstanding Direction in a Musical - Hayes
Kathryn Chase Bryer Naked Mole Rat Gets Dressed*****- Imagination Stage
Timothy Douglas, The Color Purple- Signature Theatre
Sandra Mae Frank and Michael Baron, Meredith Willson's The Music Man- Olney Theatre Center
Matthew Gardiner, No Place to Go- Signature Theatre
Matthew Gardiner, She Loves Me- Signature Theatre
Outstanding Direction in a Musical - Helen
Angelisa Gillyard, Once on This Island- Constellation Theatre Company
Mark Minnick, Monty Python's Spamalot-Toby's Dinner Theatre
Mark Minnick, The Spongebob Musical- Toby's Dinner Theatre
Luis Salgado, ON YOUR FEET!*- GALA Hispanic Theatre
Michael Windsor, tick, tick...BOOM!- Monumental Theatre Co
Outstanding Direction in a Play - Hayes
Lili-Anne Brown, Ain't No Mo'- Woolly Mammoth Theatre Company
Adam Immerwahr and January LaVoy, FIRES IN THE MIRROR****-Theater J
Jason Loewith and Kevin McAllister, The Joy That Carries You- Olney Theatre Center
Marti Lyons, John Proctor is the Villain- Studio Theatre
Aaron Posner and Teller, The Tempest- Round House Theatre
Talvin Wilks, The Till Trilogy: The Ballad of Emmett Till - Mosaic Theater Company
Outstanding Direction in a Play - Helen
Jessica Lefkow, The Revolutionists- Prologue Theatre
Paata Tsikurishvili, Dracula- Synetic Theater
Paata Tsikurishvili, Host & Guest- Synetic Theater
Vato Tsikurishvili, The Servant of Two Masters- Synetic Theater
Henery Wyand, Blue Door- Perisphere Theater
Charles MacArthur Award for Outstanding New Play or Musical Adaptation
Michael Bloom, Nathan the Wise- Theater J & Folger Theatre
Raymond O. Caldwell and Adrienne Torf, Poetry for the People******- Theater Alliance & IN Series
Matt Conner and Stephen Gregory Smith, Ichabod: The Legend of n Sleepy Hollow- Creative Cauldro
Frank Labovitz, RHINOCÉROS!- Pointless Theatre Company
C. Quintana and Janelle Lawrence, Beastgirl- The Kennedy Center
Charles MacArthur Award for Outstanding New Play or Musical
Ifa Bayeza, The Till Trilogy: That Summer in Sumner- Mosaic Theater Company
Kimberly Belflower, John Proctor is the Villain- Studio Theatre
Mona Pirnot, Private- Mosaic Theater Company
Psalmayene 24, Dear Mapel- Mosaic Theater Company
Charles Randolph-Wright and Marcus Hummon, American Prophet- Arena Stage Dani Stoller and
Awa Sal Secka, The Joy That Carries You- Olney Theatre Center
Outstanding Ensemble in a Musical - Hayes
American Prophet- Arena Stage
Into the Woods- Signature Theatre
Meredith Willson's The Music Man- Olney Theatre Center
She Loves Me- Signature Theatre
The Color Purple- Signature Theatre
Outstanding Ensemble in a Musical - Helen
Monty Python's Spamalot- Toby's Dinner Theatre
ON YOUR FEET!- GALA Hispanic Theatre
The Spongebob Musical- Toby's Dinner Theatre
tick, tick...BOOM!- Monumental Theatre Co
REVOLTOSA (The Troublemaker)**- GALA Hispanic Theatre
Outstanding Ensemble in a Play - Hayes
John Proctor is the Villain- Studio Theatre
Nollywood Dreams- Round House Theatre
The Hot Wing King- Studio Theatre
The Joy That Carries You- Olney Theatre Center
The Tempest- Round House Theatre
Outstanding Ensemble in a Play - Helen
Fantastagirl and the Math Monster Adventure- Theatre MTC
The Revolutionists- Prologue Theatre
The Outsider- The Keegan Theatre
The Trip Best- Medicine Rep
Under the Sea with Dredgie McGee- 1st Stage
Outstanding Production - Theatre for Young Audiences
Beastgirl- The Kennedy Center
Make Way for Ducklings- Adventure Theatre MTC
Naked Mole Rat Gets Dressed*****- Imagination Stage
P.Nokio- Imagination Stage
Under the Sea with Dredgie McGee- 1st Stage
Outstanding Visiting Production
A Monster Calls- The Kennedy Center
Guys and Dolls- The Kennedy Center
Jesus Christ Superstar- The Kennedy Center
Just for Us- Woolly Mammoth Theatre Company
To Kill a Mockingbird- The Kennedy Center
Outstanding Production in a Musical - Hayes
American Prophet- Arena Stage
Meredith Willson's The Music Man- Olney Theatre Center
Naked Mole Rat Gets Dressed*****- Imagination Stage
No Place to Go- Signature Theatre
She Loves Me- Signature Theatre
The Color Purple- Signature Theatre
Outstanding Production in a Musical - Helen
Monty Python's Spamalot- Toby's Dinner Theatre
ON YOUR FEET!*- GALA Hispanic Theatre,
Once on This Island- Constellation Theatre Company,
The Spongebob Musical- Toby's Dinner Theatre
tick, tick...BOOM!- Monumental Theatre Co
Outstanding Production in a Play - Hayes
Ain't No Mo'- Woolly Mammoth Theatre Company
John Proctor is the Villain- Studio Theatre
Much Ado About Nothing- Shakespeare Theatre Company
Nollywood Dreams- Round House Theatre
The Joy That Carries You- Olney Theatre Center
The Tempest- Round House Theatre
Outstanding Production in a Play - Helen
Blue Door, Perisphere Theater
Host & Guest, Synetic Theater
The Rainmaker, 1st Stage
The Revolutionists.,Prologue Theatre
The Servant of Two Masters, Synetic Theater
---
*Full title: ON YOUR FEET! La historia de Emilio y Gloria Estefan ¡En español! **Full title: REVOLTOSA (The Troublemaker) - Variations on the 1897 Zarzuela for Today ***Full title: La Casa De La Laguna (The House on the Lagoon)
****Full title: FIRES IN THE MIRROR: Crown Heights, Brooklyn, and Other Identities *****Full title: Naked Mole Rat Gets Dressed: The Rock Experience
******Full title: Poetry for the People: The June Jordan Experience