Latest News on Vato Tsikurishvili
Vato Tsikurishvili News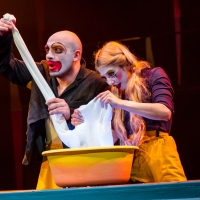 New Dates Just Added For THE SERVANT OF TWO MASTERS at Synetic Theater
by A.A. Cristi - Apr 11, 2022
Synetic Theater announces a one-week extension of its newest production, the world premiere of Vato Tsikurishvili's wordless adaptation of THE SERVANT OF TWO MASTERS, based on the original work by Carlo Osvaldo Goldoni, with choreography by Maryam Najafzada and compositions by resident composer Konstantine Lortkipanidze*.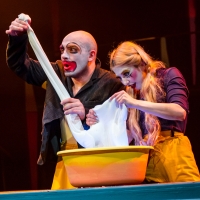 BWW Review: Synetic Theater's SERVANT OF TWO MASTERS a Raucous Hilarious Showcase
by Andrew White - Apr 9, 2022
If there were any doubt in your mind that theatre is back, as thrilling and death-defying as ever, make your plans now to see Synetic Theatre's take on the old Italian classic "Servant of Two Masters."  Fasten your seat belts, you'll be on a roller-coaster of virtuosity, wordless and breathless, for a solid hour and a half. 
Synetic Theater to Present THE SERVANT OF TWO MASTERS
by Chloe Rabinowitz - Jan 10, 2022
SYNETIC THEATER has announced the world premiere production of Vato Tsikurishvili's THE SERVANT OF TWO MASTERS, with choreography by Maryam Najafzada and compositions by resident composer Konstantine Lortkipanidze.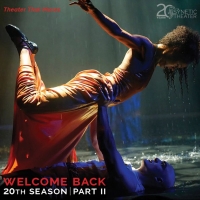 Synetic Theater Welcomes Back In-Person Audiences for 2021-2022 Season
by A.A. Cristi - Jun 26, 2021
Synetic Theater, a center for American Physical Theater, is re-opening its doors after the COVID-19 pandemic forced the closure of in-person events.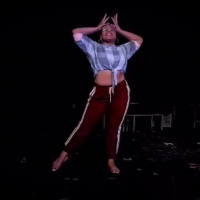 BWW Review: JOY! WITH MARIA SIMPKINS AND VATO TSIKURISHVILI at Synetic Theater
by Hannah Wing - Oct 21, 2020
Synetic's JOY! is an exploratory theater experience, which blends intimate storytelling with audience interaction.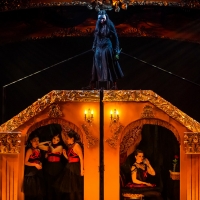 BWW Review: PHANTOM OF THE OPERA at Synetic Theater
by Brandon Horwin - Feb 10, 2020
Synetic Theater is known for bringing their audiences on a journey through creative movement and dancing. Without a word spoken or a note sung, Synetic manages to capture the audience by putting movement in the spotlight while telling familiar tales. The Tsikurishvilis have now coupled a beloved tale with a creative twist - Gaston Leroux's Phantom of the Opera. Synetic Theater's production is as hauntingly masterful as the story itself and its all due to all overwhelming success of all parties involved.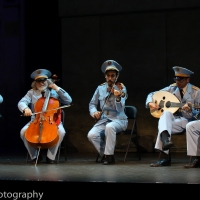 THE BAND'S VISIT, JITNEY, And More Nominated for 2020 Helen Hayes Awards
by A.A. Cristi - Feb 3, 2020
Tonight, at a celebration honoring theatre excellence on stages across the Washington area, theatre artists, administrators, patrons, and special guests gathered in the National Theatre's Helen Hayes Gallery for theatreWashington's announcement of nominees for the 36th Annual Helen Hayes Awards, which will be presented on Monday, May 18 at an event at the Anthem.
Synetic Announces 2019/20 Season
by Julie Musbach - May 10, 2019
Synetic Theater announces their 19th Season, beginning with a remount of the popular, water-filled adaptation of The Tempest September 25 through October 20, 2019. 

BWW Review: CYRANO DE BERGERAC at Synetic Theater
by Sarah Murphy - Feb 10, 2019
Inspired by the idea that the greatest "clowns" sometimes hide the greatest pain, Synetic Theater's creative team, helmed by Vato Tsikurishvili in his directorial debut, has created a wonderful world of pantomime and harlequin.
Synetic Theater Presents Wordless Adaptation of CYRANO
by A.A. Cristi - Feb 6, 2019
Synetic Theater will present a new movement-based adaptation of Cyrano February 6 through March 10, 2019, directed by Vato Tsikurishvili and based on the play by Edmond Rostand.
Vato Tsikurishvili Videos
STAGE TUBE: New Promo for Synetic Theater's ALICE IN WONDERLAND
by Stage Tube - Oct 6, 2015
Synetic Company Member Kathy Gordon was born in Oxford, England and grew up among the places that inspired Lewis Carroll's ALICE IN WONDERLAND. The actress now brings her childhood familiarity with that world to the title character in Synetic Theater's 2015/16 season opener ALICE IN WONDERLAND.