PREGNANT PAUSE, A One-Woman Play, Comes to 2018 Planet Connections Theatre Festivity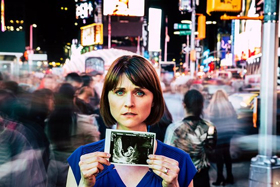 Good Pilgrim presents Pregnant Pause, Kathleen Jones' one-woman play featuring Amie Cazel, part of the 10th anniversary season of Planet Connections Theatre Festivity at the Theaters of the Clemente, 107 Suffolk Street, New York City (btw Rivington & Delancey) running Friday 7/20 @7:30pm-9:00pm; Sunday 7/22 @9:30pm-11:00pm; Saturday 7/28 @11:15am-12:45pm; Wednesday 8/1 @9:15pm-10:45pm; Saturday 8/4 @2:30pm-4pm
It's not always a "blessed event."
Essie has two due dates on the horizon: opening her first Broadway show, and the birth of her first baby. Her complicated decision is made more so by news that her baby has a genetic disorder. Haunted by her past, Essie stands at a crossroads between her life's work and the future of her family. Pregnant Pause premiered at the 2016 United Solo Theatre Festival.
Follow playwright Kathleen Jones on her blog: www.hellokathleenjones.com and Good Pilgrim @goodpilgrimnyc. Tickets and further info: planetconnections.org/
This summer, Planet Connections Theatre Festivity (PCTF), the brainchild of arts professional Glory Kadigan, turns 10 years old. In that decade, PCTF has successfully changed the landscape of the theatre festival and all of New York independent theatre. The multi-award-winning theatre festival will celebrate in a big way by premiering more than 50 timely and topical plays and musicals written by the next generation of playwrights. Each play contains a powerful message serving as a parable of various world themes. The Tenth Planet: Planet Connections Theatre Festivity will run from July 9 through August 5, 2018 at The Clemente, 107 Suffolk Street, NYC.www.planetconnections.org.
Artists presenting works from all across America, including Denver, Los Angeles, New Orleans, Providence and New York City; and from all over the planet, including Japan, Yugoslavia, Russia, Peru, France, Belarus, & Haiti are part of this years festivity.
A defining facet of PCTF is its truly tangible connection to the world. Each artist within each season uses their work to shed light on causes that matter and inspire audiences to get involved. PCTF's artists raise awareness - and funds - for a charity of their own selection. Furthering its message, PCTF is the country's first eco-friendly arts festivity, providing green marketing and promotional materials and supporting sustainable design production practices.
Related Articles
More Hot Stories For You
Patti LuPone Wants to Narrate Mary Trump's New Book For Randy Rainbow to Lip-Sync
Could we be getting a new Randy Rainbow/Patti LuPone collaboration? We sure hope so!...

QUIZ: Attend the Winter's Ball to Find Out Which Hamilton Star Will Be Your Date!
We're going back to 1780 for A Winter's Ball (you know, where the Schuyler Sisters are the envy of all?) for our latest Hamilton quiz!...

VIDEO: On This Day, July 9- Lin-Manuel Miranda, Phillipa Soo, Ariana DeBose, and Leslie Odom, Jr. Say Goodbye to HAMILTON
On this day in 2016, original Hamilton cast members, Leslie Odom Jr., Phillipa Soo, and Ariana DeBose along with the musical's star and composer, Lin-...

VIDEO: Listen to Act 1 of HAMILTON, Acted Out by The Muppets
Voice actor and comedian Ricky Downes III has recorded all of Act I of Hamilton... in the voices of all The Muppets!...

Governor Cuomo is 'Concerned' About Prolonged Shutdown of the Arts in New York City
Governor Andrew Cuomo said on Monday that he is 'concerned' about the prolonged shutdown of the arts and culture industries in New York City....

Ben Platt Talks Broadway Return, MERRILY, DEAR EVAN HANSEN Film and More
In a new interview with Deadline, Tony Award-winner Ben Platt has revealed updates on a few of his many upcoming projects, including his 'hankering' t...