New SPRING AWAKENING Song Will Debut During Season Finale of RISE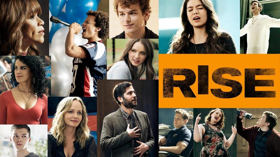 Spring Awakening fans, get ready! After over ten years, Steven Sater and Duncan Sheik have written a brand new song for the hit musical, that will debut in the season finale of Rise.
According to this week's Entertainment Weekly, Rise showrunner Jason Katims reached out to Sater and Sheik to see if they would be winning to write a new song specifically for the television series.
"Jason called me and asked if Duncan and I would consider writing a new song," Sater said. "I said, 'Do you mean a new song for Rise or a new Spring Awakening song?" And he said 'Both.' I was intrigued, but I had to think about it for a while."
The pair had not worked on Spring Awakening in over ten years, since 2007. But the more Sater thought about it, the more he realized the potential a new song could have.
"As he talked about the love storyline [on Rise] mirroring the Wendla-Melchior storyline, I imagined a beat int he show where Melchior and Wendla are apart and are communicating by journal - they feel all these things for each other that they can't say to each other."
This process resulted in a song called "All You Desire." Sater describes it as a "wedding hymn," though no one is getting married.
Sheik added, "It's actually a little bit more on the electronic side."
All You Desire will debut on the season finale of Rise on May 15th, and will feature vocals by cast members Auli'i Cravalho, Damon J. Gillespie, Amy Forsyth, and Ted Sutherland.
Related Articles