Leaders of 39 Unions Demand Fair Treatment for Broadway Casting Directors: 'New York Is a Union Town'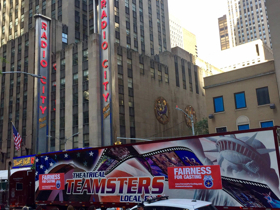 The New York City Central Labor Council, AFL-CIO executive board of 39 unions from across the city wrote a letter to Broadway League Chairman Robert Wankel today, demanding fair treatment for theater's casting directors.
The coalition of unions, collectively representing more than one million workers in the public sector, hospitality, construction, healthcare, and other key industries, gave their support for the casting directors' campaign for healthcare, retirement, and a union.
"New York is a union town, and nowhere more so than Broadway," the letter reads. "It is troubling, therefore, that Broadway producers are denying casting directors the same union rights that every other worker on Broadway enjoys."
Broadway casting directors have been organizing for more than a year with Teamsters Local 817, which has represented casting directors in the film and television industry for a decade. The labor unions' letter came two days after Broadway's producers sued their casting directors and called their union campaign a "cartel."
"Broadway casting directors are organizing because they believe in the value of their work, and they are coming together to fight for their rights as workers," said Vincent Alvarez, President of the New York City Central Labor Council, AFL-CIO. "These hardworking men and women aren't alone in this fight. They have the support of the entire New York City labor movement behind them, and we are willing to stand with them as long as it takes for them to get the benefits and union representation they deserve."
Broadway producers celebrated a record-setting season last year, in which they grossed $1.5 billion and reached new highs for ticket prices.
"Broadway does not exist in a bubble," the unions wrote in their letter. "Members of our affiliated unions are also your customers."
In recent months, major entertainment stars have voiced their support for casting directors as well, including Lin-Manuel Miranda, Bette Midler, Alec Baldwin, Nathan Lane, Bryan Cranston, Sally Field, and Allison Janney. Casts from most of the shows on Broadway have endorsed the casting director's campaign and posted photos on Instagram and Twitter with the #FairnessForCasting hashtag. They are joined by 20 Tony-winning actors, directors, and designers.
Unlike Broadway, the film and television industries have negotiated union contracts with casting directors for more than a decade. Many entertainment companies - like Disney, Warner Brothers, and Universal - use union casting directors for their films while refusing to do so for Broadway shows.
Casting directors are the creative vision behind the dynamic casts that make Broadway shows a success. They are involved in a production from the beginning, assembling actors for readings or workshops, to the end, recasting roles and scouting new talent. Casting directors can work for months or years on a show before they get a formal contract from the producer.
The unions pledged to continue supporting casting directors and Teamsters Local 817 until they win a fair agreement. "As this labor dispute escalates, our unions will be standing beside them, demanding justice for all Broadway workers," the letter concludes.
Related Articles
More Hot Stories For You
MATILDA Film Adds Emma Thompson As 'Miss Trunchbull' and Alisha Weir in the Title Role
The upcoming film adaptation of the acclaimed musical Matilda has found its title star! ...

DVR Alert: Hollywood Bowl Concert Series Kicks Off Tonight With MUSICALS AND MOVIES, With Audra McDonald, Kristin Chenoweth, and Sutton Foster
As BroadwayWorld previously reported a new weekly concert series, IN CONCERT AT THE HOLLYWOOD BOWL, will air on PBS. The series kicks off today with t...

Songwriter Abigail Barlow is Turning Netflix Hit BRIDGERTON Into a TikTok Musical
'Heartbreak Hotel' singer and TikTok creator Abigail Barlow is going viral again with her new Bridgerton musical numbers!...

VIDEO: On This Day, January 16 - Happy Birthday, Lin-Manuel Miranda!
On this day we're celebrating the birthday of the great Lin-Manuel Miranda! ...

Renée Elise Goldsberry, Susan Lucci, Cameron Mathison and More to Take Part in ABC DAYTIME: BACK ON BROADWAY
Your favorite stars from the celebrated ABC Daytime dramas "All My Children," "One Life to Live" and "General Hospital" will reunite Thursday, Februar...

THE DEVIL WEARS PRADA Pre-Broadway Run in Chicago Pushed to 2022
Miranda Priestly stans will have to wait a bit longer to catch her on stage. Broadway In Chicago just announced today that the upcoming pre-Broadway W...