Jewish Plays Project Announces 2019 Top Plays, Starts National Contest Tour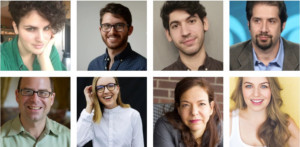 The Jewish Plays Project announces the Top 7+ Finalists for the 8th Jewish Playwriting Contest.
Over 150 playwrights from 27 states and 6 countries submitted plays to the Contest. The winning plays tackle some of the critical questions in the Jewish world today: immigration, LGBTQ inclusion, interfaith relations, as well complex perspectives on Israel from American and Israeli writers.
The JPP will hold regional contests in Houston, Charlotte, Chicago, Fairfax, Hartford, Silicon Valley, and New York - as well as a national contest online. More than 1,000 people will contribute to choosing the ultimate winner - a unique process that provides one-of-kind feedback to playwrights and invaluable audience response to prospective producers. The full calendar of events can be found at www.jewishplaysproject.org/calendar
"At a moment when so many are contemplating Jewish identity and thinking deeply about global citizenship and what it takes to be a community - we are thrilled to highlight this slate of highly original, theatrically vibrant plays" said Artistic Director David Winitsky. "These writers are giving us work that is nourishing, vital and real in ways that are meaningful to not just Jews, but all Americans."
The finalists are:
§ LAND OF NO MERCY: UN DRAMA AMÉRICANO (IN TZVEY AKTN) By Rae Binstock
A century apart, but close enough to touch, two couples inhabit the same cramped apartment. Their lives twist together in a collage of languages and loss.
§ KING LESBIAN by Adi Eshman
On the last night of Jewish sleepaway camp, Levine is on trial in Boys Cabin A, where he must defend against the charge...of being gay. A dark comedy about power, faith and toxic boyhood.
§ THE SHABBOS GOY by Cary Gitter
Gallery curator Angie Mastroantoni knocks on knish-maker Seth Konig's door. Could it be love?
§ HERESY By Lawrence Goodman
When Hannah returns from college, she has news for her parents: she's turned anti-Zionist. By turns funny and tragic, Heresy explores what American Jews owe Israel.
§ DOX MODERN MIDDLE by Megan Pope
Raphaela is outed and sent to Israel to heal. Overseas, she attempts to find common ground between queerness and orthodoxy.
§ THE ZIONISTS by Zohar Tirosh-Polk
From Poland to Palestine, to Israel, and later to the U.S., The Zionists asks: Where is home? What is home? At what price? Was Herzl right? And what's in the box?
§ IN EVERY GENERATION by Ali Viterbi
The Levi-Katz family celebrates Passover again and again (and again and again). Must we define ourselves through trauma? Will we ever be free? Why is this night different from all other nights?
The JPP also added a bonus short play by CBS show-runner Neil Goldman (Superior Donuts) A CANDLE FOR THE LAST. This whip-smart tale tells the story of the world's last-living Survivor - a curmudgeon who refuses to share his story - even with his daughter.
Full information about all the plays - including playwright and agent contact information - can be found at the JPP's website, www.jewishplaysproject.org. Interested producers, agents and literary managers can email plays@jewishplaysproject.org.
"The JPC offers something more powerful than exposure: it offers Jewish playwrights a spiritual community, where they can share work and exchange ideas," said Adi Eshman, Top 7 playwright and writer's assistant for HBO's Mosaic.
The Jewish Playwriting Contest seeks to discover, highlight, and nurture contemporary Jewish drama by engaging with artistic and Jewish communities throughout the United States. Since 2011, the Contest has received and vetted 1,282 plays by 920 writers in 32 states and 9 countries. We have actively developed 49 of those plays, 27 of which have gone on to production in cities across the globe, including New York, London, and Tel Aviv , playing for more than 20,000 audience members.
The Jewish Plays Project puts bold, progressive Jewish conversations on world stages. The JPP's innovative and competitive development process invests emerging artists in their Jewish identity; engages Jewish communities in the vetting, selecting and championing of new voices; and secures mainstream production opportunities for the best new plays. The JPP's signature method is Jewish Dramaturgy: matching the best minds in the Jewish community with the best 21st- Century Jewish plays.
The JPP has featured some of the best artists working in New York , including writers David Hein and Irene Sankoff (Come from Away), Robert Askins (Hand to God), and Brooke Berman (Hunting and Gathering); directors Marc Bruni (Beautiful), Daniella Topol (Rattlestick Theater AD),, and TamillaWoodard (Classical Theatre of Harlem, 3LD); and actors Andrew Polk (The Band's Visit), Hani Furstenberg (The Loneliest Planet with Gael Garcia Bernard), Ronald Guttman (Mad Men, Homeland), Kirrilee Berger (Amazon's Just Add Magic), and Obie and Drama Desk nominee Marcia Jean Kurtz.