Click Here for More Articles on Stream Now
Jerry Mitchell, Sergio Trujillo and More Raise Over $10,000 Towards Flipping the Senate; Join the Next Event on 10/25
The next FLIP IT event will take place on October 25th and feature classes with Charlotte d'Amboise, Valarie Pettiford, Brian Friedman and more.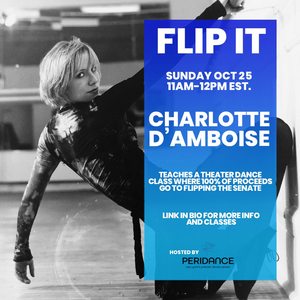 FLIP IT springs from the profound notion that art and connection can be employed to make change. By taking class with their masterful choreographers and donating toward the cause, you too can help flip the Senate, and move our country toward a more equitable future. FLIP IT has partnered with SWING LEFT, which is an organization that helps Democrats win key elections.100% of your donations go directly to those democratic candidates that have the best chance of turning their seat blue.
The most recent event, which featured Jerry Mitchell, Sergio Trujillo, Ryan Heffington, Brian Friedman and more, raised over $10,000.
The next event takes place on October 25th!
See below for details:
10:15AM-10:45AM EST.
Community Warm Up
Troy Ogilvie
11:00AM-12:00PM EST.
Theater Dance
Charlotte d'Amboise
12:15PM-1:15PM EST.
Fosse
Valarie Pettiford
1:30PM-2:30PM EST.
Jazz
Edgar Godineaux
2:45PM-4:00PM EST.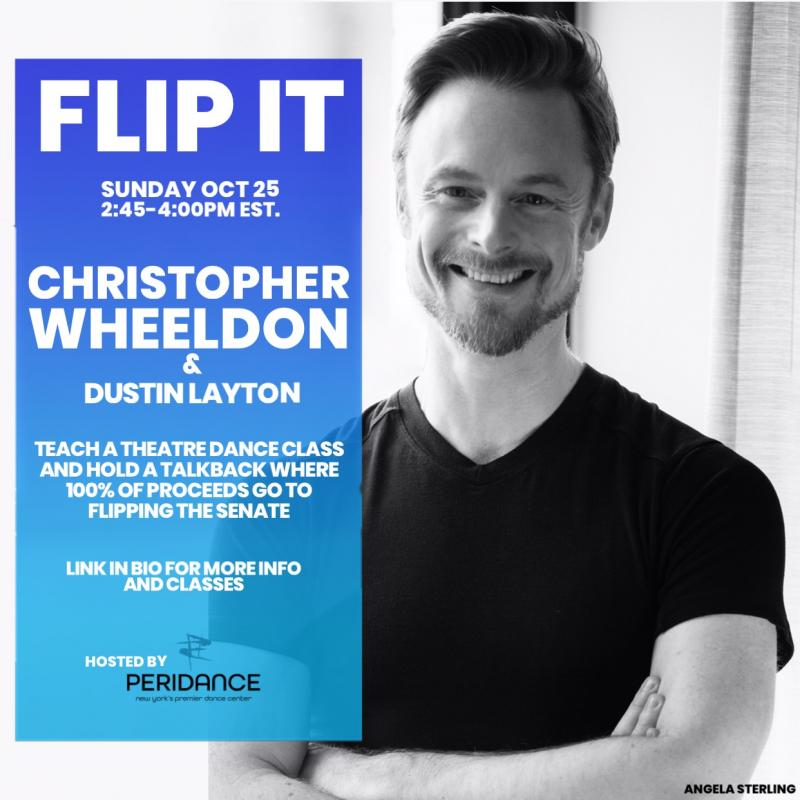 Theater Dance &Talkback
Christopher Wheeldon
&
Dustin Layton
4:15PM-5:15PM EST.
Jazz
Dana Wilson
5:30PM-6:30PM EST.
Theater Dance
Dominique Kelley
6:45PM-7:45PM EST.
Jazz
Brian Friedman
SIGN UP HERE AT PERIDANCE
http://www.peridance.com/flip-it.cfm
DONATE HERE
https://swingleft.org/fundraise/dancetoflipit
Related Articles
More Hot Stories For You
DVR Alert: Hollywood Bowl Concert Series Kicks Off Tonight With MUSICALS AND MOVIES, With Audra McDonald, Kristin Chenoweth, and Sutton Foster
As BroadwayWorld previously reported a new weekly concert series, IN CONCERT AT THE HOLLYWOOD BOWL, will air on PBS. The series kicks off today with t...

VIDEO: On This Day, January 16 - Happy Birthday, Lin-Manuel Miranda!
On this day we're celebrating the birthday of the great Lin-Manuel Miranda! ...

Philip J. Smith, Chairman Emeritus of The Shubert Organization, Has Passed Away at Age 89
The Shubert Organization has announced the passing of its beloved Chairman Emeritus, Philip J. Smith. Mr. Smith passed away peacefully on January 15, ...

Michael Ball Releases 'Leaning on a Rainbow' From BLITHE SPIRIT Film
Last year, Michael Ball recorded 'Leaning on a Rainbow' for the soundtrack to the new film 'Blithe Spirit'. The full track is now available on Spotify...

MARY POPPINS RETURNS is Now Streaming on Disney Plus
When and where can you find Mary Poppins Returns streaming? We have your answer here!...

Haley Swindal's TO NEW YORK, WITH LOVE to Stream for 30 More Days
By popular demand, Birdland's all new concert event from Broadway perennial Haley Swindal, To New York, With Love, filmed as part of the "Radio Free B...