Click Here for More Articles on NEW YORK CITY
HSA Theatre Alliance to Present HARLEM HOLIDAY LIVE!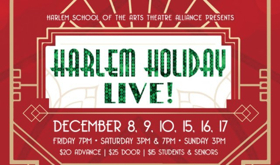 The Harlem School of the Arts (HSA) Theatre Alliance presents a joyous celebration of the season that is sure to have you dancing and singing in the isles.
HARLEM HOLIDAY LIVE! features the power and artistry of HSA's creative crew of gifted artists and the talents of their theatre, music and dance students, under the guidance of Artistic Director, Alfred Preisser.
Tickets are on sale now A. Brown Paper Tickets, with performances scheduled on December 8, 9, 10, 15, 16 & 17 at HSA Theater, 649 Saint Nicholas Avenue, NYC 10030.
"Harlem Holiday Live is a celebration of all we do at HSA and I'm happy, proud and grateful to be working with the young artists and Directors of all of our creative departments. We're all aware we live in a world that is sometimes frightening and disjointed; Harlem Holiday Live! is an answer to that, an expression of hope, purity, the human spirit that's destined to survive and thrive".
The 75-minute variety show has been designed to lift spirits and celebrate that which unite us. It will feature performances by the Dorothy Maynor Singers (HSA's choir) and The Harlemettes (HSA's answer to The Rockettes), and our youngest dancers, the Junior Ensemble performing the magical Baby Ballet. Also taking the stage will be Brianna Reed, HSA dance instructor and former principal dancer with the Alvin Ailey Dance Theatre, and Amber Nicole, of the HSA Theatre faculty.
In addition to HSA's homegrown talent, the show will include special guest appearances by members of the Institute of American Musical Theatre, The Harlem Japanese Gospel Choir (winners of the 2010 Best Choir Award at the McDonald's Gospel Fest), as well as the Legacy Arts Ensemble.
---
IF YOU GO:
HARLEM HOLIDAY LIVE!
Alfred Preisser, Producing Director
Written by Josiah Fluker-McGinnis
Choreography by Aubrey Lunch II, Leyland Simmons, Brianna Reed and Tracy Johnson
Musical Direction by Rob Baumgartner, Band Director Melody Moore
Vocal Direction by Yolanda Wyns
Tis the season for HARLEM HOLIDAY LIVE! Show dates are December 8, 9, 10, 15, 16, & 17. Show times are Fridays, 7PM | Saturdays, 3PM & 7PM | Sundays, 3PM, *December 9 will only have a 7PM Evening performance.
Ticket prices are $20 Advance | $25 Door | $15 Students & Seniors. Tickets are available through Brown Paper Tickets or by going to HSANYC.org.
---
New York City's premier community arts institution, the Harlem School of the Arts (HSA), stands uniquely apart as the sole provider of arts education in four disciplines: music, dance, theatre, art & design, all within our award-winning 37,000 square foot facility. HSA's reputation for artistic rigor and excellence attracts students of diverse socio-economic and ethnic backgrounds from all five New York City boroughs, including Westchester County, and the tristate area, which includes Connecticut and New Jersey. HSA's alumni and faculty are counted as being some of the most talented leaders in the arts.
For over 50-years, HSA has enriched the lives of tens of thousands of young people ages 2-18, through world-class training in the arts. HSA offers its students the freedom to find and develop the artist and citizen within themselves in an environment that teaches discipline, stimulates creativity, builds self-confidence and adds a dimension of beauty to their lives, empowering them to become the creative thinkers and innovative leaders of tomorrow. To learn more about the HarlemSchool of the Arts, visit www.HSAnyc.org.