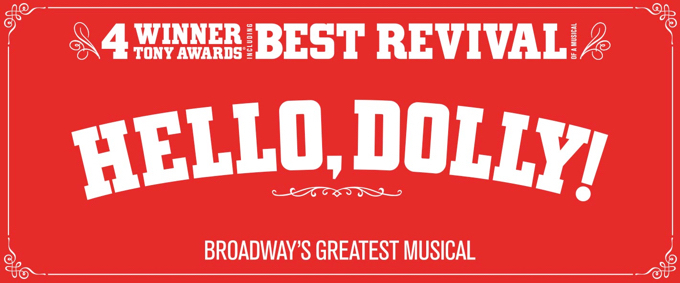 Click Here for More Articles on HELLO, DOLLY!
Five Fun Facts About HELLO, DOLLY!
HELLO, DOLLY! was not on the radar of many when considering what might be the big Broadway smash of 1964. The young composer/lyricist Jerry Herman wasn't quite a name yet, and while Carol Channing was the toast of the town after opening GENTLEMEN PREFER BLONDES, that was back in 1949 and her next three Broadway ventures were not successful.
Today, HELLO, DOLLY! isn't just a classic musical, it's one of the small handful of musical comedies that are embedded into America's popular culture.
The Broadway community was thrilled today to learn that the old girl is returning next season in a new production starring Bette Midler. While we count the days until opening night, here are five fun facts about the creation of HELLO, DOLLY!
The story was originally about Horace. HELLO, DOLLY! was based on Thornton Wilder's hit 1955 comedy, THE MATCHMAKER, but THE MATCHMAKER is actually a revised version of Wilder's unsuccessful 1938 farce, THE MERCHANT OF YONKERS, which was about Horace Vandergelder's search for romance. "Merchant," in fact, was Wilder's English adaptation of Austrian playwright Johann Nestroy's 1842 work, HE WILL GO ON A SPREE, which was inspired by John Oxenford's 1835 one-act A DAY WELL SPENT.
Jerry Herman had to audition for David Merrick. David Merrick was an old-school, hands-on producer who bought the rights himself for properties he thought would make hit musicals and then hired Broadway's best talent to write the book, music and lyrics to his satisfaction. Jerry Herman had scored a big hit with his 1961 Broadway debut, MILK AND HONEY, which was set in modern-day Israel. But before Merrick would entrust the young composer/lyricist with his newly-acquired rights to THE MATCHMAKER, he gave him three days to prove he could write for the play's Americana setting. Two of the songs Herman returned with were eventually unused, but the two others were "Hello, Dolly!" and "Put On Your Sunday Clothes." He got the job.
The original title was DOLLY: A DAMNED EXASPERAING WOMEN. Long titles were in fashion on Broadway in the 1960s, and after HOW TO SUCCEED IN BUSINESS WITHOUT REALLY TRYING and A FUNNY THING HAPPENED ON THE WAY TO THE FORUM became Tony-winning hits, long eye-catching titles were thought to be a good idea. But when Louis Armstrong's 1963 recording of the title song shot to the top of Billboard's pop chart, a spot that had been held by The Beatles for fourteen weeks, the title was quickly changed to HELLO, DOLLY!
The show was a disaster in out-of-town previews. Despite the popularity of its title song, Detroit audiences were bored by HELLO, DOLLY! during pre-Broadway tryouts. Champion and Merrick began spending performances watching the audience to determine when the patrons appeared bored and revisions were called for before the company moved to an engagement in Washington D.C. As was his habit, Merrick also called in new songwriters, just in case Herman couldn't deliver exactly what he was looking for. There are conflicting stories as to how much composer/lyricist Bob Merrill contributed to "Elegance" and "Motherhood March" and how much the team of Charles Strouse and Lee Adams had to do with "Before The Parade Passes By."
"Penny In My Pocket" may be the best song ever cut from a Broadway musical. When the show opened in Detroit, the first act ended with David Burn's Horace telling the story of his success with "Penny In My Pocket." It's a charming and clever song and everyone agreed Burns gave a wonderful performance, but it wasn't the right moment to focus on Horace. They needed a sock-o number from Carol Channing to take the audience into intermission. Something about parades was suggested.
Decades later, "Penny In My Pocket" may still be a somewhat obscure selection, but it's a fine example of character-driven musical theatre songwriting. Here are Lee Roy Reams and Fred Barton showing you why.