Click Here for More Articles on Podcasts
Exclusive Podcast: LITTLE KNOWN FACTS with Ilana Levine- featuring Bill Camp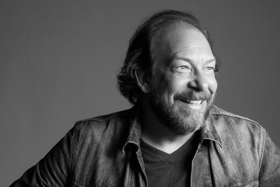 BroadwayWorld has teamed up with Broadway alum Ilana Levine, who makes her entrance onto the podcast stage with her new show Little Known Facts. Ilana's unique brand of celebrity interview, "Podcast Vérité," is unfiltered, raw, honest and uniquely funny.
Bill Camp, the Emmy and Tony nominated actor, has had an illustrious career on stage and in film for over three decades. His most recent turn as "Dennis Box" in HBO's highly acclaimed limited series "The Night Of " earned him an Emmy nomination for his compelling portrayal of an NYPD Detective in pursuit of the truth. Camp brought tremendous pathos and dimension to the role -- as he does to every role he plays. Beloved by some of the most accomplished directors of our time including Mike Nichols and Stephen Spielberg, Camp has become one of the most sought after actors working today. On this episode, Bill opens up to Ilana about his years of "deviant" behavior and how he weathered the storm. He also shares intimate and hilarious details of his courtship and ultimate marriage to actress, Elizabeth Marvel.

Bill is best known for his Emmy Award nominated performance (Best Supporting Actor in a Limited Series) in HBO's critically acclaimed limited series "The Night Of," starring alongside John Turturro and Riz Ahmed directed by Steve Zaillian and written by Richard Price. Bill is currently filming the "The Looming Tower," where he will portray FBI veteran Robert Chesney. The upcoming Hulu series in the based on Lawrence Wright's Pulitzer Prize-winning novel that chronicles the events that led to the September 11 terrorist attacks. Bill recently shot the Francis Lawrence-directed spy thriller "Marble," based on Jason Matthew's espionage novel. This film also marks his second time working with Steve Zaillian, who is attached as a producer on the Fox feature. Additionally, Bill filmed "The Land Of Steady Habits" both written and directed by Nicole Holofcener with Anthony Bregman of Likely Story producing. Bill also shot a pivotal role in "Molly's Game" directed by Aaron Sorkin and co-starred alongside Jake Gyllenhaal and Carey Mulligan in "Wildlife," Paul Dano's directorial debut. Other upcoming films include "The Killing of a Sacred Deer" directed by Yorgos Lanthimos, "Woman Walks" Ahead directed by SusAnna White, and Scott Cooper's latest feature, "Hostiles." This will be his second time working with Cooper, as the duo previously collaborated on "Black Mass." Last year, Bill held key roles in "Midnight Special" and "Loving" (both from writer-director Jeff Nichols) as well as "Jason Bourne" directed by Paul Greengrass. Bill has also appeared in "Gold" for director Stephen Gaghan, "Aloha" for director Cameron Crowe, "Birdman" (Academy Award Winner, Best Picture) for director Alejandro Gonzalez Inarritu, "Love & Mercy," "12 Years a Slave," "Lincoln," "Compliance," "Lawless," "Tamara Drewe" and "Public Enemies."
On the small screen he has played recurring roles on "The Leftovers," "Manhattan," "Boardwalk Empire" and "Damages." A veteran of the stage, Bill received a Tony Award nomination for his performance as Reverend
John Hale
in
Arthur Miller
's "The Crucible," directed by
Ivo Van Hove
and produced by
Scott Rudin
. He is an alumnus of The Juilliard School and recipient of several awards and honors, including the Obie,
Elliot Norton
, Drama Desk, and Boston Critics Association.