Click Here for More Articles on INDEPTH INTERVIEWS
Exclusive InDepth InterView: Patrick Wilson Talks BROADWAY BLOWS BACK Benefit, INSIDIOUS 2, Broadway, Hollywood & More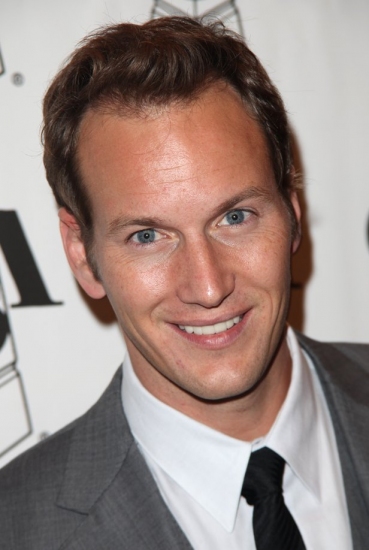 Today we are talking to one of Broadway's most remarkable breakout stars to have crossed over into Hollywood with an impressive film career following his superlative work in the Mike Nichols-directed HBO production of Tony Kushner's Pulitzer Prize-winning ANGELS IN AMERICA in 2002, the affable and incredibly talented Patrick Wilson. While looking ahead to Monday's BROADWAY BLOWS BACK benefit concert in aid of Hurricane Sandy relief, Wilson and I take a look back at his career onstage and onscreen thus far, with an emphasis on the diverse range and commendable dedication to character he has displayed since his memorable first starring roles on Broadway - from BRIGHT LIGHTS, BIG CITY to OKLAHOMA! to THE FULL MONTY, BAREFOOT IN THE PARK and ALL MY SONS onstage to his aforementioned Joe Pitt in ANGELS on TV to roles in HARD CANDY with Ellen Page, LITTLE CHILDREN with Kate Winslet, WATCHMEN with fellow recent InDepth InterView participant Carla Gugino to last year's YOUNG ADULT and this year's PROMETHEUS on film, Wilson can clearly do it all; and does. Additionally, Wilson reflects on his work on Andrew Lloyd Webber's THE PHANTOM OF THE OPERA film as well as shares thoughts on other roles he would enjoy playing someday (Joe Gillis in SUNSET BOULEVARD perhaps?) and shares stories from the set of GLEE and AMERICAN HORROR STORY creator Ryan Murphy's first feature film, RUNNING WITH SCISSORS. Plus, all about his new leading role in THE CONJURING, directed by James Wan, as well as thoughts on how Broadway has changed thus far in the new century, immediate plans for the future, the status of INSIDIOUS 2 and a PROMETHEUS follow-up - and much, much more!
More information on BROADWAY BLOWS BACK on Monday at 7:30 PM at the Gershwin Theatre is available here.Let It Blow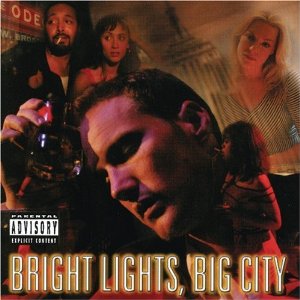 PC: One of my favorite scores of the 90s is BRIGHT LIGHTS, BIG CITY. How did you originally become involved with the show?
PW: Oh, that's so cool! That's so funny. I love BRIGHT LIGHTS, too - my God. But, you know, me and
Paul Scott Goodman
used to be like a traveling band of misfits or something with those songs.
PC: He's a real personality, right?
PW: Oh, yeah! It was like, "Hey, do you wanna go sing songs at the bar tonight?" And, I'd say, "Sure!" I mean, we did more recordings for that show, and, then,
Kurt Deutsch
finally got behind it and gave us a proper recording a few years later. But, you know, we had done so many recordings just getting the show out there. But, to answer your question, I first got involved because of
Michael Greif
.
PC: Who had just directed RENT, of course.
PW: Right. I had auditioned for RENT - this would have been '96. I was always sort of between parts - I was never the rocker, Roger, and I was never really the nerdy Mark type. So, I didn't fit in to either role, really - I was always between Mark and Roger. But, I had auditioned for Michael, so, he called me one day and he said, "I have an idea for you." And, they had done one workshop already - I think it was with Norbert [Leo Butz].
PC: It was.
PW: Right. And, so, then I did it and then we did it downtown the next year. The first year, we did it with
Alice Ripley
and Jesse Martin and then
Norm Lewis
took over for the next workshop when Jesse got LAW & ORDER. Then, a year later, we did a proper production.
PC: That was the first full-out production of it, then?
PW: Oh, yeah, man! That was the only real production of it. We ran at the New York Theater Workshop in '98, '99.
PC: So, you had the complete full-circle experience with the show - workshops, the first production and then the cast album, in the end.
PW: I guess so. Yeah, the production had a full run downtown and then we finally did the album a few years later - and that's all because of Kurt getting involved.
PC: Was that a difficult role for you to play? Did you ever live that wild of a life - or even close?
PW: No, not really - definitely not with drugs or anything like that. You know, that show was at a very, very interesting time in my life and in my career - I was like mid-to-late 20s at the time. So, I wanted to do things that no one else had ever done before - I remember that at the beginning of the show I wanted to walk downstage and snort up lines of chopped up glucose pills; I said, "Have you ever seen something like that before?" You know, a guy snorting up two lines and then just singing full-out? [Big Laugh.]
PC: At least a first onstage!
PW: Yeah! So, it was like, [Snorts. Sings.] "I am not the type of guy / Who should be in a place like this," right after taking this big line of this stuff. I remember people in the front row some nights just sitting there being like, "What is happening?!"
PC: The show definitely pushed some buttons.
PW: It did - they must have been like, "This actor who just snorted a lot of something up his nose is now singing. This is something." It must have been very weird! But, you know, those were the times - you just wanted to sort of go at it.
PC: Try anything - and everything - and see what would stick.
PW: Yeah, man! That was my first big show creating a rock role, really - it was definitely my first rock show like that after having done so many traditional type musicals. You know, I was this lazy baritone and no one thought I could sing that high - but, nobody knew that I really grew up singing rock music.
PC: How interesting.
PW: And, I mean, Paul and I did material for two years before he wrote anything down. We didn't have a score for all that time written down at all - we just learned it as we went. There was something about him just playing the guitar and me going, "Sure. OK! I'll learn that." [Laughs.] A sort of reckless abandonment. It really helped the whole process, I think, though.
PC: Sherie Rene Scott spoke so favorably of the album when she did this column recently, as well.
PW: She was so great on it and Gavin [Creel], too - I love Gavin. I did it with
Anthony Rapp
at one point as my brother, too, I remember.
PC: Christine Ebersole, too.
PW: Of course, of course. Kerry O'Malley originally did that role onstage, I think.
PC: The cast album is so immersive - it's one of the most atmospheric cast albums I have ever heard, actually.
PW: Yeah, that's a lot of Kurt - Paul's score is so good and I love him, but Kurt has the pockets and the passion to make it happen in the studio; he was like, "You guys need to do this!" And, then, we did - he's the reason that recording exists.
PC: From Broadway to Hollywood: early on in your movie career, you appeared in RUNNING WITH SCISSORS, directed by a pre-GLEE Ryan Murphy. What was that experience like for you?
PW: Yeah, well, you know, it's kind of funny. He called me - mind you, I was in the movie for fifteen seconds, if that, it's the smallest thing; but I ended up getting cut out of the film anyway. In the book there is this series of IRS guys who keep coming to the house and his theory was that we would combine them into one and he'd sort of keep reappearing places. So, we did a scene with me and
Brian Cox
and
Olivia Wilde
…
PC: She having gone on to great things since that film, as well.
PW: Yeah, yeah, yeah! It was a fun scene, but I remember that it was, like, being rewritten as we were doing it. [Laughs.]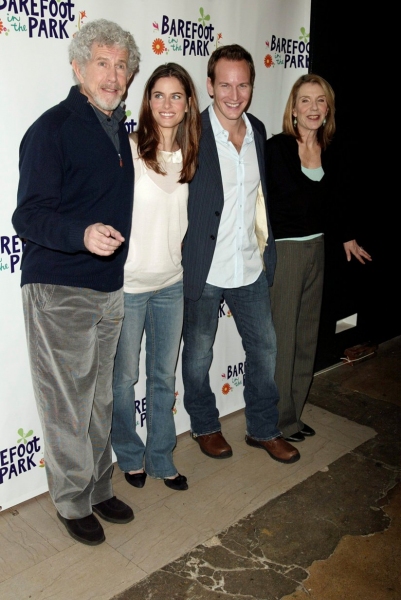 PC: A little freewheeling.
PW: Yeah. I remember sort of feeling at the time like, "Oh, well, there's no way that this is going to make the film." So, it was eventually cut to nothing and I'm not even in the movie. But, I know Ryan is such a champion of theatre and he's got THE NORMAL HEART that he is working on now, too. And, I know that he has such a passion for musical theatre - as can be seen with GLEE and everything he's doing with that. It's great to see that.
PC: Have you seen each other since that film?
PW: Yeah, I guess it was over the summer he called me about AMERICAN HORROR STORY but I think that the last time I saw him was when we were doing BAREFOOT IN THE PARK on Broadway and he came to see it.
Jill Clayburgh
was a friend of his and she was in the show, of course. She was so brilliant and she also had done RUNNING WITH SCISSORS with him.
PC: NIP/TUCK, too. Lily Rabe, her daughter, is so talented, as well.
PW: Oh, yeah - she's so great.
PC: Would you be open to a role on one of his shows someday - AMERICAN HORROR STORY, as you were discussing, maybe?
PW: Oh, I don't know. I think I've kind of exhausted the horror genre at this point! [Laughs.] At this point, for me, I never turn anything down based on principle, though - it really just comes down to the role and if it's really worth it to me to commit to doing it. There are a number of factors, of course, that play into it, but I think that it is too difficult of a business and you shoot yourself in the foot if you just say no before you even entertain the idea of something. It just depends on if it's something I want to do.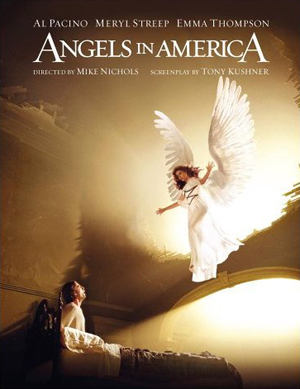 PC: ANGELS IN AMERICA is ten years old soon. Looking back, was that a thrilling project to be a part of?
PW: Yeah - it is. It's a real reminder - like what you just said; certainly, that's the role people seem to remember me for. Especially in the theatre - like at the GOLDEN BOY opening this week; if five people stopped me, three will say the words "Angels In America" at some point in the conversation, you know?
PC: It's inevitable.
PW: It is. So, you know, I knew doing it - and you rarely have that feeling - how special it would really be. And, it was. It just meant so much not only to the theatrical world, but, also, because of the passion and the skills behind it - being Mike [Nichols] and Tony [Kushner]. And, also, the care that HBO took - I just thought, "This is gonna be something very special," and, for the time, it was really expensive for an HBO miniseries; I think it was, like, northwards of $50 million.
PC: Indeed, it was.
PW: Yeah - it was so great. I still look back on it as one of my proudest achievements - not even that since I can't really take credit for any of it; just to be a part of it means so much. It's one of those jobs where it's like: someone says to you, "Oh, I love that movie!" and you say, "I know, man - so do I!" It's not just like "Oh, thanks!" [Laughs.] You know what I mean?
PC: It's something you take pride in being part of.
PW: Right. Right. You know what I mean. So, yeah, that's the way I feel about that one.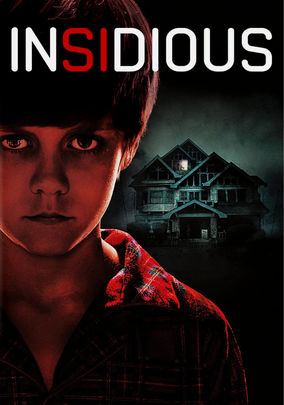 PC: INSIDIOUS: CHAPTER 2 starts filming soon, correct?
PW: Yes. INSIDIOUS 2 we start filming in a couple of weeks.
PC: You and Rose Byrne and James Wan and Leigh Whannell back together again!
PW: Yeah, yeah, yeah - we're all back together again on this one.
PC: You have another film with James coming out first, though…
PW: Yes. James and I just wrapped another film we shot in the Spring - THE CONJURING.
Vera Farmiga
and
Lili Taylor
and
Ron Livingston
are in it, too. It's a great script and a great, great cast.
PC: A period film, to boot.
PW: Right. It takes place in the early 70s and it follows this group of ghost-hunters - the original activists for that whole movement; Ed and Lorraine Warren. Lorraine is still alive and she lives in Connecticut. actually. So, this is the story of their beginning and why they did it and everything - it's really cool. It's a very, very, very well-done movie, I have to say. I always hesitate to say things like that - you know, "It tested great!" - but, it's one of those unusual, unusual experiences because a horror movie usually tests well with males 18-35 and this has kind of a real across-the-board appeal. It's a real, human story - yes, it's scary, but it's not gory. There's no bloody, really - there's none of that stuff in it at all.
PC: Psychological horror.
PW: Right. It's a thriller. And, also, taking myself out of the equation, I think it's very well-acted and the kids in it are so great. It plays like a great drama.
PC: A bit of DON'T LOOK NOW and ROSEMARY'S BABY, perhaps?
PW: Absolutely - James just loves that stuff. You know, for having been in three or four horror movies, I'm not a big horror guy, so when James and I have conversations, he has a tendency to lose me sometimes. [Laughs.]
PC: It's not necessarily your area of expertise.
PW: No, it isn't - I'm not that up with all the details of horror movies of the 1970s and everything. But, what I did love about the movie - just like with THE EXORCIST and ROSEMARY'S BABY and even as late as POLTERGEIST - you never felt like you were sacrificing acting. There's something wonderfully melodramatic about all of it, of course - you know, fighting the devil and all of that kind of stuff. Whether you are religious or not, though, it is really fun to play - and it gives you a lot to chew on as an actor.
PC: From supernatural to superheroes - what was WATCHMEN like to shoot for you? The director's cut deluxe edition just came out on Blu-ray in time for Christmas.
PW: I know! I just saw that actually - it looks great. But, yeah, that was an interesting experience with that one. The biggest comment that people always have - the question they always ask - about that movie is, "How did you shoot that?" I think that people think it was like the STAR WARS prequels or something with all the green-screen - but, it really wasn't; you know, they built an entire city block and dressed it up like Manhattan!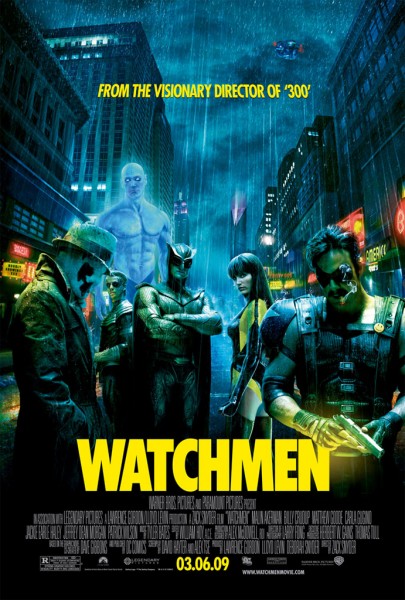 PC: It had an extensive set.
PW: And then I got to put on a suit and have combat scenes and fight people and have great acting scenes with
Jackie Earle Haley
and Carla [Gugino] and everybody else in the cast. So, I never felt like I was in some sci-fi, effects-ridden movie at any time. If you talk to
Billy Crudup
, he might feel differently since he had that light suit and all of that crazy effects stuff, but… [Laughs.]
PC: It's a wild movie.
PW: The thing about all the actors Zak [Snyder] hired was that we all came to it with a very grounded approach to how we wanted to play all of the characters - even Carla was wearing this great make-up and playing herself much older and much younger; it was a great character part for her, too. For me, to be playing this sort of heavy Clark Kent meets Bruce Wayne was a lot of fun. So, it really felt like we were all just playing these fun, crazy characters and we never felt like we should just take it easy because it would be an effects shot or anything.
PC: You gave it your all all of the time.
PW: Yeah, it was a great, great process and we had such a long leash from
Warner Brothers
and a lot of support from them, which meant a lot - you know, we knew that the movie wouldn't probably be for everybody, but we all believed in Zak; he is one of the most passionate people you will ever work with. We just were always searching for the truth in the situation - I especially remember Jackie and I doing that; constantly going back to the graphic novel and sort of working with that as much as possible. You know, comparing the script to it and saying, "Oh, well, Alan Moore wrote this, so can we do this?" And, Zak was always into that.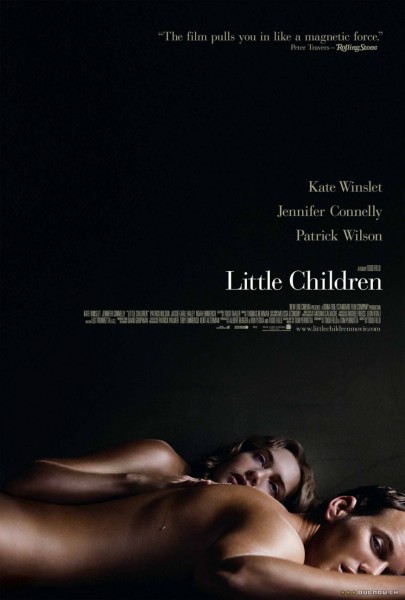 PC: That is not always the case - some directors prefer actors come to projects based on another medium totally fresh. Have you encountered that?
PW: I know! On LITTLE CHILDREN, Todd [Field], after adapting it and working with Tom Perrotta, I think decided it was just a different beast and it would be best not to look at the book for us. That was very early on in my film career, so I just wanted to get along with everybody, so I said, "OK. I'm not gonna read the book then." [Laughs.]
PC: Amenability never hurt anyone.
PW: In hindsight, would I do that again? If the director said, "Don't read the book?" [Laughs.] I don't think so. But, I did then, and, so, I read the book after we were done shooting and then I was like, "Oh, I wish I would have known that!" [Laughs.]
PC: They are quite different properties in a lot of ways.
PW: I think it really depends on the director and their adaptation of the material, though - that's what makes all the difference. You also have to know where to leap off from - you've got to have the skill-set and the confidence to just trust the director and focus on what's important to the screenplay and just go with it. You can't be too precious with the book - you'll never get all of it in so it's foolish to even try.
PC: THE PHANTOM OF THE OPERA film takes quite a few liberties with the property, too - a whole new ending featuring you at the grave of Christine with the new song underscore.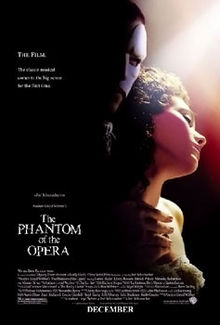 PW: Right! Right.
PC: Have you seen the sequel, LOVE NEVER DIES? It's on DVD.
PW: I haven't - I didn't know that, though! I'll have to check it out.
PC: Were you ever involved with it at any point in the development or in talks for it?
PW: To be honest, I don't remember - I don't think so; I don't remember talking to Andrew about it specifically. I remember seeing Jack O'Brien when he was working on it at a party, but I don't know any more. I am always looking for something new, though - I really always, always am. You know, it's difficult for me to find the right role that I would want to stay in for four months or six months - and, that's just for a shorter run type thing on Broadway.
PC: Would you say that you have to be more selective with what stage roles you choose?
PW: I think so. I mean, looking at the plays I have done - they are all great plays and I always wanted to have a crack at them - but, you know, musicals are a different beast. Unless, of course, you do something somewhere like the Roundabout where you know it is a limited run, then that is something different - it's hard doing a new musical that way, though. So, yeah, it's kind of tough. One thing I really love is diversity, so I try to find film roles that help me to stretch out a little bit. And, also, a lot of the movies I have done haven't made a ton of money, anyway, so… [Big Laugh.]
PC: Is Joe Gillis in SUNSET BOULEVARD a role you'd consider taking on someday? It seems as though it would fit you so well on film.
PW: I love that role, actually - I love that show. I'm sure after the numbers come in from the LES MIZ movie, we'll all know more… [Laughs.]
PC: WATCHMEN and PROMETHEUS are both undoubtedly modern cult classics if not something more significant than just that.
PW: You're right - and that's really cool. Listen, I love my career and I love what I do. And, one of the main reasons I live on this coast is because I love the theatre so much - I know I haven't done a show in about thirty years now, but I really do. I have been looking - I really, honestly have; I thought I was going to be doing something this Fall, actually, but it didn't work out.
PC: What a shame.
PW: Yeah, but my commitments to INSIDIOUS 2 made it impossible - but, I just had to do that! I had to do it and I really wanted to do it. So, you know, those are the choices you have to make. So, now, I am mapping out the Spring and thinking maybe something in the Fall and committing myself to that - that's the thing about theatre; at least for me, if I am going to do something I am really going to commit to it. For me, it's not just "Oh, let me just find a role to do on Broadway;" I say, "I want a great role!"
PC: You want to make a mark.
PW: I mean, theatre is in my soul and I always feel like a theatre actor, so it's not - in a weird way - like I have to be like, "Oh, I have a couple months off - let's take a play." I never feel far from the theatre - if that makes sense - so it's just about finding the right role for me to take on. It is so hard to find the right role in a musical for me - and it drives me nuts. I haven't done one in ten years now, which is the longest period in my life.
PC: How different is Broadway today compared to when you did THE FULL MONTY at the turn of the millennium? How do you see it now versus then - do you think we are at a low point?
PW: Well, it's hard to say it's a low point when you see the numbers and you see the amount of people coming to see shows - and the money; commercial theatre is so, so huge. I mean, I still find it incredibly disgusting that people will pay $350 or something to go see theatre; it's just insane. Premium tickets? Come on - it's ludicrous and it's elitist and it's gross. I don't know - I just don't get it.
PC: It's endemic, too, sadly.
PW: I know! I just don't get it. It's not unlike the studio system of Hollywood, where, several years ago, if a studio had, say, a couple hundred million dollars to change up their slate, they would have done four movies for a hundred million instead of one for a hundred million. They spread it around - if you put all your eggs in one basket, that's what you get. So, now, it's like: if we get this kind of show and this kind of actor and this type of run, we can charge $350 and make our money back in this amount of time. So, it's hard - it sort of takes away the journey of the show out of the equation and the whole artistic process of it all. But, hey, I am a very optimistic person and I still go to see stuff all the time that I really like - I just saw GOLDEN BOY, which I loved.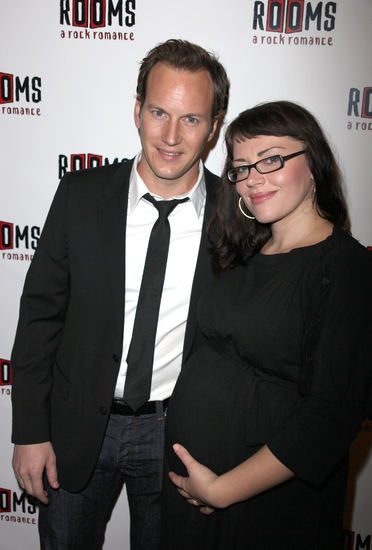 PC: And your very talented wife is in the show, is she not?
PW: Yes, she is. I am really proud of her in this show and I am sure I will be back to see her in it many more times. [Pause.] But, I think that no matter where you think the theatre is, it will always be there somehow and there will be places championing the good stuff - places like the Public and the Roundabout who have the opportunity to take more chances. It's become very hard to get a new show up these days.
PC: There is a new model with the Fathom live presentations of plays, musicals and so on - like PHANTOM 25.
PW: That's true. You know, all entertainment is like that now! Everything is On Demand and on your phone and online! So, I figure, as long as the message gets out there one way or another, it's doing a good thing.
PC: On the topic of good things for a great cause, tell me about this Monday's Hurricane Sandy relief benefit concert at the Gershwin, BROADWAY BLOWS BACK.
PW: BROADWAY BLOWS BACK. After the hurricane hit, I called
Tom Viola
and I wanted to see if I could put together a benefit or be involved in a benefit; sort of like, you know, "Put your ear to the grindstone and see if you hear anything and if you do let me know." So, Richard Blake, a mutual friend, reached out to me - he had heard that I wanted to be a part of something and to help in any way I could. So, several years ago, my family and I did a benefit concert down in Florida - it was this full concert that
Sarah Berry
and I did together and we raised like $100,000 and it was a great event and we had a great time. So, my dad said to me after the hurricane a few weeks ago, "Why don't you do something like that up there for that?" And, I said, "Well, it's a little different up here - dealing with theaters and teamsters and all of that." But, because of
David Stone
and his willingness to get involved with these type of things, the Gershwin became one of the only options that we had as a Broadway house. Richard Blake reached out to me and so I said I would be a part of whatever they decided to do. So, they were planning it all out and now I am hosting it and it will be a really cool event.
PC: What can we expect from the show?
PW: Well, my brother is coming up to play, so that will be fun - we will be doing something together; we play together in a band in Florida, The Wilson Van. So, he is going to play guitar and I am going to sing. I am going to host, too, and we have a great group of people performing and a pretty eclectic bill. I have convinced some of my TV friends to come, too - Dana, my friend who is an anchor from CBS has put together a great package to show and she will introduce it; all about how much the effort needs to go on and how much help is still needed. It is so important to remember all that these states have gone through and it all just keeps piling up - we just need to do whatever we can. If you don't have any money, give your time, and, if you don't have any time, give your energy; if you don't have that, give a coat. It's just important for us to rally - one thing I have always loved about the Broadway community is how much we take care of each other and also how important the Broadway scene is to the heart of New York.
PC: You can say that again.
PW: It is so important to the heart of New York. No tourist that comes here doesn't want to see a show or doesn't try to see a show or doesn't go to see a show - you know what I mean? Of course you do. Broadway is so important to the vitality of the city and it is so important for us to lead up the charge and do whatever we can to help out during a time like this.
PC: There is so much devastation throughout the tri-state area.
PW: Just the stories that add up! You need a reference point - Katrina or Irene or this; something to give you a starting point for understanding how big of an event it was. This was massive - the amount of lives that were changed, disrupted or lost is just unbelievable to me. I mean, look, I was down at the shore and trying to help my neighbors salvage the first floor of their house and I saw people who don't even have a floor anymore, it's just sand now.
PC: How horrific.
PW: It's just hard to even fathom. Then, you have entire communities that are entirely gone! You know, because we are New Yorkers and because we are resilient, it takes a lot to reach out, but, when you do and there is help there for you, it's a wonderful thing.
PC: What will you be singing at the event?
PW: Well, I am doing a rock tune that is rarely done. It's a beautiful melody and it's very lyrically apropos to the evening, I think - it's called "Eagles Fly", actually.
PC: What about a solo album from you someday? Your voice is so perfect for it.
PW: Well, you know - it just has never felt right. For me, I never could commit to what I wanted to do. I mean, I could do a whole album of "Soliloquy" to other musical theatre hits, and, then, there is another side of me that wants to sing Iron Maiden, so… [Laughs.]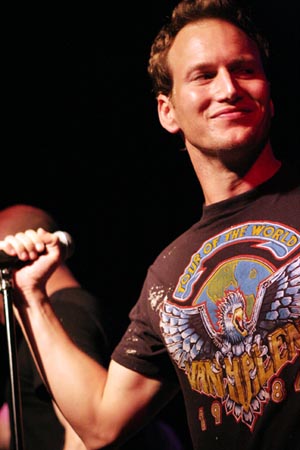 PC: Talk about switching gears!
PW: Yeah - I'm always sort of stuck in between where to go. If anything, I would probably do something with my brothers - we have a band, The Wilson Van; and, we started out as sort of a Van Halen tribute band, but, since then, we have sort of branched out into more eclectic sounds and tastes. So, we range anywhere from hard rock to country-sounding stuff in what we write - if anything, we have four or five songs we have been doing and we have another concert coming up in a couple of weeks, so we'll see what we come up with then. I think that that is probably the next step, though - if we can round out a decent album out of that stuff that will probably be the next thing I do in the studio; hopefully not before too long. I mean, I've made little albums for my parents and stuff, but never anything official.
PC: It's time.
PW: It's funny you mention it, though - people used to ask me about doing a solo album all the time, and, now, they don't very often. People probably think, "Oh, he's never going to do one!" [Laughs.]
PC: No Broadway in the immediate future then, either?
PW: It's a blank slate. We'll see what happens - I have met with several directors over the last few months and we are trying to figure out what time schedule will work. First, Fall looked like I had a movie that I was attached to that was going to go, so it was all up in the air and we have been trying to line something else up.
PC: It's a matter of timing.
PW: Yeah. Realistically, it probably won't be until next Fall that I get to do something, but we'll see. If you think of any great musical theatre roles, let me know - I usually just scour the Anthony Warlow songbook to see what he's done. [Laughs.]
PC: Last question: Do you have any updates on the proposed PROMETHEUS sequel that Ridley Scott has confirmed he wants to do?
PW: I don't. I think that the idea would be that I would be in it, though - but, until I get a script and an offer and a plane ticket and I am standing there ready to roll, it's a "Well see," you know?
PC: For sure. So, until then…
PW: Yeah, until then, I just have to feel like, "Yeah, man - that would be really, really cool." [Laughs.]
PC: It would. This was amazing. Thank you so much for this today, Patrick.
PW: Thank you, thank you, thank you, Pat. I loved this - this was a lot of fun. Bye bye.
Photo Credit: Walter McBride, etc.