Elevator Repair Service Extends Kate Scelsa's EVERYONE'S FINE WITH VIRGINIA WOOLF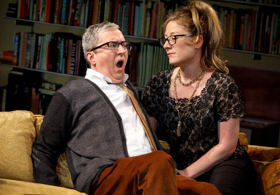 Due to popular demand, Elevator Repair Service, the Obie-award winning company that brought you Gatz ("the most remarkable achievement in theater of the decade" according to The New York Times), is pleased to extend the world premiere of Everyone's Fine with Virginia Woolf, a new play written by longtime company member Kate Scelsa and directed by Elevator Repair Service Artistic Director John Collins, to June 30. Preview performances began on June 1 and the production is set to open on June 12.
A wildly hilarious take-down of an American classic, tailor-made for this #MeToo moment, Everyone's Fine with Virginia Woolf is, in turns, loving homage and fierce feminist take-down. In this reinvention of Edward Albee's drama Who's Afraid of Virginia Woolf?, the power dynamics of the original play's not-so-happy couple are subverted. In the end, no one will be left unscathed by the ferocity of Martha's revenge on an unsuspecting patriarchy.
Founded in 1991 and known for a rich body of ensemble-driven theatrical works, Elevator Repair Service develops pieces over a period of many months to years. On rare occasions, including with 2015's Fondly, Collette Richland by Sibyl Kempson, the ensemble applies its highly collaborative technique to the work of a contemporary writer.
"I'm not a writer and, usually, I'm depending on exciting material finding its way into our rehearsals by free association, serendipity or happy accident," said Collins. "But secretly with Kate, we've had a playwright embedded in the company for fifteen years. Kate knows the company so intimately and has written a play that not only channels theirbrilliance, but expertly critiques this iconic masterpiece. She tears it up and then rebuilds it. This is Martha's revenge."
One week after graduating from Sarah Lawrence College in 2002, Scelsa joined Elevator Repair Service.First she was an intern, then the office manager and finally a celebrated performer (including Gatz, The Sound and the Fury and The Select). Scelsa is also a novelist. In fact, much of the first draft of her acclaimed young adult novel, Fans of the Impossible Life, was literally written as Scelsa sat in her onstage cubicle during performances of the eight-hour Gatz.
"Who's Afraid of Virginia Woolf? is one of my favorite plays of all time," said Scelsa. "And today we can look at a character like Martha through such a different lens. She has continued to capture our collective imagination for so many years because she is iconic, in some ways we can even see her as feminist, but at the end of Albee's play she is destroyed by this idea of motherhood, of not living up to this very traditional idea of what it means to be a woman. I'm interested in asking how can we reconcile Martha's destruction with our love of this character, and what does it say about Albee that he felt the need to destroy her? This kind of questioning homage, along with my desire to write a very passionate love letter to the company that has been my theatrical home for the past fifteen years, resulted in this play."
The cast forEveryone's Fine with Virginia Woolf features Elevator Repair Service veterans and includes Annie McNamara as Martha, April Matthis as Honey, Mike Iveson as Nick, Vin Knight as George, and Lindsay Hockaday as Carmilla. The creative team includes Louisa Thompson (sets), Kaye Voyce (costumes), Ryan Seelig (lights), Ben Williams (sound), Amanda Villalobos (props), Maurina Lioce (production stage manager) and Ariana Smart Truman (producer).
Performances ofEveryone's Fine with Virginia Woolf will now take place through June 30 (see above schedule) at Abrons Arts Center, located at 466 Grant Street in Manhattan. Critics are welcome as of Thursday, June 7 for an opening on Tuesday, June 12 at 8pm. Tickets are $65-$75, June 12-24 general admission; $65-$85, June 27-30 general admission; $40 for artists, $25 for students; and $20 general rush. Tickets can be purchased by visiting everyonesfine.com or by calling 866-811-4111.