Click Here for More Articles on Debut of the Month Features
Debut of the Month: Mama Has Provided! ONCE ON THIS ISLAND's Alex Newell
Alex Newell, best known for playing Wade "Unique" Adams, a transgender student on FOX's GLEE, makes his Broadway debut as Asaka, Mother of the Earth, in the Broadway revival of Once On This Island. The musical tells the universal tale of Ti Moune, a fearless peasant girl in search of her place in the world, and ready to risk it all for love. Guided by the mighty island gods, Ti Moune sets out on a remarkable journey to reunite with the man who has captured her heart.
Today, Alex Newell speaks with BWW about making his Broadway debut and explains why even in the bleakest of times, there's always hope for what the future can bring!
[NOTE: BroadwayWorld's fabulous photographer Walter McBride captures images of the Broadway stars profiled in our monthly column in a special photo shoot. Check out the pics of Alex Newell throughout the feature!]
---
Was this a show that you were familiar with prior to your casting?
Yes, I had done the show before and I did love the story. And about two or three years ago I had a meeting with Michael [Arden] about his ideas about doing the show and everything. And somehow I ended up in it two years later!
Who were some of the Broadway idols that you looked up to?
I think some of my Broadway idols are Barbara Streisand, Jennifer Holiday, Pearl Bailey. Just so many great, great voices and actresses and such amazing talents.
Many people know you from GLEE. What would you say are some of the differences between working on TV and performing before a live audience?
The difference is you don't get that instant gratification, that instant 'ok' on television. You have to wait until it's edited and you have to wait until it airs and even then you could have worked so hard on a scene that no one truly really notices because it's only 10 seconds long. And on stage you basically train to run a marathon. You have eight shows a week and you have the immediate gratification of applause at the end, or a laugh or even a silent sob. So that's the main difference.
And that is obviously more rewarding to you as an actor.
It is! It's the little things. It's like, during the rehearsal process everyone laughs the first couple of weeks when you're doing everything and then as time goes on it becomes silent and it reminds you that this is actually good and I'm doing something good. And it helps you grow as an actor as well because then you learn how to read the people in the room.
You portray a very powerful character, Asaka, Mother of the Earth in this show. Have you found it to be a challenging role?
You know, playing Asaka is me getting to be onstage and be myself and have fun in a heightened experience. The only challenge I've faced is when I had to do the show once when I had the flu and once when I had food poisoning. So the challenge then was in just trying to phonate and give my one song out in a way that was still impressive and healthy at the same time.
Your number 'Mama Will Provide' is such a showstopper! What does it feel like to receive that kind of response from the audience?
It's great! I mean it rarely ever happens that anyone gets a mid-show standing ovation ever on Broadway. So to have that happen, it's rewarding in a way, because it means everything else, the food poisoning, the flu, the not wanting to be there sometimes because I was really tired and had done fifteen shows that one week and I hadn't had a day off in two weeks. It reminds me that there's a reason that I'm doing it.
Can you talk a little bit about working with Lynn Ahrens and Stephen Flaherty and director Michael Arden?
I never got to work with people who trusted me so much as a performer, and actor, and singer. To work with Lynn and Stephen, and Michael that way- they trust what I can do and my capabilities as a performer, especially Lynn and Stephen, who literally let me take their child, essentially, and just let me do whatever I want with it. So to have them trust me in that way, knowing that they're so amazing, so brilliant, and have so much clout in this life, is probably one of the best gifts anyone can give a performer. Just the trust to do that.
And what about working alongside this super-talented cast?
Yeah, I mean it's stunning to work with such amazingly talented people. I mean Kenita Miller breaks my heart every night when she sings 'Ti Moune'. Her Mama Euralie is just so fresh and so honest, and I've never witnessed anyone be so honest eight shows a week. And it follows her off the stage in her own life as well. She's just so open and honest and it's lovely to see that. And I never thought that I would ever be working with Lea Solanga in my life! To literally have her sing "Human Heart" each night- it's really stunning. It's so pure! Her vocals are just- amazing. I know she's a Disney princess, but she is an actual Disney princess!
The show was originally staged in 1990, yet it still seems so relevant in 2018.
Yes! The show is about hope and love and faith. Even in the bleakest of times, like the bleakest of times, there's always a little bit of hope of what the future can bring.
And this whole notion that there are two very separate groups, the peasants and the rich, really strikes a chord with people.
Well yeah! It has so many underlying themes, whether it be race or economically. You have two people who have the exact same back story and just because one is more fortunate they see themselves as better. And that rings true in our current political climate right now. You have so many people who think just because they either worked harder or had it easier, or their struggle was different, they think that they're better than everyone else, when actually, we've all had the same struggle.
Do you see that as the ultimate message of the show?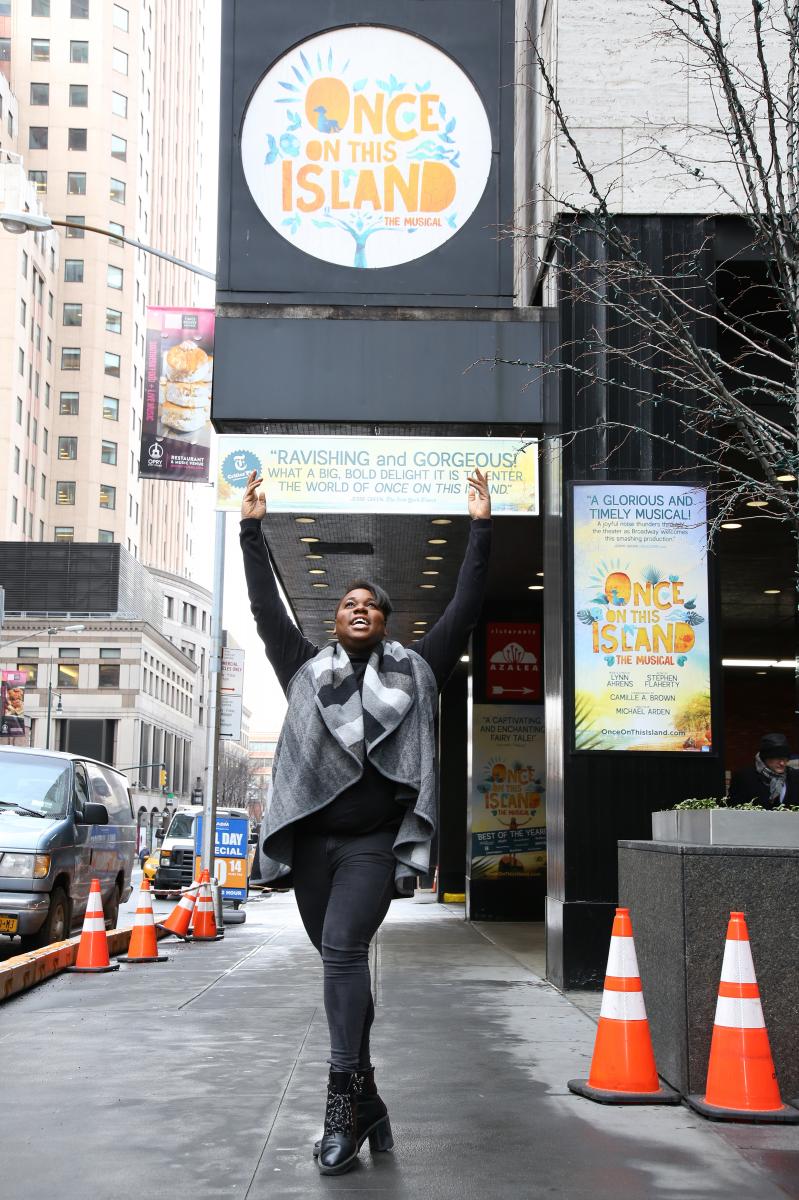 Yes, I think the message of the show is really that we're all the same. We're all the same make and we're all trying to figure it out. What happens in the original story, which rang true to me and my culture, was that within the black community, there has always been this animosity between darker skinned people and lighter skinned people only because when we were brought over here as slaves, the lighter skinned people were always the slaves that worked in the house or looked after the master and mistress. And that was only because the master stepped out and slept with one of the slaves and a child was created from that union. And that child would have been raised as a house slave. And so they were perceived better than the darker slaves because of their one situation. And so from generation to generation to generation after that there's just been this preconceived notion that lighter skinned people are deemed prettier because their hair is silkier, or maybe they'll have a better life because their father is white. And that's really what the show is about - that interracial hatred within the black community. And so what rings true, to make the show more commercial, was it's that same story, but now it's just by social class - the other side of the island has money, the peasants don't. And it just gets deeper and deeper the more you think about it and it gets more rooted when you take everything and strip it away and realize that we're all actually the same. And I think that's the message that we're all hoping will be seen and shown. That we're all the same, and no matter how dark times get, there's still this hope and there doesn't have to be fear with that hope.
And finally, what was it like to make your Broadway debut?
You know it was so strange. I still don't think I made my Broadway debut even though I'm almost at 100 shows! It literally felt so natural that I was there. And people were shocked that I was making my Broadway debut - and I was like, "No! I've never been on Broadway ever.' And they were like, 'That's shocking to everybody,' It's just such a comfortable place for me to be right now, and it's something that I moved cross country to do. And I'm just so happy that I'm doing it!
BroadwayWorld congratulates Alex Newell on his Broadway debut! The actor portrayed Wade "Unique" Adams on FOX's GLEE. Other roles include Hairspray (Motormouth Maybelle), Cinderella (Fairy Godmother), Saturday Night Fever (Candy). Alex is also a recording artist with Atlantic Records where he's released songs with Clean Bandit ("Stronger"), Blonde ("All Cried Out") and The Knocks ("Collect my Love"). All available now along with his debut EP entitled Power, and new single "Keep It Moving." His song "Kill the Lights (Nile Rogers and DJ Cassidy) was featured on HBO's "Vinyl."
Photo Credit: Walter McBride / WM Photos