Can Oscar Winners Pasek & Paul Become Fastest/Youngest-Winning EGOTs?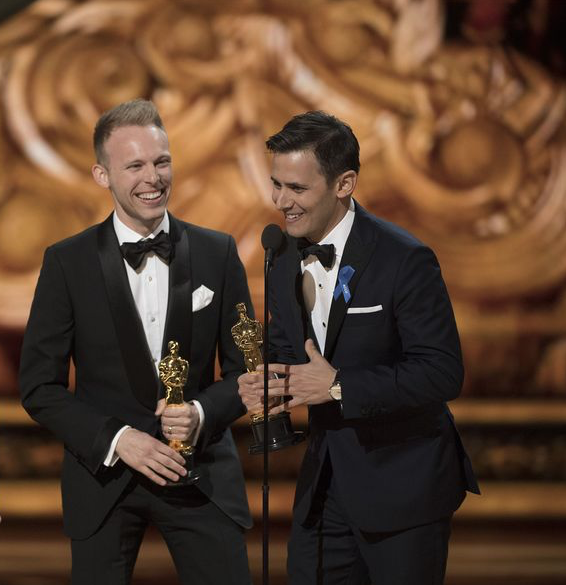 On last night's ACADEMY AWARDS, the award-winning composing team of Benj Pasek and Justin Paul, along with composer Justin Hurwitz, picked up a statuette for Best Song for "City of Stars" from LA LA LAND. The memorable song also won the Golden Globe Award for Best Original Song earlier this year.
While last night's win only marks one-fourth of the necessary requirements to achieve EGOT status, the dynamic duo are currently behind three projects which could make them the fastest and youngest talents in entertainment history to reach the coveted title.
Anybody have a map to see how this can be done? Well this June, odds seem to be in favor of Pasek and Paul picking up a Tony Award for Best Original Score for their hit Broadway musical DEAR EVAN HANSEN.
Come the fall, the prolific writing team may very well be nominated for an Emmy in the category of Outstanding Original Music and Lyrics for their work on an upcoming crossover musical episode of The CW's THE FLASH and SUPERGIRL. The episode, titled "Duet" will premiere on March 21st. As BWW recently reported, the crossover event will feature performances by SUPERGIRL's Melissa Benoist, THE FLASH's Grant Gustin and GLEE alum Darren Criss in the role of 'Big Bad Music Meister.' In addition, Broadway vets Jesse L. Martin (Joe), Victor Garber (Dr. Stein), John Barrowman (Malcolm Merlyn), Jeremy Jordan (Winn); and Carlos Valdes (Cisco) will all partake in the singing portion of the episodes. Gustin will perform Pasek and Paul's original song titled "Runnin' Home to You," in the episode. (click here for all the episode details!)
Next February, Pasek and Paul will certainly be in the running to receive a Grammy Award for Best Musical Theater Album for the original cast recording of DEAR EVAN HANSEN, and for their work in LA LA LAND. And to raise the stakes even higher, the twosome could possibly pick up a Pulitzer Prize next April for DEH, elevating them to
P
EGOT status.
While it may seem 'for forever' until we find out if Pasek and Paul become record-breaking EGOT winners, we'll be sure to keep track of their progress as the awards continue to rack up!
Listen to the Oscar winning song 'City of Stars' below:
Image courtesy of ABC
Related Articles
Caryn Robbins is a Senior Editor and daily contributor to BroadwayWorld, and manages the TV, Film and Music spin-off sites. Her original musical comedy DEAR (read more...)