CITY OF SCIENCE to Bring Exploration to Kids in All Five Boroughs of NYC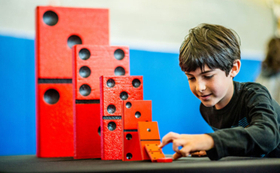 The World Science Festival and Con Edison have announced that City of Science, a buzzing mini-metropolis of mind-expanding demonstrations and hands-on activities for families, will travel to each of New York City's five boroughs, beginning December 10, 10am-4pm, at the Park Slope Armory YMCA in Brooklyn (361 15th Street, between 7th and 8th Avenues).
This series of free day-long events will engage New Yorkers in the exploration of science, technology, engineering, and math. Visitors can launch objects 20 feet in the air with a seismic accelerator, walk on water, topple seven-foot tall dominoes, create an orbiting universe at the Warped Space Gravity Simulator, and explore a variety of mind-bending challenges and puzzles.
Neighborhood science and community organizations including brainNY, Brookhaven National Laboratory, Brooklyn Children's Museum, Brooklyn Public Library, MoMath/The National Museum of Mathematics, FIRST NYC Robotics: George Westinghouse and Brooklyn Technical High Schools, and the Prospect Park Zoo/Wildlife Conservation Society will also be leading hands-on activities. Local experts-teachers, university professors, and professional scientists-will be on hand at each demonstration or activity, to guide visitors through the science behind it.
Each year in New York City, through 70+ events over five days, the internationally acclaimed World Science Festival offers a broad general audience an unparalleled opportunity to engage with revolutionary discoveries, the thinkers behind them, and their wide-ranging political and cultural implications. With City of Science, produced by the World Science Festival and presented by Con Edison, the Festival's hometown presence expands to include programs throughout the year and across the City.
Tracy Day, Co-Founder and CEO of the World Science Festival, said, "We are thrilled to partner with Con Edison again to bring hands-on science to families across New York City, and cannot wait to return to the Park Slope Armory YMCA to launch the 2017-18 tour of City of Science."
"Through science, we keep our environment clean, design and build infrastructure, create smarter cities, and discover ways to help needy people all over the world," said Frances A. Resheske, Senior Vice President, Corporate Affairs, Con Edison. "The exhibits and activities City of Science brings to all five boroughs fascinate, entertain, teach, and intrigue kids and adults. The women and men of Con Edison are proud of our sponsorship of this festival of learning and fun."
After launching in Brooklyn on December 10, City of Science travels to Lehman College of the City University of New York, in the Bronx, on March 11, 2018; and to NYU Kimmel Center, in Manhattan, on June 3, 2018. Dates and locations for Staten Island (Fall 2018) and Queens (Winter 2018) will be announced soon.
The upcoming tour follows the highly successful 2016 edition of City of Science, which attracted over 20,000 people.
For more information about City of Science, visit worldsciencefestival.com/cityofscience, email cityofscience@worldsciencefestival.com or call 212.348.1400.
The World Science Festival gathers great minds in science and the arts to produce live and digital content that allows a broad general audience to engage with scientific discoveries. Through discussions, debates, theatrical works, interactive explorations, musical performances, intimate salons, and major outdoor experiences, the Festival takes science out of the laboratory and into the streets, parks, museums, galleries and premier performing arts venues of New York City and beyond.
The Festival has featured acclaimed artists Alan Alda, Joshua Bell, Alec Baldwin, Mayim Bialik, Chuck Close, Glenn Close, David Draiman, Tina Fey, Renée Fleming, Philip Glass, Maggie Gyllenhaal, Bill T. Jones, Charlie Kaufman, Mary-Claire King, John Lithgow, Yo-Yo Ma, Bobby McFerrin, Liev Schreiber, Anna Deavere Smith, Brian Stokes Mitchell, and Julie Taymor; renowned scientists Sylvia Earle, Stephen Hawking, Eric Lander, Richard Leakey, Oliver Sacks, and E.O. Wilson; and Nobel Laureates David Baltimore, Barry Barish, Steven Chu, David Gross, Eric Kandel, Dudley R. Herschbach, Roald Hoffmann, Leon Lederman, Paul Nurse, John C. Mather, Saul Perlmutter, William Phillips, Adam Riess, F. Sherwood Rowland, Horst Störmer, Jack W. Szostak, Gerard 't Hooft, Harold Varmus, James Watson, Steven Weinberg, Rai Weiss, Carl Wieman, Frank Wilczek, among many others luminaries in science and the arts.
The annual live, week-long Festivals, which launched in 2008, have collectively drawn more than 2.5 million visitors worldwide, with millions more viewing the programs online. The World Science Festival's original musical and theatrical works tour nationally and internationally. March 2016 marked the launch of World Science Festival Brisbane. World Science U is the Foundation's online education arm, where students and lifelong learners can dive more deeply through artfully produced digital education content presented by world-renowned scientists.
Cofounded by Brian Greene and Tracy Day, the World Science Festival is a production of the World Science Foundation, a non-profit organization headquartered in New York City.
For more information, visit www.worldsciencefestival.com, or follow on Twitter: twitter.com/worldscifest, Facebook: www.facebook.com/worldsciencefestival, and Instagram: www.instagram.com/worldscifest.
Con Edison supports hundreds of nonprofit organizations in New York City and Westchester County to strengthen neighborhoods, sustain communities and improve lives. These philanthropic efforts support the arts, environment, and important educational initiatives in science, technology, engineering, and mathematics. Many of Con Edison's 14,000 employees share a personal commitment to the region's vitality through their own volunteer efforts and also choose to support education by utilizing the company's matching gifts program.