BroadwayHD To Stream Award-Winning Musical THE LION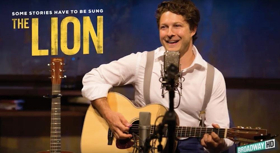 BroadwayHD, the world's premiere online streaming platform delivering more than 250 premium live productions to theatre fans globally, today announced that The Geffen Playhouse production of the Drama Desk Award-winning piece The Lion will debut on the platform December 6. The Lion will join Pulitzer Prize-winning show Long Day's Journey Into Night, and Pulitzer Prize Finalist Play Thom Pain, as the third title to stream on the platform, in partnership with Geffen Playhouse. The show is directed by Kevin S. Bright, an Emmy Award Winning Executive Producer of the hit television series Friends and produced by Gil Cates Jr (Executive Director of Geffen Playhouse) and Eva Price (Tony-Winning Broadway Producer), and Executive Produced by Bright, Candice Abela Mikati and Fouad Mikati.
Written and performed by Benjamin Scheuer, and originally directed for the stage by Sean Daniels, this one-man show is a true story of love, loss, family loyalty, and the redemptive power of music. Accompanied only by six guitars, Scheuer's production has redefined the genre of musical theater. "A mesmerizing guitarist," Scheuer's "songs are awfully well-constructed; there's a hint of Paul Simon in Scheuer's easy, knowing lyrics and disciplined musicianship," says The Washington Post. Following an award-winning run at the 2013 Edinburgh Fringe Festival, the show toured nationally until its final showing in February 2017.
Geffen Playhouse and BroadwayHD announced their partnership in 2017 to present select live and captured-live productions from Geffen's Los Angeles Gil Cates and Audrey Skirball Kenis theaters to BroadwayHD subscribers. Geffen's production of Eugene O'Neill's Pulitzer Prize-winning Long Day's Journey Into Night, starring Jane Kaczmarek and Alfred Molina, was the first play presented under the partnership, marking BroadwayHD's first live stream from a U.S. theater outside of New York City.
Early in Bright's career, he produced numerous specials for Johnny Cash and David Copperfield. In 1986, he produced the Cable ACE Award-winning series The History of White People in America, as well as HBO SPECIALS starring Robin Williams, HARRY Shearer, and Paul Shaffer. In 1989, he received his first Emmy for Outstanding Comedy Series as supervising producer on Fox's In Living Color. In 1992, Bright won a Cable ACE Award for Best Comedy Series as executive producer of Dream On. Bright is one of the original executive producers of, and has directed more than 50 episodes of Friends, including the season finale each year. The NBC series received the 2002 Emmy Award for Outstanding Comedy Series as well as winning the People's Choice Award for Favorite Comedy Series for 10 consecutive years. He is the Founding Director of Emerson College Los Angeles and has also been the faculty advisor for Emerson's EVVY Awards. Bright graduated from Emerson College in 1976 and received an honorary degree in 2011.
Benjamin Scheuer is an American songwriter, performer, and playwright. Scheuer wrote and starred in the critically acclaimed one-man musical THE LION, which toured the US and Europe from 2014-2017. THE LION won the 2015 Drama Desk Award for Outstanding Solo Performance and the 2015 Off-West End Award for Best New Musical. Scheuer's album "Songs from THE LION" debuted in the Billboard top-10. In collaboration with animator Peter Baynton, Scheuer created animated videos for his songs "Cure," "The Lion," "Cookie-tin Banjo," and "Weather The Storm." These videos garnered two consecutive Public Choice Awards for Best Music Video at the British Animation Awards, the award for Best Commissioned Film at the Annecy Film Festival, and Best Music Video at London's Encounters Film Festival. Scheuer is a SURVIVOR of Hodgkins Lymphoma. With photographer Riya Lerner, he created the photography-book,"Between Two Spaces," from which 50% of proceeds benefit the Leukemia/Lymphoma Society. Scheuer is currently working on new album, and writing a new musical. He lives in New York City.
BroadwayHD, founded in 2015 by Tony Award® winning producers Stewart F. Lane and Bonnie Comley, is the only streaming service offering premium full-length stageplays and musicals captured specifically for multiplatform viewing to theatre fans across the globe. In addition to exclusive live-streamed content of the world's best productions, BroadwayHD offers subscribers unlimited on-demand access to a library of more than 250 theatre productions from Broadway, The West End and beyond. If You Can't Get to Broadway, Get to BroadwayHD.
Related Articles