BWW Review: SONATA 1962 at NYMF is Real, Relatable and Heart-Wrenching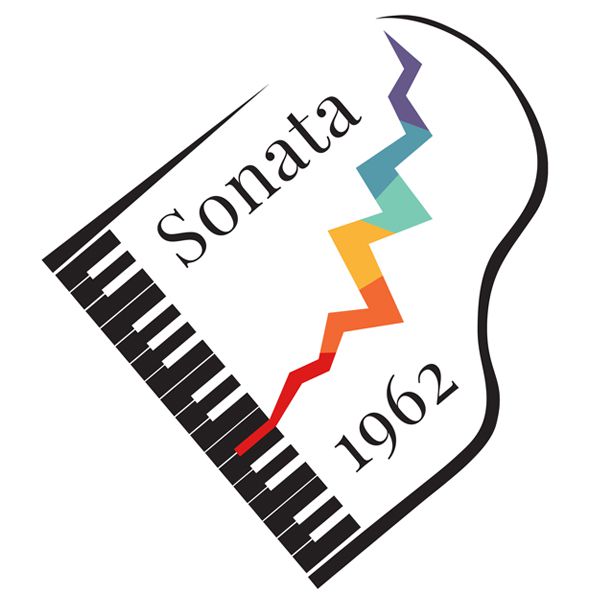 Let me preface this by saying, when I reserved my tickets for Sonata 1962, I read the show's synopsis and decided it was something I would be interested in. I then promptly forgot what the show was about in the two months leading up to the performance I was attending. I highly recommend viewing the show that way. Or better yet, don't read the synopsis at all. This review will include spoilers, just be warned.
Sonata 1962 begins with a mother, Margaret (Erin Leigh Peck), "making the day" for her daughter who has returned home. It is revealed in the song that Laura (Christina Maxwell), Margaret's daughter, was in the hospital after receiving some sort of treatment, but it is not quite clear what exactly it was.
Laura is a piano prodigy, which is mentioned throughout the beginning of the musical. A side effect of the treatment Laura underwent is memory loss, and it seems that she has lost her ability to play piano. Margaret starts to wonder if this treatment was worth the potential loss of what makes Laura, Laura.
The show then enters a flashback to Laura leaving for college, joining glee club, and making a new friend named Sarah (AnnEliza Canning-Skinner). Laura and Sarah get close fast, and the passage of time is represented in Laura's letters to her mother talking about her experiences in college.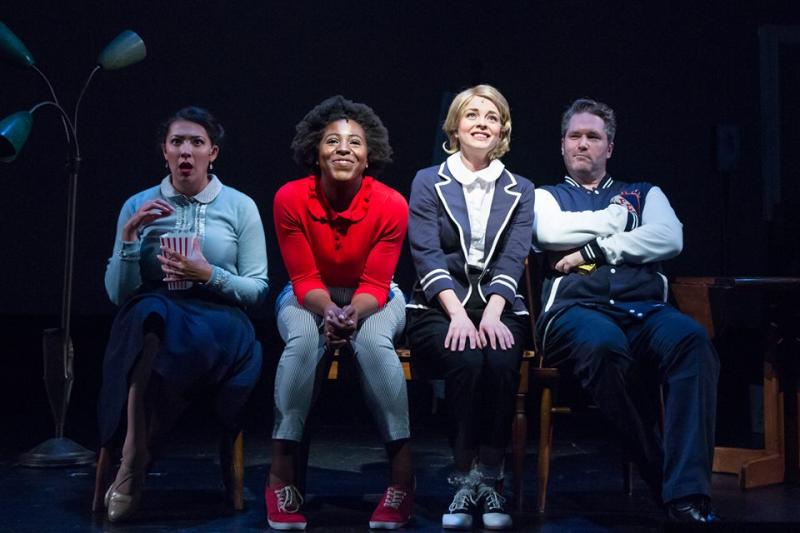 It is revealed in a scene where the girls are at the movies, seeing West Side Story, that Laura may have more than friendly feelings toward her new friend. She yearns to hold Sarah's hand, touch her leg, anything to get physical contact, but she's afraid.
The girls' relationship culminates in a scene at a bar, where they share what I assumed to be their first kiss. It is revealed later that this was a gay bar that they were told about by their friend. This is during a time where homosexuality was considered both a crime and a mental illness, so when the police show up and find the girls kissing, they are both expelled from school.
When Margaret finds out the real reason why Laura came home, not because of the flu like she had initially insisted, she asks Laura's doctor, Dr. Haines (Aaron Ramey) what can be done, and he recommends electric shock therapy. The flashback ends with Dr. Haines coming to Laura's home while Margaret isn't there and injecting her without her consent or knowledge, before taking her off to be treated.
The musical then flashes forward again to Laura being home in recovery from her treatment, which Margaret assures her was to treat depression. When Laura finds a song she had written for Sarah while in school, she finally learns the real reason for her treatment. While she doesn't remember Sarah, she resents her mother for hiding the truth from her.
The final scene is another flashback to when Laura first played the song she wrote for Sarah, revealing that their relationship seemed to go on for a lot longer than it seemed in the show.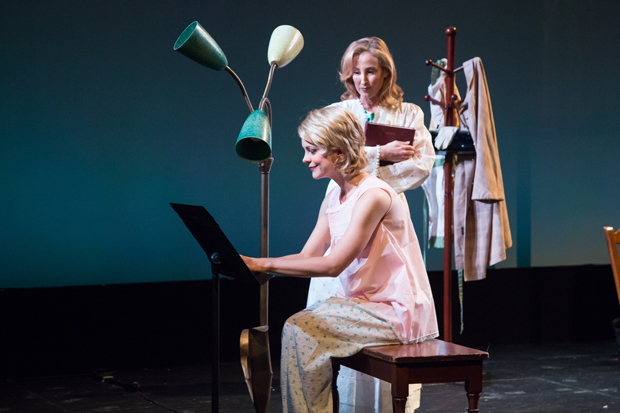 The flashbacks in this show really worked. It didn't feel too choppy or confusing. It was always very clear which timeframe we were watching, and it worked to move the plot along, while still creating the "big reveal" moment of what exactly was "wrong" with Laura.
However, the development of Laura and Sarah's relationship was too rushed. It seemed to jump from Laura being afraid to touch Sarah's leg, to them kissing in the bar, and those were their only two interactions that were "more than friendly." When in reality, Laura wrote a song about waking up next to Sarah, and the scene where she played that song for her was shown at the end. I imagine there were more scenarios like this in their relationship that were just never depicted. I think adding in at least one more scene of the girls being romantic with one another would have made for a more impactful story.
Aside from that, this show was brilliant and moved me to tears on multiple occasions. I appreciated how Margaret was painted as a perfect mother, making biscuits for Laura and being patient with her recovery, until it was revealed exactly why she had the treatment in the first place. The scene when Laura described the way Sarah made her feel, resulting in a hard slap from her mother, was when everything changed. I understand that in these times, homosexuality was far from accepted, and was seen as both a mental illness that could be treated, and a crime that could be punishable, but it still stung to see a mother's reaction to her child's happiness be so harsh and unaccepting.
Maxwell's performance as Laura was of course the standout. Her voice is pure and full of emotional depth whenever she sings. Her emotional journey throughout the show was believable and realistic.
I loved the supporting character of Lorraine (Romelda Teron Benjamin), Margaret and Laura's neighbor. However, it wasn't clear, unless I missed something, that Lorraine was their neighbor until about halfway through the show. Before I knew exactly where the plot was going, I actually thought Lorraine was Margaret's girlfriend, because they seemed so close and Lorraine was always at their home. Regardless of that, Benjamin makes Lorraine easily one of the most likable characters in the show. She's supportive of Laura and, although she does not agree with her being with a girl, she offers to let her spend the night when she's upset with her mother. She seems like the "cool aunt" that every girl should have.
Canning-Skinner was also a standout as Sarah. She didn't have too much stage time, but what she did always evoked emotional responses, especially in the song "I Will Remember Your Song," which Sarah sings about Laura after they are apart. It was one of my favorite and most memorable songs in the show, and while simple, Canning-Skinner made it heart-wrenching and relatable.
Sonata 1962 is a must-see. It strikes an emotional chord, and can be relatable to so many, while still feeling true and real. The cast is packed with stellar performances and the score is one, I could see myself listening to on a daily basis. Seriously, where's that cast album?