Click Here for More Articles on SHAKESPEARE IN THE PARK
BWW Review: Public Works' Joyous Musical TWELFTH NIGHT Returns To The Delacorte
The late afternoon and early evening rain that had been steadily falling last Friday didn't stop the faithful from arriving at Central Park's Delacorte Theater for Shakespeare In The Park's return of Public Works' 2016 musical version of Twelfth Night.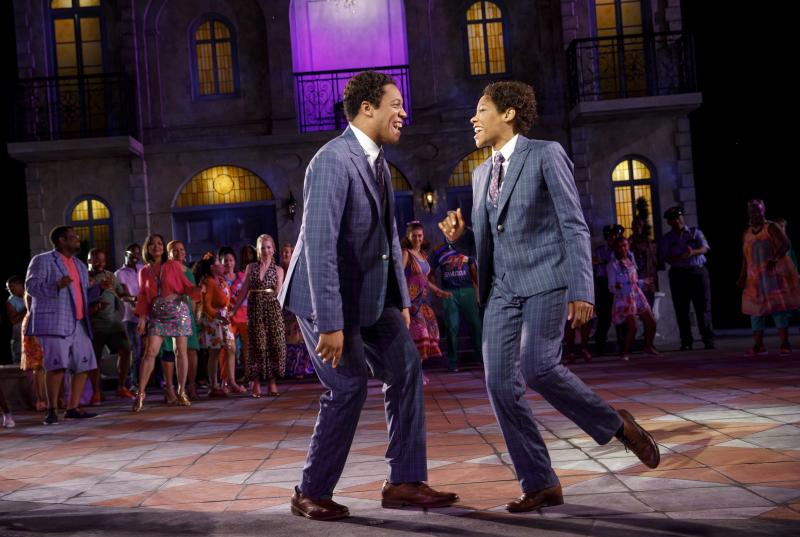 And while lightning bolts could occasionally be spotted in the distance, the skies above the stage remained clear for about the two-thirds of the 90-minute performance, until, just as Andrew Kober, who gives a terrific performance as the stuffy servant Malvolio, began his showcase letter-reading monologue, one of The Bard's greatest bits of comic writing, a light, but persistent shower began drenching the unfortunate fellow.
But you'd never know there was any difficulty, as Kober nailed every laugh as though the evening moon was shining a spotlight on him. He and the ensemble members then grandly belted out the big finish of the show-stopping number that framed the classic scene.
Shortly after, a sudden heavy downpour did cause a ten-minute delay, and though the weather situation seemed promising when the show resumed, the house was getting generously drenched during the musical's last 15 minutes.
But if theatre be the food of love, the company played on, with the audience loudly cheering every quick reprise and dramatic exit through to the finale chorus, a heart-warming anthem of empathy extolling how much better the world would be if everyone just tried seeing it through the eyes of another.
Of course, for those who will be unfortunate enough to witness this marvelous adaptation on a clear and comfortable evening, it's still a joyous occasion.
Created for The Public Theater by director Lear deBessonet, Public Works began in 2013 as a way to create musical productions based on classic texts (usually Shakespeare's) utilizing community involvement by hiring just a handful of Equity actors and filling the stage with an ensemble of well over 100 performers, from children to senior citizens, made up of clients and employees of social service organizations from throughout the five boroughs, with cameo appearances written for local performing arts organizations.
For the past five years Public Works productions played limited runs over Labor Day weekend, but this summer, the program's 2016 entry, adapted by director Kwame Kwei-Armah and composer/lyricist Shaina Taub, gets a full engagement through August 19th.
With Kwei-Armah now serving as artistic director of London's New Vic, The Public's artistic director, Oskar Eustis, has entered the picture as co-director in a production where the union members playing the leading roles are joined by two alternating casts made up of non-professionals associated with Brownsville Recreation Center, Casita Maria Center For The Arts and Education, Center For Family Life In Sunset Park, Children's Aid, Domestic Workers United, Dreamyard and Military Resilience Foundation. (Every cast member gets a one-line bio in the program. Makes for fun reading.) There are also performers fluent in ASL, and signing is incorporated into the staging.
Repeating her very enjoyable turn from two years ago, Nikki M. James plays the sweet, clever and resourceful Viola, who is shipwrecked onto the unfamiliar strange shore of Illyria and mistakenly believes that her twin brother Sebastian (Troy Anthony) has drowned.
Disguised as a boy named Cesario (one of the highlights of Taub's score is a lyric where she notices the different ways people treat her as a boy), she takes employment with Duke Orsino (Ato Blankson-Wood), who pines for the disinterested Countess Olivia (Nanya-Akuki Goodrich).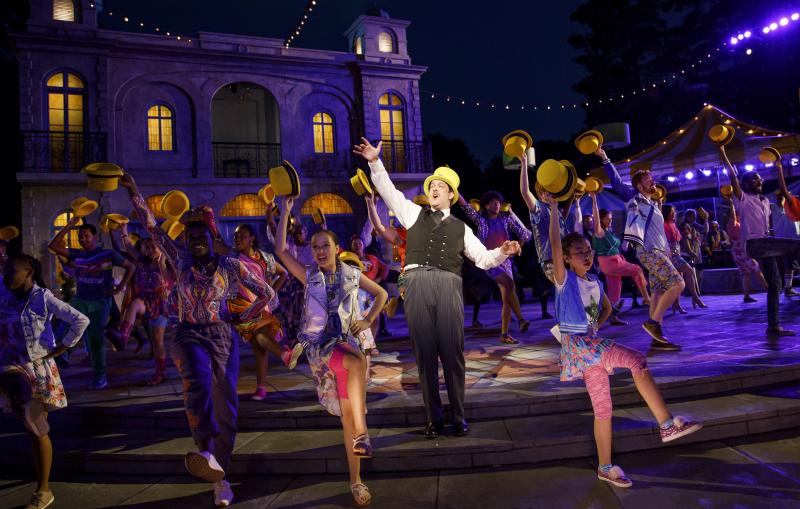 As Viola develops romantic feelings for Orsino, Olivia is taken with Cesario, a matter that complicates when Sebastian, who thinks that his sister has drowned, and Antonio (Jonathan Jordan), the sailor who rescued Sebastian and has now fallen in love with him, both enter the mix.
Oh, and Malvolio, remember him? He falls victim to a prank devised by the maid Maria (Lori Brown-Niang) and nobles Sir Toby Belch (Shuler Hensley, very funny as a swaggering good old boy) and Sir Andrew Aguecheek (dorky fun Daniel Hall) and believes that his lady has fallen for him.
Not only does Kober lead the snazzy production number described earlier, but, when Malvolio is unjustly imprisoned, his commanding voice is put to hilarious use in a self-pitying ballad where he mourns how other fail to see the greatness in him.
As is traditional with Public Works musicals, the composer/lyricist also plays a character and acts as music director of an on-stage band. In this case, Taub is thoroughly charming as the jester Feste, leading the ensemble in the catchy rhythmic opening, "Play On," introducing the barrelhouse tune of friendly insults "You're The Worst," (sure to become a favorite among the 3am Marie's Crisis crowd) and passionately expressing the unspoken words of lovers in "Is This Not Love?"
The rest of her score is a versatile combination of jazz, pop, funk, blues and showtune with clever and incisive lyrics perfectly matched to characters and situations.
But despite the tremendous work by the theatre professionals, the highlight of any Public Works production is, of course, watching the community members of the ensemble, especially the little kids up front, performing their hearts out. What a wonderful way to bring home Public Theater founder Joseph Papp's message that Shakespeare is for everyone.