Review: Lucius at The Beacon Theater
The pop duo is joined by Pink Floyd's Roger Waters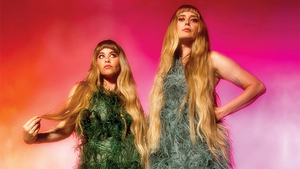 I arrive at the Beacon Theater early enough to peruse the merch line, and after attempting--and failing--to bribe the woman icily manning the VIP table into letting me purchase an exclusive gig poster, I take my seat and wait for the show to begin. I watch as audience members arrive, many wearing shiny, colorful, disco-inspired apparel--no doubt in homage to Lucius' most recent dance-heavy album Second Nature--while others sport Lucius concert tees from past tours. The last time I was at the Beacon was for Neko Case a couple of years pre-pandemic, and I remember the feeling I got that night, that Neko's people were my people. I get a similar vibe from the Lucius crowd. Like me, these are thirtysomethings who have been following their favorite bands since high school, and will see them live every chance they get. They are also, like me, old enough to appreciate a seat assignment.
New York-based singer/songwriter Celisse opens the show, immediately capturing the crowd with her soulful voice, charismatic banter, and expert guitar playing. It's no surprise when I discover, during my post-show deep dive, that Celisse has done musical theater, including Godspell at Circle in the Square and the national tour of Wicked. Her voice is unique and extraordinary, moving from soft croon to full-bodied wail within seconds.
Halfway through her set, the mood shifts as Celisse introduces her next song. "I'm pissed off at our f-ing government," she says to thunderous applause, and as she begins to sing, I'm pulled back to the harsh reality of what's been happening the past week, and the possibility that Roe v. Wade will be overturned. Celisse's raw, visceral delivery quite literally gives voice to the grief I feel in the face of such a dire and urgent moment, but it also provides a sort of balm--a promise of tenacity in times of darkness and seeming defeat.
This thought barely has time to gestate before Celisse goes into her final number, a thrilling rendition of "I'm Every Woman," the hit first cooked up by Chaka Khan in 1978 and then delivered to the world a decade later by Whitney Houston in The Bodyguard. As we get to the end of the song, Celisse invites the audience to sing along on the "woah woah woahs," and my woe woe woes lift a little.
After a quick trip to the bathroom, I hurry back to my seat and wait for Lucius. They finally appear onstage wearing matching white blazers festooned with multicolored jewels. They walk in sync to the center of the stage while snapping their fingers in time to the opening beats of "Second Nature," the title track of the latest album. This song is a bop, and the lyric "Every time I'm with you/I feel like I could fall apart/Like dancing with a broken heart" always reminds me of Robyn, an artist who crafts songs that are perfect for simultaneously dancing and crying.
Next up is "Calling Out Your Name" followed by "Tempest" and "Promises." On each song I'm reminded of why I love Lucius so much. It's the harmony. In a world dominated by solitary pop superstars, it's rare to find an act that so completely shares the spotlight. (And I mean this literally as well as vocally, as each aspect of Lucius' performance is delivered in tandem, from their light, step-touch choreography to the sharing of a two-sided microphone and keyboard.) Their voices blend together in a way that can't be properly captured on a recording, and witnessing this vocal sorcery live is thrilling. Other bands that have provided a similar aural phenomenon for me include Grizzly Bear, Fleet Foxes, and The Weepies.
The next song is "The Man I'll Never Find," and perhaps more than any other in the duo's catalog, this track showcases the full extent of Lucius' vocal prowess and power. In the thematic vein of songs like Judy Garland's "The Man That Got Away" and Karen Carpenter's "I Need To Be In Love," this song poses the possibility of a life without romantic love, that universally pursued but hard-won prize. The song crescendoes into a beautiful wail of longing near the end, much like Radiohead's "Creep." I make a note to add "The Man I'll Never Find" to my Best of 2022 song list.
As guitars strum the opening of the next number, my heart skips a beat. It's my favorite Lucius song, and the one which provided the gateway to the rest of their work. "Dusty Trails" is a song I discovered during one of my Bushwick margarita walks (which is exactly what it sounds like), and after hearing it for the first time, I immediately sent it to a friend. It includes my favorite Lucius line: "If we skipped ahead to our pre-fulfilled dreams/We'd be lost without our own advice." This lyric echoes another favorite of mine, from Joni Mitchell's "Amelia": "People will tell you where they've gone/They'll tell you where to go/But till you get there yourself you never really know." As the final words of "Dusty Trails" are sung, I hear the man behind me joining in the harmony.
A cover of Dottie West's "Lessons in Leavin'" is followed by "How Loud Your Heart Gets" and "LSD," a favorite from Second Nature. At this point the entire audience is on its feet, and while the Lucius crowd may not be the danciest, they do love to sway. So I sway along, giving myself over to the tide of sound pouring from the neon-lit, glitter glazed stage.
Before the next song, the two singers invite Celisse back to the stage before scanning the crowd to pick out their favorite "sparkle beasts," who they will invite to join them onstage. Two men wearing tight, metallic shirts and leggings make their way up, followed by a pair of individuals decked out in Lucius drag (glittery gowns with identical blonde wigs). The entire onstage group performs "Dance Around It," and the dressed-up volunteers are feeling the fantasy. The whole segment ends up feeling a bit like a bachelorette party at drag brunch.
As the volunteers leave the stage, the ecstasy of the moment dissipates as Lucius introduces the next song with an acknowledgment of what is currently at stake. "There's a lot that's heavy on all of our hearts," they say, before explaining how "I just touch myself/cause I don't wanna fuck," a lyric from "Dance Around It," is a line that celebrates the human right to do what you want with your own body.
The two singers perform "24" while standing center stage, and the song's heavy, trance-like synth stylings recall Angelo Badalementi and the music he provided for the films of David Lynch. As I listen and sway to music, I think of the women of Lynch's cinematic universe, often presented alongside their dreamlike doppelgängers, and each falling within the signature Lynch category of "a woman in trouble." As Lucius sings the lines "I am wide awake, but I'm dreaming/Scared I may not know the difference," they could very well be in a Lynch film, a tethered twosome who, along with a nation of women, have committed to facing the trouble head-on.
The bittersweet ballad "White Lies" is followed by "Heartbursts," a dreamy, shimmering pop song that could have been written in the eighties. "Maybe we could live forever if we only closed our eyes/We'd be living in a dream," they sing, and we continue to sway.
They close with "Supernatural Love" and after leaving the stage for the requisite several minutes of applause, they reappear in glittering silver suits. For the encore, the band is joined by Pink Floyd's Roger Waters, with whom Lucius has recently toured. He performs the Pink Floyd song "Mother" as the girls sing backup, and the line "Mother, should I trust the government?" produces a knowing ripple of dissent throughout the crowd.
After Waters leaves the stage, Lucius continues with a pair of songs from their debut album Wildewoman. The first is "Two of Us on the Run," a folksy favorite of mine, and one in heavy rotation on my "Fall is Fab" playlist. I particularly love the lyric "Everything else has room to grow/'Cause in better light everything changes." The next is "Turn It Around," and as I make my way to the theater doors (it's now past eleven and I still have to get home to Brooklyn before an early flight the next morning), I freeze in my tracks as the song flows into the recognizable opening whispers of Donna Summer's "I Feel Love."
I watch until the end, grateful for having spent time in a world so skillfully and soulfully created by the combined voices of these two women. Lucius' music rides the line between heartbreak and hope, and I am feeling just that as I make my way downtown. Like so many others, I'm mourning the state of the world, but still I wait for a new day to be welcomed with voices raised together in protest, celebration, and song.
Daniel Nolen is a writer, designer, and performer in New York City. He is the co-host of the BroadwayWorld podcast Broken Records, as well as the weekly live show Cast Offs, every Monday at 8pm at Alan Cumming's Club Cumming.
Photo: Max Wagner