Review: Company XIV's PARIS! Is A Big, Splashy Cavalcade of Sensuality
Despite a string of bad fortune that has kept them moving from venue to venue to venue, the genius director/choreographer Austin Mccormick's Company XIV, with its distinct style mixing classical dance, burlesque, acrobatics and pop music presented in an erotic baroque fashion inspired by the courtly entertainments of France's Louis XIV, remains one of the most exciting performing arts companies New York has to offer.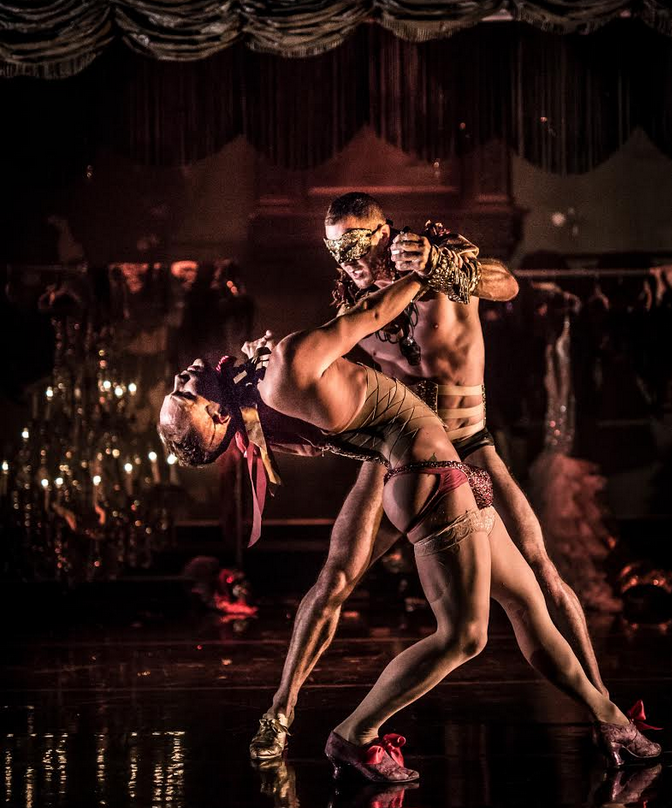 Back in 2009, one of Company XIV's first Gotham offerings was THE JUDGEMENT OF PARIS, an intimate affair based on the Greek myth where Zeus assigns Paris the task of presenting a golden apple to the fairest of the goddesses, performed in the faded elegance of East 4th Street's Duo Theatre.
While McCormick is known to approach the same source material more than once, he's not one to repeat himself, so PARIS!, the first production in the company's new home, Brooklyn's Irondale Theater, is a big splashy cavalcade of sensuality and visual opulence.
Scantily clad men and women, dressed in drag, bondage gear or any other style of deliciousness provided by costume and set designer Zane Pihlstrom, seat audience members. Those up front are snuggled into plush couches and love seats. VIP seating includes a bottle of champagne. The knowledge that this decadent cabaret setting was created from what was once a Sunday school auditorium adds to the fun.
With a costume split down the middle, Charlotte Bydwell narrates the story, quickly transforming from Zeus to a chanteuse named Fifi. Exquisite and elegant Jakob Karr dances the title role and when he's matched with the beautifully muscular Todd Hanebrink, as Mercury, they perform a captivating pas de deux set to Vivaldi's "La Folia."
Pole-dancing operatic soprano Marcy Richardson has been stopping Company XIV productions regularly. Here she appears as Athena, the first of the three goddesses vying for the prize, as she thrills with high notes while spinning upside-down on her pole, supported only by her legs.
Countertenor Randall Scotting's Juno sings a bit of Handel and then switches to Leonard Cohen's "I'm Your Man." The chorus removes his feminine garb, as if to prove his point.
Blues belter Storm Marrero, as Venus, wins the golden apple with a rousing solo of Bjork's "All Is Full of Love" and by promising Paris the love of the beautiful Helen (Lea Helle), who first appears as a fantasy livestream, before ending the program with a romantic dance duet with Paris that leads to the start of the Trojan War.
In between specialty acts, McCormick's ensemble, who always flash exuberant personalities along with their dance skills, perform the company's signature can-cans, model an imaginative array of fetish gear and even partake in something resembling a sheep orgy. But remarkably, it all comes off as giddy and good-natured fun.