BWW Review: Chita Rivera & Robert Klein at QPAC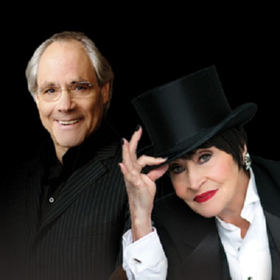 The Sunday matinee performance of Chita Rivera and RoBert Klein, on October 8, 2017 at Queensborough Community College's QPAC (Queensborough Performing Arts Center) was sold out. Before either of the two headliners of film and Broadway stepped onto the stage, QPAC's artistic director, Susan Agin, welcomed the audience. Ms. Agin's enthusiastic persona had the audience ready for this show and many of the shows coming up for this season. I found this endearing and personal because she promoted other headliners by playing snippets of these artists' hits and to encourage everyone not to miss these shows. Brilliant! A few of those upcoming artists are Darlene Love, Debbie Boone, Tony Orlando, and many more headliners from that era. The unique feature of this venue is that there are big stars booked, yet also a neighborhood feel of those that attend performances here.
RoBert Klein regaled us with quick repartee that included experience from his childhood in the Bronx, the influence of comics in the 50's and 60's, as well as family stories. He sang parodies of how colonoscopy can change your life with comic relief. He had the audience rolling with laughter! Mr. Klein's whole schtick was very natural and it never felt forced. He knew his crowd and delivered lines guaranteed to elicit nostalgia and hilarity for common situations. Examples of those situations were his kosher meals on an airplane and being in the minority as a Jewish person in an upstate school. There were a few political jokes that were just the correct amount to keep it light without offending anyone. Within his banter, he included his accompanist, Bob Stein, whom Mr. Klein said was often mistaken for a terrorist due to his beard. Mr. Stein has worked with Mr. Klein for twenty-three years and so it is natural for awkward happenstances to turn into part of the act. Mr. Klein is quite versatile in that he rapped onstage. It was a wonderful beginning to an afternoon of legends.
Chita Rivera burst onto the stage with sparkles and dance heels-the Broadway goddess. She was accompanied by a three-piece band. Music Director/percussion/guitarist Michael Croiter, Associate Music Producer and Pianist Gary Adler, and on bass Jim Donica. Their music filled the theater as if there were a full band present. Chita Rivera never stopped moving. Some of the plethora of songs she sang were from shows such as Sweet Charity, Carousel, Kiss of the Spider Woman, The Visit, and Chicago. Before each song, she told us about her time in these shows. From how she was offered the Sweet Charity national tour and film from her phone call with Bob Fosse and Gwen Vernon to the one-on-one practice sessions for West Side Story in her role as Anita. One of the most interesting vignettes was when she told the audience about how Kiss of the Spider Woman almost did not make it to Broadway. Fascinating and could only be told by this Tony Award winner. Chita Rivera, an iconic performer who has done so much in the world of the theater, sung a song called "A Lot of Livin' to do" from Bye Bye Birdie, which sums up her continuing career and the inspiration for us all.
You do not want to miss fantastic performers such as these were. Please check out the affordable upcoming shows at QPAC. www.visitQPAC.org
Photo Credit: qcc.cuny.edu