Click Here for More Articles on Lincoln Center Theatre
BWW Review: Antoinette Nwandu's PASS OVER, A Tightly Written Bit Of Urban Absurdism
If upon entering a theatre, the stage is populated by a young black man sleeping under a street lamp as another young black man quietly scrutinizes all in attendance while the pre-show music plays Doris Day singing "Que Sera, Sera," it's a good sign that there are going to be some strong opinions creatively expressed.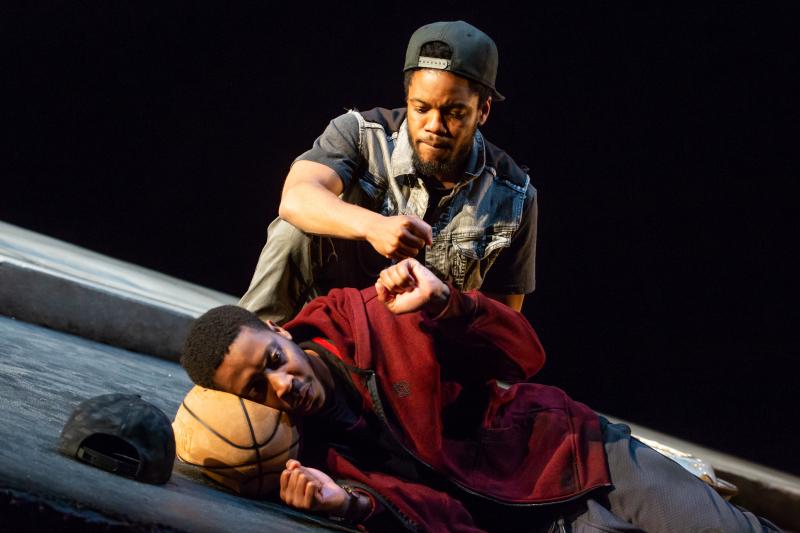 In fact, all three tunes this reviewer heard while waiting for Antoinette Nwandu's terrific and tightly written bit of urban absurdism to begin might be associated with the feel of carefree mid-20th Century white American wholesomeness, a contrast to the dirty contemporary streetscape created by designer Wilson Chin for director Danya Taylor's excellent LCT3/Lincoln Center Theater production.
PASS OVER, a co-recipient of Chicago's 2017 Joseph Jefferson Award for Best New Play, certainly lives up to its buzz about being a kind of WAITING FOR GODOT for the Black Lives Matter era (with a subject and title that refers to the Exodus story). But unlike Samuel Beckett's Vladimir and Estragon, who spend their onstage time anticipating an arrival, Nwandu's Moses (Jon Michael Hill as a sensitive dreamer) and Kitch (Namir Smallwood as his comical companion), are in search of the safety of a place where they can live their lives without being the continual targets of oppression. (The program advises that the setting is simultaneously a ghetto street, a plantation and Egypt, "a city built by slaves.")
Their banter, saturated with repetitions of the n-word, is periodically interrupted by flashes of light that prompt them to immediately put up their hands for silent seconds.
Their evening is interrupted by two white people, both played by the versatile Tony-winner Gabriel Ebert. Ossifer is a brutish police officer who wears his uncontrolled racism on his sleeve, but a fellow referred to as Mister presents danger of a subtler, more sinister variety.
Neatly dressed in a white suit and peppering his utterances with exclamations of "gosh" and "golly gee," Mister, has lost his way while intending to visit his ailing mother and, figuring it's too late to go see her now, invites Moses and Kitch to join him for the picnic feast he's prepared.
A sight gag has an enormous amount of food coming out of his small basket, but the gentle humor of the character is undercut when the friendly fellow's actual name is revealed and he gives -- in gentle, fatherly tones -- a condescending lecture on the double standard of their using the n-word when it would be considered inappropriate for him to do the same.
It should be left to the author to reveal whether or not this Moses makes it to the promised land, but with Pass Over, it can be assured that Antoinette Nwandu is establishing herself as an exciting theatrical voice of great promise.