Click Here for More Articles on SUPERHERO
BWW Interview: Kate Baldwin Talks the Hard Work Behind Finding the SUPERHERO in All of Us
Fresh from the hat shop of Hello, Dolly!, Kate Baldwin is currently starring in the world premiere musical Superhero, the deeply moving tale of a fractured family, the mysterious stranger in apartment 4-B, and the unexpected hero who just might save the day.
A touching spotlight on the power of human connection, Superhero (tickets here) brings both emotion and humor to the story of Charlotte (Baldwin) and her son Simon (Kyle McArthur) as they push through grief and fear to find their way.
Kate took a moment to chat with BroadwayWorld about the journey of bringing the new musical and her character to life for the first time on stage!
---
What drew you to the piece initially and how did you get involved?
The story and the music drew me to the piece. I had to audition for the workshop back in December of 2017. There were two songs I heard first, one is called 'Laundry for Two' which remains in the show, and the other is a song that has since been cut.
When I proposed taking the workshop, it was going to be a week long, and it was going to be in December, the week before Christmas. I was doing Hello, Dolly!, so I was doing eight shows a week and I was the mother of a six-year-old at the time and my husband was also working full time and I said I want to do this reading. He was like "No way, you can't. We have to make Christmas happen for our six-year-old, you already have eight shows a week, how are you going to do this as well?"
I then played him the song that was eventually cut from the show and he said "Okay, I think you have to do it." It was so beautiful and compelling. So, I think it was definitely the music that made me want to be a part of it. But also, it centers around a relationship between a mother and a son and I feel that very keenly these days, as my own child is about to turn eight years old.
How does the process of creating a character differ for you when it's something like this, a brand-new project, versus creating a character that already existed like in Hello, Dolly? How does that magic happen for you?
Funny you should use the word magic, because I would use the word work! The work that you do to try to create something that's brand-new from scratch, something nobody's ever seen before, nobody has any pre-conceived notions about is one of the hardest jobs to have as an actor.
With something like Hello, Dolly! and Finian's Rainbow - the two revivals that I've done -the show exists already and nobody's going to come at you in rehearsal with lots of line changes and cutting a song and rearranging the sequence of the second act. All of which happened when we did Superhero.
I think a new musical is made or broken by that preview period. It's all well and good to develop your story and your character in the rehearsal room, and it's the kind of work I love to do. It's about experimentation and it's about trying to surprise yourself and your colleagues. You get the story to a point where you feel like "We know what we're doing. We know what story we're telling," and then you put it in front of an audience and the audience tells you exactly what you need to work on, what's working and what's not.
The month of February, working on Superhero, was the most intense month I've ever had in my life. I spent the most time at a theatre doing the most re-writes I've ever done. Because we could.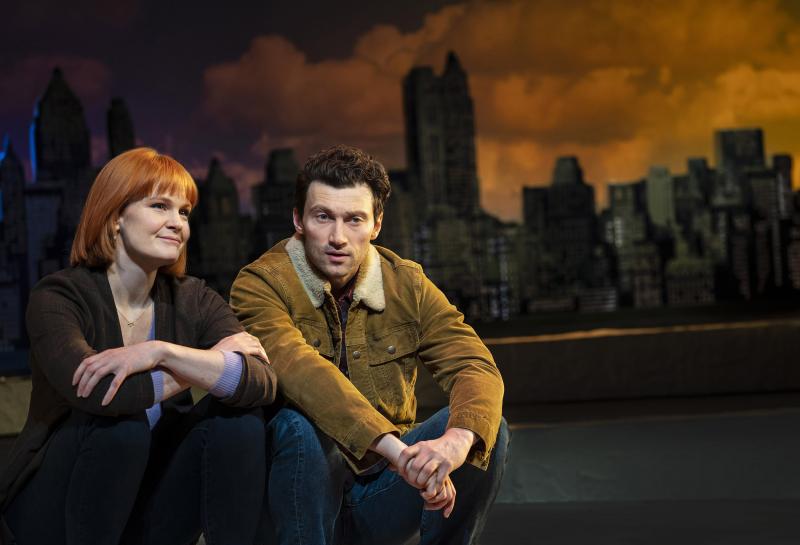 So the nature of the show allowed for real flexibility in the rehearsal process?
It was a small, eight person cast without big productions numbers, so we could move things around and change things around so quickly because we didn't need to rehearse huge numbers two and three and four hours a day with fifteen bodies on stage. Plus usually the scenes are two and three people max, so the writers treated it very fluidly, and would give us stuff to try and then they'd take it away and restore the old stuff or keep the new stuff and add more new stuff.
The show that we ended up doing for our very first preview on January 31st, is probably 50% different from the show that we do every night now in March. It was a lot.
---
Do you notice any kind of difference when working Off-Broadway instead of on Broadway? What part of the experience particularly appeals to you?
Just in terms of like public consciousness we felt, and still feel, very under the radar, so to speak. I prefer to be under the radar, than coming out with guns blazing, I suppose. But in terms of importance, everybody's coming to see this show: other actors, directors, writers, producers; they're immensely interested to know what the next Tom Kitt and John Logan musical looks like, sounds like and what the story is.
So it feels like, in terms of our industry colleagues, it's about the same as a Broadway show because I have a hunch that all those people would also turn up there. I think where it differs maybe, is the general theatre-going public. Despite Second Stage's devoted subscriber base, reaching a wider audience is harder to do Off-Broadway.
For me, though, I love working in smaller theatres, I love sensing that the audience is right there with you in the same room and I can hear them gasp and I can pick out different laughs and I can hear the sniffles at the end of the show. I love that. It feels so much more personal to me and I'll always love that.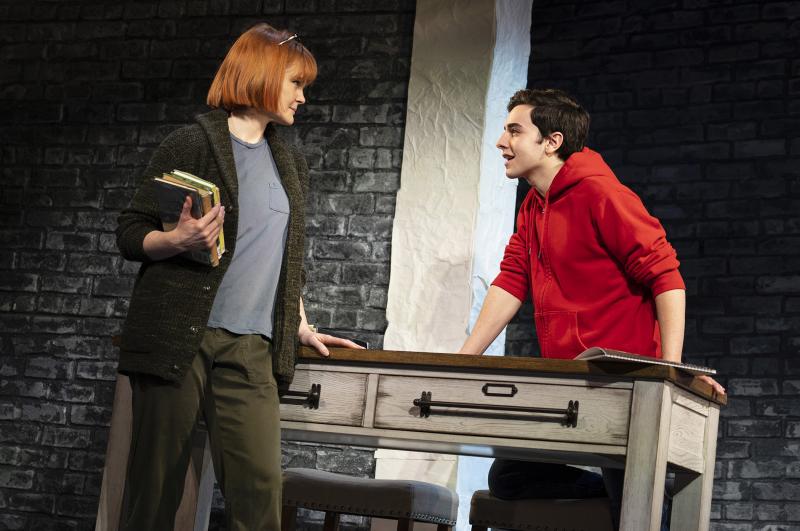 What are the challenges for you in playing a character like Charlotte where she's so torn between two of the most important things: her own life and moving forward but also her son and her son moving forward. What's that like to play every night?
It's very close to my own life as I think about what it means to be a parent. I think most parents can relate to the feeling of having to split yourself in two and be present in your work and hopefully do a good job there but also have one half of your heart attached to a little person in the world who needs you to guide and to help and to assist and to model behavior. The challenge is very real, and it's hitting me hard, especially with this show. I luckily have not suffered the same kind of trauma that Charlotte has endured, so I really can't relate to the loss that she feels, but there are so many other feelings. There's a lyric in the duet that Bryce and I sing called 'In Between,' and I say, "I'm needed at home, I'm needed at work but wherever I am, I'm not really there." I hope that other parents come and go "oh, yeah I know what that is too."
Now I'm quoting my friend Georgia Stitt - she has so much good advice - she told me once "there are going to be days where you're an excellent actress but not an excellent mom, and there are going to be days when you're a great mother and you're just the worst actress in the world." There's going to be the trade-off. You can't be great at everything. Something's gotta give. And you've got to let yourself off the hook for trying to do the juggle of it all.
Directed by Jason Moore, Superhero features a book by John Logan and music and lyrics by Tom Kitt. The cast also includes Bryce Pinkham (Jim) and Kyle McArthur (Simon), as well as Julia Abueva (Rachel), Jake Levy (Dwayne), Salena Qureshi (Vee), Thom Sesma (Vic) and Nathaniel Stampley (Dean Fulton).
Superhero is enjoying an extended run through March 31st. For tickets, visit 2st.com.
Photo Credit: Joan Marcus