BWW Interview: A Conversation With Jason Alexander and How He Got to Broadway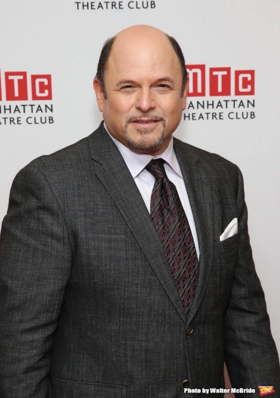 Before his guest starring role on Young Sheldon, last Fall's off-Broadway production of The Portuguese Kid and of course nearly a decade as George Costanza on Seinfeld, Jason Alexander was a song and dance man on Broadway. He made his Broadway debut in Merrily We Roll Along in 1981, followed by a continual decade of shows: The Rink, Broadway Bound, Jerome Robbins' Broadway (in which he won a Tony Award for his performance) and Accomplice.
Highlights of how his Broadway career began will be hilariously re-told next week, as his tour heads back to his home state of New Jersey to perform with the New Jersey Symphony Orchestra at NJPAC in Newark and the State Theatre in New Brunswick. Newark is actually where Alexander was born before growing up in Maplewood and Livingston.
BroadwayWorld's Leigh Scheps spoke to Alexander about his New Jersey roots (Don's Diner in Livingston was his favorite hangout spot), what he learned from Chita Rivera and Liza Minnelli in The Rink and what Dick Van Dyke said to him after he starred in the made-for-TV movie Bye Bye Birdie.
Your concert looks back on how you got to Broadway. Can you give me a little preview?
You want to give away the material, Leigh?
(Laughs) How about something that you don't talk about in the show?
It's a really different show if you're used to symphony shows. The show is loosely biographical about my early to current infatuation with Broadway musicals. It gets into how I did that, which by the way was all accidental and totally miraculous. But I guess since it's a New Jersey concert, I can talk about the thing that happened in Jersey that made it all possible. There is a very well established children's theater group called the Pushcart Players.
I've heard of it.
Pushcart Players does original children's musicals and takes them around to schools all throughout New Jersey. I had auditioned to be part of that company, but I was deemed too young at the time. It was mostly adult actors and an equity company. I was not in equity, but I must have been on their radar. Somebody in the audience was a television producer and thought that [the shows] might make for a good children's series so [he put together] a pilot. Ken Jennings, was a part of that company. But [he] was cast in Sweeney Todd, and so he couldn't do that television production. Somehow he had seen me in a theater competition and mentioned me to Push Cart Players. So they called and asked me to be part of the television production. Though he couldn't sell it as a series, he got it on local CBS affiliates on like a Sunday morning at 8:00 or 8:30 in the morning. A management company saw it, liked me, hired me, and that is the actually reason why I was ever viable to be in a Broadway show when I was 20 years old.
Wow, so did you do musicals in high school [living] in New Jersey?
I did. This is a little bit of a story I tell in the show, but I loved theater from the time I was a little boy [but] never thought I'd be part of it. But when I moved from Maplewood to Livingston and knew absolutely nobody, I was just hanging out and this teenage girl came up to me and said, "Do you sing?" And I went, "Yeah." They were doing a production of The Sound of Music and had lost their oldest Von Trapp boy. So I got pulled in -- I had never been on stage in my life. You can draw a straight line from that little Livingston production of The Sound of Music to where I am now.
What was it like working with Liza Minnelli and Chita Rivera in The Rink?
It probably remains the single most rewarding thing that I've done on the stage. It was a very small company and you have a legend of the stage and a legend. They both handled their lives in such fascinating ways. For ten months I [was] thrilled to be there not just for the audience, but for those two gals. I never finished college because I started working when I got Merrily We Roll Along, so to me it was not only the completion of my Bachelor's degree but it was a master class in musical theater and performance, particularly from Chita. It was a lesson on integrity and professionalism if you are lucky enough to have a career in our industry. I said to people, when I grow up I would like to be Chita Rivera because she really was the absolute role model for me of what a real professional who has a notable career. She was amazing and still is.
I think you did grow up to be Chita Rivera then.
I hope so.
What's also crazy is Rob Marshall was your understudy in this show.
Right? That is completely crazy.
And now [he's] this big time movie director.
It's so interesting because Robbie, if you've ever met him, is the sweetest most unassuming guy. You would never know that this kind of brilliant cinematic mind and eye was sitting inside that guy because he just, he kept such a low profile and [was] such a humble sweet man. I actually bumped back into Rob because he choreographed the television production of Cinderella that I did with Whitney Houston, Brandi and Bernadette [Peters]. So I kind of re-met him in a different way then, and just went, "God, who are you? Where was all this during The Rink?"
Speaking of Cinderella, last October was its 20th anniversary. We're coming up on the 23rd anniversary of the made-for-TV movie, Bye, Bye Birdie. What moments do you remember from being part of that?
The one that was the most mind-blowing was from the minute the phone rang. I assume [director] Gene Saks is calling me about the Paul Lynde role (Mr. MacAfee), because that's the one I played in high school -- that's the one I'm kind of right for. He's going on and on about 'you and Vanessa Williams' this, and 'you and Vanessa Williams' that. I finally said to him, "Gene, you keep telling me about Vanessa. MacAfee doesn't have that much to do with her." He went, "Not MacAfee, I'm talking about Albert." And my jaw hit the floor. "Albert? Dick Van Dyke Albert?" I was floored. I can also tell you one great thing about that movie that was so cool. Of course, I've got Dick Van Dyke in my head the whole time because there is no other Albert Peterson. The TV movie airs, and a day or two later I get a bottle of champagne and a bouquet of flowers at my door with a note that says, "Dear Jason, now I know how to play the role. Congratulations, Dick Van Dyke."
No!
My head fell off and it's still rolling around.
Do you think we'll ever see you in a live TV musical?
Most of the ones they're trying to do don't really have obvious roles for me at this point, as a decrepit old man.
There's Bye, Bye Birdie Live with Jennifer Lopez.
I could be MacAfee yet! They really are fun. I can't imagine what it's like doing them live. That's got to be insanity, but I'd be happy to try.
Pretty Woman is now a musical. Are you going to see it?
I certainly hope to see it in New York. I know Jason Danieley very well. He's playing my role [Phillip Stuckey from the film]. I wished him great luck and told him to be ready to be hated by every woman in New York City for the next year.
So what's the next big thing you're working on?
I'm making a concerted effort to add a lot of directing into my life and that requires doing things at places that don't get a lot of coverage all the time. I'm looking for a piece with Lynne Meadow to possibly direct at Manhattan Theater Club in a season or two. I'm in negotiations for something at The Pasadena Playhouse, [and] I'm talking to Syracuse Stage about a piece. I'm just letting the phone ring and seeing what feels like it might be fun to do and taking a year off from developing bigger projects right now.
Performances take place on Saturday, April 14, at 8 pm at the New Jersey Performing Arts Center in Newark and Sunday, April 15, at 3 pm at State Theatre New Jersey in New Brunswick. State Theatre New Jersey co-presents the April 15 performance.
Photo Credit: Walter McBride / WM Photos