BWW Exclusive: Jeremy Jordan in Concert- Sings 'West Side' and Zings Weinstein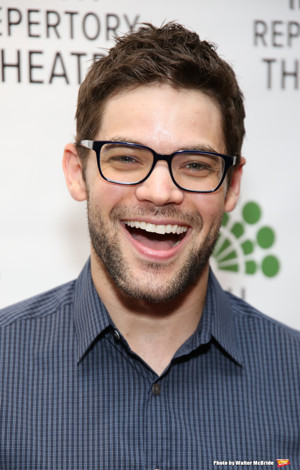 Jeremy Jordan plays Winn on the CW's ''Supergirl,'' but he proved to be a superguy himself as he raised thousands for charity Sunday at a Broadway @ the Herbst concert in San Francisco. The Tony nominee from ''Newsies'' sent his golden voice skyrocketing into the rafters of the historic hall. He was accompanied by Seth Rudetsky, his wise and wisecracking musical director and Sirius XM radio star. And proceeds went to benefit the San Francisco Gay Men's Chorus, Project Open Hand and Broadway Cares/Equity Fights AIDS.
Rudetsky peppered Jordan with questions and quips, and the two teamed up for ''You and Me'' from ''The Book of Mormon.''
Jordan, a Theatre World Award winner, sang his signature songs from ''West Side Story,'' ''Bonnie & Clyde'' and ''Newsies.''
He also told a bushel of backstage stories, recalling when he clashed with Arthur Laurents; how he once wound up wearing women's pantyhouse, and why Harvey Weinstein was ''a prick.'' Plus, Jordan, 33, revealed his "most bizarre celebrity encounter'': Chita Rivera!
On working with Laurents on the revival of ''West Side Story'':
''He'd give notes and usually single out someone [for criticism]. It was part of his weird process. He never did it to me ... until my third-to-last show before I left for Florida. It was one of my best [performances], and I was really proud of it. And [Laurents] went: 'Where have you gone? You've already left the show. I didn't even know that was you on the stage.' Finally, I said: 'I had a great show. I don't know if you're trying to prove something.' And Laurents said, 'Oh, now, you're flexing your masculinity in front of everyone?' And I said: 'Isn't that what you're doing?' ... Later on, I kinda apologized, not for what I said, but for calling him out in front of the company.''
On filming his first on-screen, bedroom scene in ''The Last Five Years'':
''Anna [Kendrick] is under the sheets, and ... I'm on top of her. But I had my underwear on, and they were black. The director said: 'We can see your underwear.' I said: 'What do you want me to do?' So they took a women's pair of nude-colored pantyhose and cut out the legs, so I had a little pair of shorts. It didn't make a whole lot of difference. I felt like a complete idiot.''
On working with Weinstein, who produced ''Finding Neverland'':
''There was no guarantee [I'd get to do the show on Broadway], but I certainly wanted it. And I fought for it. ... It was a great company, and it was the first time I got to play an adult. ... Harvey was a prick. I felt like I was constantly being interviewed for a job I already had. After I found out I wasn't going forward with the show, he tried to pawn off another gig on me that was vastly inferior.''
On auditioning for ''Spring Awakening'':
''Originally, I went in for Melchoir. Then they decided I should go in for Moritz. They decided I was too twinkie, so I should go in for Georg. Then they decided: 'We'll make you the more masculine gay boy, Hanschen.' ... There were five or six of us for the final callback. We were doing the dances with the chairs. I got so into it. I picked up a chair and put it down [so hard] that it broke. I kicked away the pieces and kept going. Andy Mientus [who later would co-star with Jordan on NBC's ''Smash''] said: 'I was there! And the rest of us were on the sideline, thinking, ''Damn it. That guy's gonna get the role; he broke the chair!'' But I didn't get it.''
On Chita Rivera literally running into him:
''I was doing the Tonys and I was in 'Rock of Ages.' That year, all of the nominated shows were in the big opening number. And that year, Chita Rivera was doing her one-woman show ['The Dancer's Life']. So she was backstage, and I was in my '80s wig, looking like a fool. We're waiting to go on, during the rehearsal, when a bunch of male dancers came running offstage. Chita got frightened and grabbed me and said, ''Save me!'' It was like a wave of them. Those male dancers have monstrous calves, and I have little chicken legs.''
Finally, for the record, here's Jordan's complete song list from his Herbst Theatre concert:
''Something's Coming'' (''West Side Story'')

''Losing My Mind'' (''Follies'')

''Broadway, Here I Come!'' (''Smash'')

''Moving Too Fast'' (''The Last Five Years'')

''Bonnie'' (''Bonnie & Clyde'')

''Neverland'' (''Finding Neverland'')

''You and Me'' (''The Book of Mormon'')

''Smile''/''I'll Be Seeing You''

''Santa Fe'' (''Newsies'')

''Over the Rainbow''/''Home'' (''The Wizard of Oz''/''The Wiz'')
Editor's note: After this story originally ran, Jordan posted a correction on his Twitter: ''Whoops. I dunno what I was smoking, I totally meant Liza Minnelli, not Chita Rivera. Sorry Liza! (and Chita)"
Related Articles