Alan Menken, Glenn Slater, and More Sign On for ANIMAL FARM Musical Adaptation
A workshop of the new musical is set for this spring.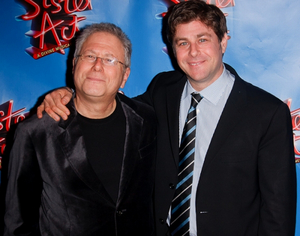 Composer Alan Menken and lyricist Glenn Slater are teaming up with playwright James Graham on a new musical adaptation of George Orwell's classic novel, Animal Farm.
A workshop of the new musical is set for this spring. There is no director currently attached to the project. Adam Spiegel Productions will produce.
One of the most influential and ground-breaking novels in English literature, George Orwell's dystopian parable tells of the rebellion of the animals on Manor Farm against the cruel farmer Mr. Jones.
A new order is established, a perfect society where all animals are equal, but gradually unease and fear take hold as the leader Napoleon and his class of pigs become rulers of the farm and set about destroying their rivals. Animal Farm is the story of how a revolution goes wrong and how the genuine need of change becomes by a ruthless political class.
Featured at the Theatre Shop
T-Shirts, Mugs, Phone Cases & More
Related Articles
More Hot Stories For You
VIDEO: Broadway Celebrates Biden with A Moving Mashup of RENT and HAIR!
Tonight, many of Broadway's brightest stars united to celebrate the inauguration of President Joe Biden and Vice President Kamala Harris with a medley...

Javier Munoz, Leslie Uggams and More Stars Set to Perform 'Seasons of Love' as Part of Tonight's Inauguration Festivities
Javier Munoz and Leslie Uggams have shared via social media that they will be joining a group of Broadway talent to perform 'Seasons of Love' as part ...

VIDEO: Amanda Gorman References HAMILTON in Inaugural Poem 'The Hill We Climb'
Today at President Joe Biden's inauguration, 22 year old Amanda Gorman took to the stage to deliver the inaugural poem, entitled 'The Hill We Climb'. ...

Social Roundup: Theatre Fans Turn Bernie Sanders' Inauguration Look Into Hilarious Memes
Theater fans have turned Senator Bernie Sanders' appearance at President Joe Biden's inauguration into a meme today, juxtaposing him into iconic pictu...

VIDEO: Lin-Manuel Miranda Recites An Irish Poem for Joe Biden's Inauguration
The poem titled, 'The Cure of Troy,' is a particular favorite of the newly sworn in President Biden, who often quotes its verses. ...

VIDEO: John Legend Performs 'Feeling Good' at Inauguration Celebration
Tonight, Tony-winner John Legend joined the inauguration festivities with a soulful performance of the classic tune, 'Feeling Good.' ...