2022 FUTURE DANCE FESTIVAL Finalists Announced by 92Y
Each program includes seven works , with panelists Kyle Abraham, Janet Eilber, Jennifer Stahl, Jessica Tong, and more.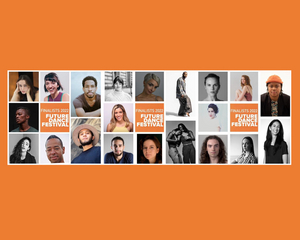 92Y has announced 21 finalists for the 2022 Future Dance Festival. Created by Harkness Dance Center director Taryn Kaschock Russell, the Future Dance Festival is a choreographic competition aiming to give new creators an opportunity to showcase their work. Conceived as a virtual showcase in 2021 when 92Y's building was closed due to the pandemic, this year's festival includes two virtual-only programs and an in-person program on the stage of Kaufmann Concert Hall as part of the Harkness Dance Center's 2021-22 Mainstage Series. Each program includes seven works , with panelists Kyle Abraham, Janet Eilber, Jennifer Stahl, Jessica Tong, Michelle Manzanales, Melanie Person and Duke Dang choosing three finalists apiece.

"This year's Festival retains virtual-only programs to continue providing platforms, connections and community for creators outside of New York City. 2022's finalists stretch across the globe, representing choreographic voices, visions and vocabularies from South Africa, Germany, Scotland, Italy, Mexico and Brazil in addition to the United States," comments Russell. "We are also thrilled that a diverse and inspiring in-person program of primarily New York City creators will have their works performed live on our stage with the 2022 Future Dance Festival part of the Harkness Mainstage Series. It feels especially meaningful to provide the opportunity for a new generation of choreographers to add their names to the historic roster of luminaries who first debuted their own creative voices on our Kaufmann Concert Hall stage."

Russell continues, "as a direct result of participation in our inaugural Future Dance Festival, choreographic finalists had the opportunity to perform their works at The Joyce Theater as part of Martha Graham Dance Company's fall season, were selected for Dance Magazine's "25 to Watch," received new commissions from major dance companies, were offered residencies from major organizations, and found future collaborators and community through fellow participating choreographers. Our investment in the alumni of this festival continues as we name new the choreographers as our 2022 finalists."
Panelists
Kyle Abraham, Artistic Director, A.I.M by Kyle Abraham
Janet Eilber, Artistic Director, Martha Graham Dance Company
Jennifer Stahl, former Editor in Chief, Dance Magazine
Jessica Tong, Associate Artistic Director, Hubbard Street Dance Chicago
Michelle Manzanales, Director of Ballet Hispánico's School of Dance and of the Latinx Dance Educators Alliance
Melanie Person, Co-Director, The Ailey School
Duke Dang, Executive Director, Works & Process at the Guggenheim
PROGRAM SCHEDULE