INMADUROS Comes to CABA in May
Performances run May 5 to May 22, 2022.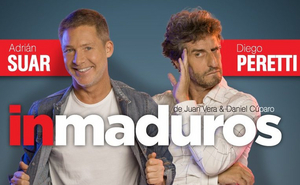 Alfi (Adrián Suar) y Fideo (Diego Peretti) son amigos de toda la vida. No pueden ser más diferentes: Alfi es un publicista, separado y con un hijo al que apenas ve, que rehúye de cualquier compromiso afectivo, a excepción de Alexa..., su casa inteligente. Fideo, en cambio, es un psiquiatra muy conservador en sus costumbres y afectos, casado hace más de 25 años con su primera novia. Una noche, poco después de separarse de su mujer, Fideo va a ver a Alfie en busca de consuelo. Alfie, para ayudarlo -a su manera, obviamente-, arma un plan para presentarle mujeres que lo alejen de la melancolía y la depresión, que Fideo acepta a regañadientes.
De este modo, cuatro mujeres reales y una virtual, a través de sus particulares percepciones de la vida y el amor, les van a hacer descubrir el lugar central que las mujeres -lo femenino- han tenido en sus vidas. Inmaduros, además de divertida, nos interpela y nos hace pensar en las nuevas y variadas formas de relacionarnos. Sobre todo a dos personas tan diferentes como Alfi y Fideo, que siguen siendo absurdamente inmaduros. Claro que la suya es una inmadurez diferente, una inmadurez de dos hombres que han pasado los 50 y que por esas vueltas de la vida se verán sorprendidos por fuera de lo imaginable y descubrirán, al final de todo esto, la verdadera fuerza de la amistad.