Review: THE THIRTEENTH CHILD at Santa Fe Opera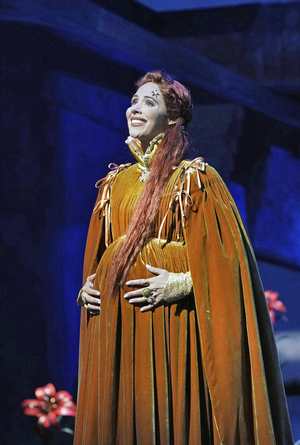 On July 27, 2019, Santa Fe Opera added a new work to the operatic canon with its world premiere of THE THIRTEENTH CHILD by Danish composer Poul Ruders and American librettists Becky and David Starobin. The production was co-commissioned and co-produced by Santa Fe Opera and the Odense Symphony Orchestra. THE THIRTEENTH CHILD is Santa Fe Opera's sixteenth world premiere.
Inspired by THE TWELVE BROTHERS, a little-known short story by The Brothers Grimm, the opera's plot displays an artful juxtaposition of good vs. evil using modern political scheming and sinister maneuvering. The villain's evil schemes crumble, however, when he is confronted with the force of the love between Princess Lyra and Prince Frederic. Ruders describes his music for THE THIRTEENTH CHILD as "ear candy with chili peppers." His best known work so far is the gripping dystopian opera, THE HANDMAID'S TALE.
Librettists David and Becky Starobin simplified the fairy tale so that the audience always knows what is happening and why each scene is taking place. King Hjarne of Frohagord has 12 sons and has been led to believe that all of them wish him ill. His wife Gertrude is pregnant and he tells her that if she bears a girl he will kill all the boys and let the daughter alone inherit his throne. Gertrude sends the boys out into the forest that night. Like the Freia's apples in Wagner's Ring, there are red lilies that protect Frohagord and the boys take them.
The next scene takes place 18 years later. King Hjarne has died and Queen Gertrude is mortally ill. Frederic, a prince from a neighboring kingdom, is interested in the the young Princess Lyra of Frohagord, but the evil regent, Drokan, wants her for himself. Lyra tends her dying mother who gives her 12 shirts she made for the boys and sends the daughter off to look for them.
Lyra finds her grown up brothers and she prepares for a celebratory feast by cutting flowers, not realizing they are the magic lilies, for the table. Her act transforms her brothers into ravens. Her dead mother appears to tell her that she can redeem herself by staying mute for seven years. After more than six years have passed, Frederic finds Lyra and wants to marry her. Drokan still wants her too, and tries to burn her on a bonfire. Frederic returns in time, however, and all ends happily.
When the opera began, the audience saw a colorful sunset out the open-backed stage. Stage Director Darko Tresnjak treated the story with total realism and used Alexander Dodge's functional set, with stairs on either side and occasional pieces of furniture, as a base for the action. Aaron Rhyne's fast moving, emotion-evoking projections combined with York Kennedy's lighting designs to add magic to the picture. Rita Ryack's timeless costumes were rustic for the men other than the king. He wore red velvet and ermine while Princess Lyra and Queen Gertrude also wore rich fabrics.
This opera is a gold mine for low voices. As the mentally disturbed King Hjarne, bass David Leigh sang mellifluously at the bottom of his range. Only occasionally did his singing rise up the scale, but then it was to an amazingly smooth-toned falsetto. Tamara Mumford was a regal Queen Gertrude who revealed a gorgeous middle voice and an exquisite low register that she used tastefully throughout the evening. Her music is delightfully melodic and one piece from Act I might make a singable excerpt.
As the evil Drokan, Bradley Garvin never hid his intentions from the audience and he infused his bass-baritone sounds with menace and the threat of violence. Joshua Dennis was a light hearted Prince Frederic whose love for Princess Lyra overcame all that worked against him as he sang with a beautifully lyric legato. Sung by soprano, Jessica E. Jones, Lyra was a lovely ingenue with a sweet, innocent sound. Apprentice tenor, Bille Bruley, was an appealing youngest brother, Benjamin. He created a likable character, acted with commitment, and sang with large, resonant sounds.
Although Ruders writes lovingly for the voice, his orchestral writing is also strong and distinctive. A listener can recognize his musical style upon hearing it a second time. Conductor Paul Daniel gave a richly colored but translucent rendition of THE THIRTEENTH CHILD'S complex score. The varied musical colors of a plethora of instruments playing strong rhythms created a luminous juxtaposition between tonality and chromaticism. THE THIRTEENTH CHILD is a fine new opera that can again be seen at Santa Fe Opera on July 31, August 9, 14, and 21st.
Photo: Ken Howard for Santa Fe Opera