BWW Review: THE WINTER WONDERETTES at Forum Theatre Company, A Wonderful Christmas Show with All Those Christmas Clichés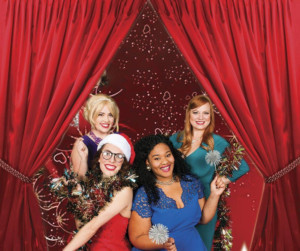 Located at The Wilke Center inside First United Methodist Church at 330 N. Broadway is the Forum Theatre Company. I had the pleasure of attending The Winter Wonderettes during their final week of shows. Kathy Page Hauptman directed four leading ladies to direct the audience, dubbed pseudo employees of Harper's Hardware Store, in an evening of crowd-pleasing participation at Harper's "Annual Holiday Happening."
With set design by Ben Juhnke and lighting by Tim Sidebottom, I was immediately immersed into 1968 Springfield where we find Missy (Chesley Moore Ehresman), Cindy Lou (Anjelica Mcrae Breathett), Suzy (Ari Chandler) and Betty Jean (Jen Bechter) preparing for the annual company Christmas Party. Written and created by Roger Bean, this off-Broadway production is chock full of Christmas music, under the musical direction of Wichitan Ben Karnes, and seasoned with strong, relatable characters. The show is certainly cast wisely with each role fitting each actress' personality sublimely. Played to a sold-out crowd, the show clipped right along from each jukebox holiday hit to the next. Most songs, which were sung in four-part harmonies to showcase the cast's vocal abilities, also made room for budding solos. Jen Bechter, a member of Actor's Equity, had a strong belt from the get-go, particularly in the opening number of Rockin' Around the Christmas Tree, and was extra appropriate on her line conveyance and humor. Ari Chandler's vocal strength shown through in Man with a Bag, a song made famous by professional singer Kay Starr. And when the show took us all around the world, Chelsey Moore Ehresman signed and sang Mele Kalikimaka, while wishing for a warmer holiday. But it was undoubtedly Anjelica Breathett that gave Mariah Carey a run for her money in Santa Claus is Comin' to Town, with her sassy, saucy delivery.
While jingles and ballads were clearly heard, it was rather difficult to hear spoken dialogue. Still, I was pleased to hear melodies full of all those Christmas Clichés, another joyful tune sung by Breathett. There were several dance numbers worth mentioning as well. The number Suzy Snowflake was a spirited tap number choreographed by Gigi Gans, a recognizable name amongst Wichita theatre goers, while O, Tannenbaum seemed to even challenge the performers-on purpose, of course. What really made the show appealing was the audience participation, especially during Jingle Bells, where the house was divided by sections to help three audience members conduct the familiar carol, complete with jazz hands, shimmies, and pantomimed turkey wings.
The real showstopper, however, came at the end when Santa arrived and brought one extra special gift for Jen Becther. Dressed as the merry man himself, Justin Gardner dropped the disguise and thoughtfully dropped to one knee asking the age-old question for her hand in marriage.
For more information on the Forum Theatre Company's next show, Words and Music with Richard Rogers, visit www.forumwichita.com. Performance dates are set for January 12th and 13th. You can also call 316-618-0444 for ticket reservations.
Photo Courtesy of the Forum Theatre Company
Related Articles View More Wichita

Stories

Shows