BWW Review: FREAKY FRIDAY at Music Theatre Wichita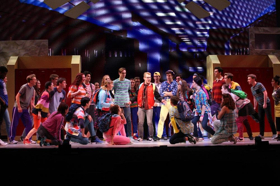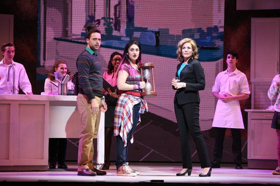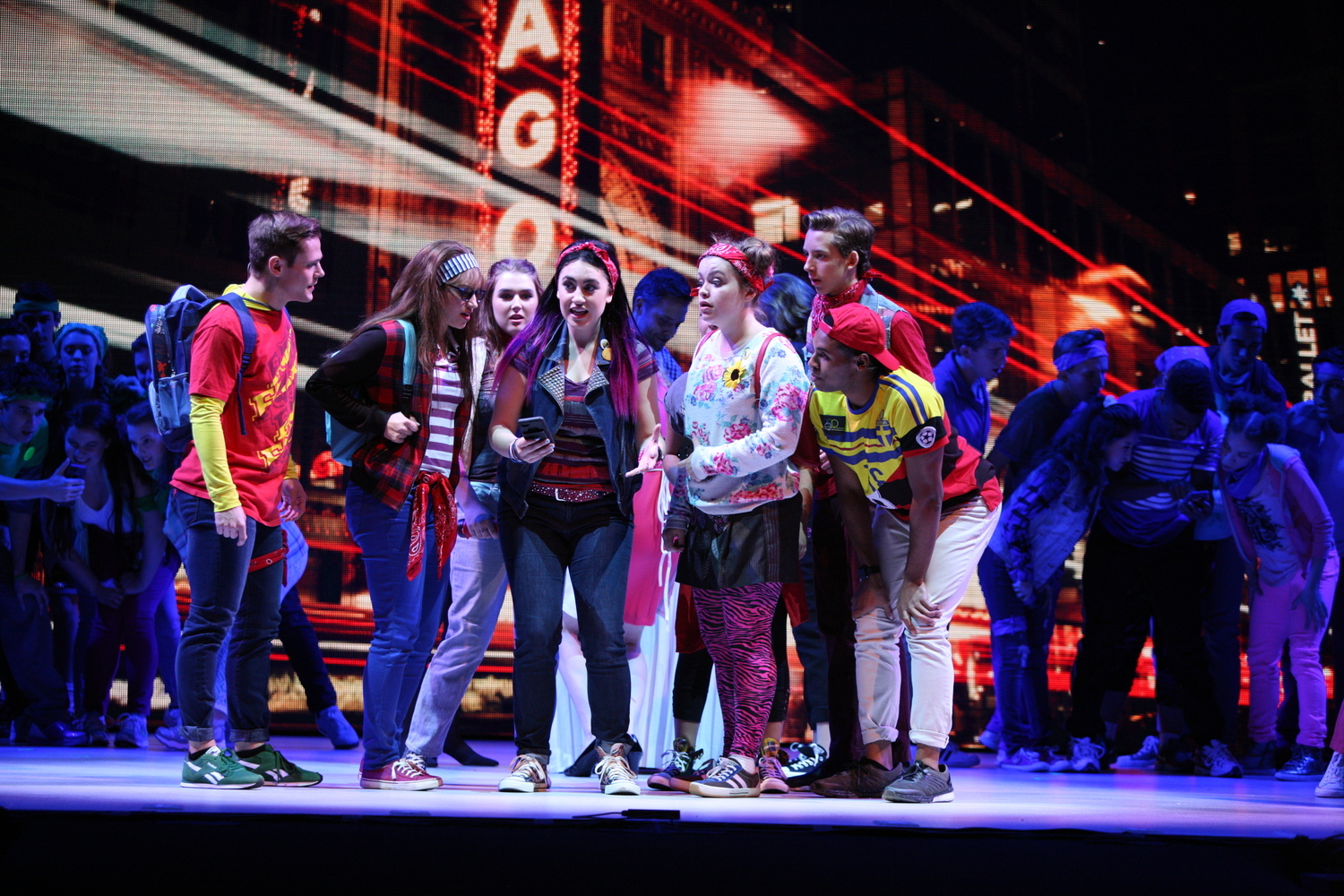 Mothers, grab your daughters and run to see this production of Freaky Friday before it closes. I never expected such a well-crafted, intimate piece of theater from the people at Disney, but I am so glad I had the opportunity to see this gem. With the Book, written by Bridget Carpenter (Friday Night Lights and Parenthood), and with Music by Tom Kitt and Lyrics by Brian Yorkey (Next to Normal), this work transcends the Disney catalog. There are 3 iterations of the film that spawned this musical version, and my favorite is the 2003 remake featuring Jamie Lee Curtis and Lindsay Lohan. Wayne Bryan, the Producing Artistic Director, gave us a brief history of the show's evolution at his curtain speech, and I'm sure you'll be comparing your favorite version against this show, but I love how Wayne Bryan, the Director, assembled all of the various production elements to present a fresh, modern take on this production, taking the audience on a great emotional journey. The show was heartwarming without being saccharin sweet, and this jaded gal found herself wiping a tear or two away before the show was over. Think This Is Us, the musical.
The story begins when Katherine, a workaholic mom and her teenage daughter Allie magically swap bodies, and freak out when they realize they have one day to switch back. Mom is getting married, and daughter has committed to joining her friends to compete in Chicago's big Scavenger Hunt. What could go wrong? They spend a day in each other's shoes, and hilarity ensues!
There is solid vocal direction here by Thomas W. Douglas, and Sound Designer David Muehl does an exceptional job in this production, expertly mixing the voices and the 10 piece orchestra. The wonderfully colorful costumes are by Dixon Reynolds, Associate Professor of Design at SUNY Fredonia. The standout in this show is its design, thanks to the wonderful collaboration of Director Wayne Bryan with Scenic Designer J Branson, an MTW veteran based in Chicago, Projection Designer Michael Commentadore, a recent MFA Graduate of the Yale Drama Design program with a storied resume, and Lighting Designer David Neville, MTW Veteran and Assistant Professor of Scenic and Lighting Design at Wichita State. The set, a combination of sleek set pieces and 3D like projections, all strategically lit, acts as a narrator, taking us to all the places, telling the story in a cinematic fashion. I was quite pleased to see such a contemporary rendition of a contemporary tale arrive on the MTW stage.
The acting ensemble turns in strong, tight performances, and there were many standout moments in the show. Ellie (the daughter) is played by Chelsey Lynn Alfredo, an up and coming actress who has done a great deal of regional work at places like Infinity Theatre in Annapolis, MD, and a National Tour of Annie. She possesses an incredibly strong pop belt, but is versatile enough to negotiate the more tender moments called for by the score. She makes the transition to mom perfectly, paying close attention to Ellie's character arc, turning in an impeccable performance.
Katherine (the mom) is played by Broadway veteran Kim Huber. Huber gave a brilliant, nuanced performance, switching effortlessly from the uptight, harried but in control mom, to the laid back teen who marvels at the responsibility that rests on her mom's shoulders. Her poignant rendition of Parents Lie was gorgeous, and her near teen meltdowns whenever she is near Allie's boyfriend Adam are sweet perfection. Huber's exquisitely emotional delivery of After All of This and Everything was so touchingly beautiful, in stark contrast to the belted, bumped, and growled version on Bring My Baby (Brother) Home. More about that later.
The supporting actors were great! Fletcher (the son/brother) is played by Kilian McGaffin, a young local actor who we saw last season in MTW's production of Newsies. McGaffin is great playing the weird little brother who wears a puppet on each hand, much to Ellie's annoyance. Each puppet has a different voice, and McGaffin is great with his accents. His focus and interaction with the other actors was spot on and he turns in a strong performance. Keep an eye on this young man, he is definitely going places.
Local favorite Steven Hitchcock (Mosley Street Melodrama) as Katherine's fiancé Mike turns in some beautiful vocal work in the song Vows. Company member Michael Dikegoros, Senior at Elon University, stands out with his great character work as the Pastor in that same scene. Alyah Scott, a University of Michigan Senior and MTW Veteran plays Torrey, Katherine's assistant, with great energy, with standout character and vocals in She can cook and Not Myself Today. Savannah, the Sharpay role, is played by McKenzie Kurtz, another University of Michigan Senior. She has a great voice and gave us a memorable turn in I Got This and No More Fear.
Adam (Allie's boyfriend) is played by Keith Gruber, a junior at University of Oklahoma. Gruber has a wonderful pop tenor voice, replete with a sparkling smile and high energy. His gives the runaway Fletcher (McGaffin) instructions on how to deal with his sister and his mom in the cheery rendition of Women Are Like Sandwiches, and McGaffin handles the staging like a pro. As the List Master, Gruber energetically moves the Scavenger Hunt along in the song Go.
MTW Veterans Tim and Karen Robu do double duty here playing Allie's grandparents, as well as teachers in the wonderfully tongue and cheek Take the Blame scene. Betti O plays the In Your Face coach in the number Watch Your Back, as well as a doo wop cop in Bring My Baby (Brother) Home. I told you I would get to that. Bring My Baby (Brother) Home was a high energy blues number with Ellie (Alfredo), Katherine (Huber), Mike (Hitchcock) and the doo wop cops Betti O and Justin Showell. The staging was reminiscent of early rock and roll performers of the 50s, and it brought the house down.
The ensemble for this production was a mixture of the 2018 Resident Company, along with local teen performers from our community. They handled all the vocals and high energy production numbers with ease! Choreographer Brian J. Marcum, Assistant Professor of Musical Theatre at Syracuse University, has done a great job of mixing contemporary forms along with traditional elements of choreography for this production, and has done an outstanding job. The number Biology, which was very reminiscent of High School Musical, had some great classroom footwork with lots of lifts. In Go, the big production number, Marcum keeps the Scavenger Hunt moving against the backdrop of the cinematic projections showing the race through Chicago, bringing us to many places and giving urgency to the proceedings. His dancers are in sync with the projections and never out of step. I also loved the slow motion staging of he hourglass fight in No More Fear. How many counts did Allie hold that last note? Outstanding!
Other outstanding moments in the show included the fountain in Go, as Ellie (as her mom) instructs the young women to "not squander this time in your life!" I'm not going to spoil the surprise, but it is one women understand all too well. I loved the driving projections in Parents Lie.
Directing any Disney production is a bit of a trick because of the cinematic nature of the works. How do you fade or wipe to another scene? Wayne's encyclopedic knowledge of film certainly assisted him during this project, along with his collaboration with some top notch designers. I was so surprised and excited by this production. Do yourself a favor and see this show before it closes. Though the premise is pure fantasy, in the end both mother and daughter come away with a better understanding of each other's lives, accept each other for who they are, and realize how much they respect, need, and love each other. This is a universal story that anyone can understand.
Freaky Friday runs until Sunday, July 15th, with performances Friday and Saturday at 8pm, and Sunday at 7pm. There are Matinees on Saturday and Sunday at 2pm. Tickets can be purchased online at https://mtow-internet.choicecrm.net/templates/MTOW/?event#/events , by calling 316.265.3107, or by visiting the box office on the first floor of Century II. Upcoming shows include Pippin, July 25-29; and Disney's The Little Mermaid, August 8-18.