THE SCARLET PIMPERNEL Will Open At Theatre Royal Bath's The Egg Theatre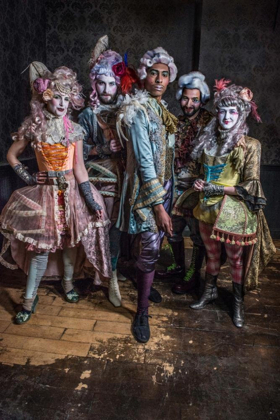 This Christmas, Theatre Royal Bath's the egg theatre and Pins & Needles Productions present a new adaptation of Baroness Orczy's The Scarlet Pimpernel in a comedic romp reuniting the award-winning production team behind last year's critically acclaimed production of Little Mermaid. Recently named winners of the UK Theatre Award for Best Show for Children and Young People, they will present this new production at the egg from 6 December to 13 January 2019, with opening night for press on 12 December 2018.

The Scarlet Pimpernel transports audiences to revolutionary Paris, for a colourful adventure packed with plenty of songs, outrageous fashion, intrigue and derring-do!

Paris, 1792 and the French Revolution is in full swing. Whispers are rife that a mysterious band of bounders, led by a flamboyant masked hero, are helping French poodles - and their owners - escape to England. But who is the elusive and reckless daredevil? This Christmas, visit the egg theatre to uncover the real identity of that master of disguise, the famed Scarlet Pimpernel! Horrible Histories meets Batman in this hilarious romp, jam-packed with elaborate hoaxes, buffoonery and nincompoops.

The Scarlet Pimpernel brings together Pins & Needles Productions' Director/Designer duo Emma Earle and Zoe Squire, with co-direction from Les Enfants Terribles' Associate Director Joe Hufton and original music from the Wardrobe Ensemble's Jack Drewry in this adaption by award winning playwright Christopher William Hill.

The full cast includes Dominic Allen, Emile Clarke, Phillipa Hogg, Laura Matthews and Dan Wheeler.

Pins & Needles Productions' Director Emma Earle and Designer Zoe Squire said: "For this Christmas adaptation of The Scarlet Pimpernel we've added lots more derring-do, twists and turns to the original story. We wanted to take a known title and bring it up to date with an exciting design which reflects the elements of disguise in the plot. The costumes are going to be fantastical with a real punk-esque feel and puppets to match. We've had a lot of fun collaborating with Christopher on the nerd turned superhero idea, and the result is a very funny script packed with elaborate disguises, subterfuge and plenty of silliness that will entertain family audiences over the festive period."

Pins & Needles Productions is an award-winning theatre company, making work that is "highly original and deliciously quirky" (The Guardian). The company is passionate about telling stories in an innovative and imaginative way, including bold visuals and ambitious staging. Previous work has reached audiences across the UK and internationally. Their family musical Mr Popper's Penguins played in the West End and toured the USA extensively including New York. They have adapted two of Raymond Briggs' classic children's books; Father Christmas, which has played at Lyric Hammersmith for the past seven consecutive years, and The Bear. Last year's critically acclaimed Little Mermaid by writer Bea Roberts, scooped the 2018 UK Theatre Award for Best Show for Children and Young People. Other productions include; Flies, Ernest and the Pale Moon and Gizmo Love. Pins and Needles Productions is a female-led Director/Designer partnership, run by Director Emma Earle and Designer Zoe Squire.

Tickets are on sale now for The Scarlet Pimpernel via the egg theatre on 01225 823409. Suitable for ages 6+ and families.
More Hot Stories For You