THE INHERITANCE Holds Special Performance For World AIDS Day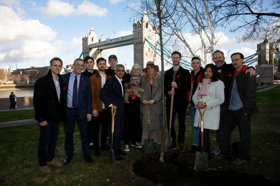 The Inheritance, the 2018 Evening Standard Theatre Award-winning 'Best Play' by Matthew Lopez, must end its strictly limited engagement at the Noël Coward Theatre on Saturday 19th January. Sonia Friedman, Tom Kirdahy and Hunter Arnold present the Young Vic production which opened in the West End on Saturday 13th October to widespread critical acclaim, with reviews recognising it as a modern classic, and one of the most important plays for many years.
Directed by multi Olivier and Tony Award winner Stephen Daldry, this landmark production held its world premiere at the Young Vic Theatre earlier this year where it ran for a sold out engagement.
The large ensemble cast of The Inheritance at the Noël Coward Theatre includes: Hugo Bolton, Robert Boulter, Andrew Burnap, Hubert Burton, John Benjamin Hickey, Paul Hilton, Samuel H. Levine, Syrus Lowe, Michael Marcus, Jack Riddiford, Kyle Soller, Michael Walters and Vanessa Redgrave.
A generation after the peak of the AIDs crisis, what is it like to be a young gay man in New York? How many words are there now for pain and for love? Matthew Lopez's major new two-part play explores profound themes through the turbulent and often hilarious experiences of a group of young, ambitious New Yorkers. What is the legacy left to them by previous generations? What do they owe the future and each other?
Spanning generations and many interlinking lives, The Inheritance brilliantly transposes EM Forster's novel 'Howards End' to 21st century New York.
On 1st December 2018, The Inheritance held a special performance for World AIDS Day with guests helping to raise awareness for Terrence Higgins Trust and their campaign to reach 'zero HIV' by ending new transmissions and eliminating HIV-related stigma.
Guests who attended on the day to show support for the charity included Stephen Fry, Stephen K. Amos, Colin Morgan, Bisi Alimi, Zoe Wanamaker, Gawn Grainger, Paris Lees, Tom Hollander, John Partridge, Laura Carmichael, SuRie, Jerry Mitchell, Freida Slaves, Andre De Shields and Michael Cashman.
On Friday 30th November, to mark both World AIDS Day and National Tree-Planting Week, the Mayor of London Sadiq Khan and cast from The Inheritance, along with representatives from Terrence Higgins Trust and London's Deputy Mayor for Environment and Energy, Shirley Rodrigues, planted a tree in Potters Field. The 'Tilia Cordata' tree, planted outside City Hall and with a stunning view of London Bridge, in remembrance to all the lives lost to AIDS in the past 30 years.
Terrence Higgins Trust is the UK's leading HIV and sexual health charity offering support, information and advice services for those living with and affected by HIV or poor sexual health.
Ian Green, chief executive at Terrence Higgins Trust, said:
"The Inheritance is a truly beautiful piece of theatre and there wasn't a dry eye in the house. World AIDS Day is always a special and emotional day as we wear our red ribbons in remembrance of all the lives lost far too soon since the start of the HIV epidemic. But seeing The Inheritance made it even more special. This important play not only reminds us of how far we've come in the fight against HIV, but also how much more there still is to do - and all the trauma along the way.
We're honoured to have worked in partnership with The Inheritance to mark the 30th anniversary of World AIDS Day. Money raised will help support our ambitious but achievable aim of getting to zero new HIV transmissions in the UK and, as importantly, the work we do across the country to eradicate the stigma and misinformation that still surrounds this virus."
Sonia Friedman, Producer of The Inheritance, said:
"A huge thank you to Matthew Lopez, Stephen Daldry and to the astonishing cast and company of The Inheritance - the play, production, and audience reached new heights of emotion and intensity on World AIDS Day and it will be a day that every one of us in that theatre will cherish forever.
In the 1980s I was a young stage manager working at The National Theatre; all around me, in our industry, people were dying and struggling. I just felt it was wrong and that I had to do something, so I went to the Terrence Higgins Trust, and asked if I could do something, if I could help.
The voluntary work I did with them and other HIV charities formed who I am and it helped make me a Producer and therefore it is a privilege to be working with them again, 30 years later, for this very special performance. It was a day of remembrance, pain, hope and a day of connection."