THE GLASS PIANO Comes to The Print Room At The Coronet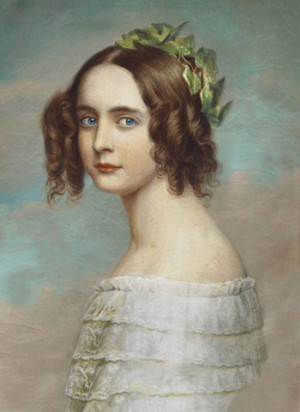 Once upon a time there was a Princess who thought she had swallowed a glass piano.
The Glass Piano, a new play by Alix Sobler, is based on the bizarre but true story of Princess Alexandra of Bavaria. Alexandra tiptoes carefully through the palace corridors, turning sideways to pass through doorways, terrified that at the slightest disturbance the piano would shatter inside her. Her father, King Ludwig I, can do nothing to help - until a young man comes to the palace.
Laced with dry humour and featuring evocative period design, Alix Sobler's stylish play takes place in the 19th century House of Wittelsbach, where four characters are trapped by their situations, and prevented from fulfilling their dreams of love.
Known as "the glass delusion", this psychological malady, first recorded in the Middle Ages, would become quite common amongst royals and nobles, before virtually dying out in the late 19th century.
Alix Sobler is a playwright and performer from New York whose dark comedies and topical plays have been performed across the US and Canada winning a number of accolades. Her play The Great Divide won the 2015 Canadian Jewish Playwriting Competition, was a finalist in the 2015 Henley Rose Playwriting Competition for Women, and was produced at the Finborough Theatre in 2016 to great acclaim.
Directed by Max Key, who received an Olivier nomination for It Is Easy To Be Dead at Trafalgar Studios, described by Michael Billington as "a beautifully orchestrated production." in his 5* review.
Music composed by Gabriel Prokofiev, the grandson of Sergei Prokofiev, will be played on stage by pianist Elizabeth Rossiter.
Set and lighting design is by Declan Randell, costume is designed by Deborah Andrews and sound is designed by Emma Laxton.
To Book:
Box Office: 020 3642 6606 www.the-print-room.org or in person.
Address: 103 Notting Hill Gate, London, W11 3LB Nearest tube: Notting Hill
Website: www.the-print-room.org

More Hot Stories For You