Steve Michaels Arrives to the UK Ahead of Run as Elvis in THIS IS ELVIS BURBANK AND VEGAS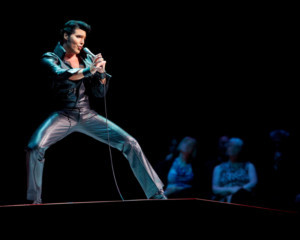 Yesterday, to coincide with what would have been Elvis Presley's 83rd birthday, internationally renowned and award-winning tribute artist and actor Steve Michaels touched down on UK soil ahead of starring as 'The King' in the musical This is Elvis - Burbank and Vegas.
Steve Michaels arrives in the country from his home in Canada where his incredible likeness to Elvis, from his outstanding voice, hair, side burns, piercing eyes and even his mannerisms has garnered him extraordinary international success.
Of course, it had long been believed that Elvis himself never visited the UK. However, it has since been discovered that he did, in fact, spend a day in London with English Entertainer Tommy Steele in 1958, which until very recently had remained a closely guarded secret for Steele.
83 years since Elvis Presley was born and 50 years since his televised Special aired on NBC Television, which later came to be known as his '68 Comeback Special, comes the nationwide tour. THIS IS ELVIS - Burbank and Vegas. The musical follows the true story of a very pivotal period in Elvis' life and career, charting his journey back to stardom and his return to success as a stage performer.
Steve Michaels' masterful performance and remarkable renditions of the King have garnered him worldwide attention. Steve has played alongside some of Elvis Presley's iconic band mates including the legendary drummer DJ Fontana and bassist Jerry Scheff. In addition, he has shared the stage with the extraordinary Jordanaires and the soulful voices of the Sweet Inspirations. Steve's exquisite styling and ability to successfully capture an authentic portrayal of Elvis Presley has endeared him to audiences everywhere across Canada, United States, India, Thailand, United Kingdom, Hong Kong, Philippines and Australia.
It's 1968 - the major musical event of the year is the first live TV special for Elvis Presley in what would come to be known as 'The '68 Comeback Special'.
Drawing phenomenal ratings - almost half of the viewing audience - this event re-establishes Elvis as the major entertainment star of the decade, and twelve months later Elvis stars at the International Hotel in Vegas, performing live for the first time in seven years, and securing his place in history as the King of Rock 'n' Roll!
THIS IS ELVIS recreates all the drama leading up to the comeback as well as staging the monumental concert. It then proceeds with The King to his Vegas debut. Featuring Elvis's greatest hits including... Trouble, Heartbreak Hotel, Blue Suede Shoes, Hound Dog, Love Me Tender, All Shook Up, Jailhouse Rock, One Night, It's Now or Never, Are you Lonesome Tonight?, Can't Help Falling in Love, In The Ghetto, Suspicious Minds, American Trilogy, Just Can't Help Believing and many more...
This production celebrates 50 years since the TV phenomenon and is testament that his songs live on and the King still rules!
Elvis Presley is highly regarded as one of the most significant cultural icons of the 20th century, having starred in more than 30 films, performed record breaking shows and concerts and is the biggest selling artist of all time with over one billion records globally, it's no wonder he was referred to as the King of Rock 'n' Roll.
Among his many awards and accolades Elvis was nominated for 14 Grammy's and aged just 36 was awarded the Grammy Lifetime Achievement Award. Elvis Presley was an icon and heartthrob the world over, still enjoyed by millions today his legacy lives on. This musical relives the incredible comeback and resurgence in his popularity and the monumental Vegas concert that confirmed Elvis' legendary title as The King.
The tour will visit Windsor, Blackpool, Edinburgh, Dartford, Aylesbury, Weston-Super-Mare, Wimbledon, Birmingham, Stoke, Malvern, Cardiff, Liverpool, Woking, Leeds, Manchester, Sunderland, Darlington, Brighton, Bristol and Torquay. Don't miss your chance to catch this 'brilliant' musical before Elvis has left the building!