Stephen Sondheim to Visit National Theatre Ahead of FOLLIES Production Next Week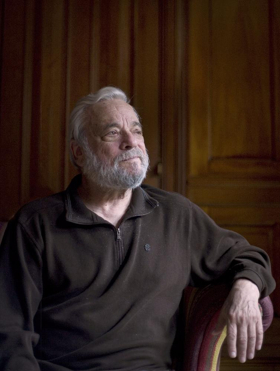 Ahead of the NT's dazzling new production of Follies, multi-award-winning composer and lyricist Stephen Sondheim talks to Jeremy Sams about his legendary musical on Tuesday 22 August, 6pm at Dorfman Theatre. Sondheim's work includes Follies, A Funny Thing Happened on the Way to the Forum, Company, Sweeney Todd, A Little Night Music, Sunday in the Park with George, Into the Woods and West Side Story.
Enter the ballot to win the opportunity to purchase tickets for 'Stephen Sondheim on Follies':
Ballot opens: 12noon Tuesday 15 August
Ballot closes: 12noon Wednesday 16 August
Winners will be notified via email.
Tickets: £15, £7.50, £5
Further Follies Talks and Events include:
Janie Dee and Philip Quast - Olivier Theatre Thursday 14 September, 3pm
The Future of Musical Theatre - Cottesloe Room, Friday 15 September, 6pm
Dominic Cooke - Olivier Theatre, Wednesday 18 October, 6pm
The Works of Stephen Sondheim - Cottesloe Room, Friday 3 and Friday 24 November, 10.30am
Creating Costume for Follies - Cottesloe Room, Wednesday 15 November, 6pm
History of the Ziegfeld Follies - Cottesloe Room, Friday 24 November, 6pm
Staging Sondheim's Follies - Olivier Theatre, Tuesday 28 November
Josephine Barstow and Tracie Bennett - Monday 18 December, 3pm
Designing Follies with Vicki Mortimer - Tuesday 12 December, 5.30pm
Follies
Book by James Goldman, Music and Lyrics by Stephen Sondheim
Directed by Dominic Cooke
Opens in Olivier Theatre on 22 August, Press Night 6 September, last performance 3 January
Good ticket availability from November 2017 - January 2018
NT Live Broadcast: Thursday 16 November
1971, New York. There's a party on the stage of the Weissman Theatre. Tomorrow the iconic building will be demolished. Thirty years after their final performance, the Follies girls gather to have a few drinks, sing a few songs and lie about themselves. Including such classic songs as Broadway Baby, I'm Still Here and Losing My Mind, Stephen Sondheim's legendary musical is staged for the first time at the NT. Tracie Bennett, Janie Dee and Imelda Staunton play the magnificent Follies in this dazzling new production.
Featuring a cast of 37 and an orchestra of 21, the production is directed by Dominic Cooke (Ma Rainey's Black Bottom). Winner of Academy, Tony, Grammy and Olivier awards, Sondheim's previous work at the NT includes A Little Night Music, Sweeney Todd and Sunday in the Park with George.
The cast includes Julie Armstrong, Norma Atallah, Josephine Barstow, Jeremy Batt, Tracie Bennett, Di Botcher, Billy Boyle, Janie Dee, Anouska Eaton, Liz Ewing, Geraldine Fitzgerald, Peter Forbes, Emily Goodenough, Bruce Graham, Adrian Grove, Fred Haig, Aimee Hodnett , Dawn Hope, Liz Izen, Alison Langer, Emily Langham, Sarah-Marie Maxwell, Ian McLarnon, Leisha Mollyneaux, Gemma Page, Kate Parr, Philip Quast, Edwin Ray, Gary Raymond, Adam Rhys-Charles, Jordan Shaw, Imelda Staunton, Zizi Strallen, Barnaby Thompson, Christine Tucker, Michael Vinsen and Alex Young.
Follies is designed by Vicki Mortimer, with choreography by Bill Deamer, musical supervision by Nicholas Skilbeck, orchestrations by Jonathan Tunick, additional orchestrations by Josh Clayton, musical director Nigel Lilley, lighting design by Paule Constable and Sound Designer by Paul Groothuis.
Photo credit: Rex Features