Pleasance Launch Season for Their New Theatre Space in London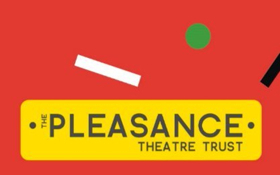 The much-loved Pleasance London has undergone an exciting refurbishment and opens its third theatre space, the 80-seat 'Downstairs'. The Pleasance in Islington has been an integral part of London's Off-West End theatre community for over two decades; an important part of London's theatre scene, Pleasance remains a home for great new theatre and comedy. The recent appointment of Head of Theatre, Nic Connaughton, also marks a fresh new direction for the theatre programme as Pleasance further develop and present outstanding new work.
The diverse programme in both London and Edinburgh brings the spirit of the Fringe to audiences year-round. Pleasance London's new thrust theatre space is launched with an exciting season that welcomes four new productions including a transfer of the critically acclaimed Bismillah! (an ISIS tragicomedy) by Matthew Greenhough and world premiere of Bingo by award-winning writer Alan Flanagan.
These are joined by The Year of The Rooster Monk, Les Foules' hypnotic and spooky meditation on race, gentrification and 90s movie Ghost, which is supported via a new partnership with London and Sheffield based Theatre Deli, starring Daytime Emmy-winning actor Giselle Gant. This season also includes Tom Ratcliffe's (Circa, Circa Theater de Meervaart, Amsterdam and The Vaults) new play Gifted.
Audiences were first welcomed to Pleasance Downstairs - then called 'Beside' - during the 2017 Edinburgh Festival Fringe, however this season marks the venue's first appearance in London. A collaboration between Triple E and Pleasance, Downstairs is the first temporary theatre built from ModTruss and will reside in London for 10 months every year, before returning to the Pleasance Courtyard for the Festival Fringe each August. This uniquely versatile space allows for rehearsals during the day and performance in the evening.
Nic Connaughton, Head of Theatre at Pleasance, comments, This is an exciting time for the Pleasance in Islington with the launch of our new 80-seat thrust venue - Downstairs. This new space will complement our existing StageSpace and Main House, each with a unique and distinctive flavour. Stage Space will remain the home of adventurous companies and artists, taking risks with new ideas and stories. Downstairs will focus on longer-run text-based theatre, presenting both transfers and premieres from the most exciting companies and playwrights. Our Main House will continue to welcome the best in UK and International theatre, with a specific focus on musicals, unique takes on modern classics, high quality touring productions and presenting the best work being made by companies outside of London. I am so proud to announce this stacked programme of work; collectively these four shows are a statement of intent for Pleasance Islington and will establish our Downstairs space at the forefront of excellent New Writing.
Anthony Alderson, Director of the Pleasance, adds, Pleasance London has a new lease of life - we have a newly refurbished Main House Theatre, foyer and bar and I am delighted to be opening London's newest theatre and rehearsal room, a fully flexible studio space. Pleasance London is growing from strength to strength and I am thrilled to be working with such a talented group of people. Nic Connaughton has joined the Pleasance as Head of Theatre matching the talents of our Head of Comedy, Ryan Taylor. Since opening 22 years ago, the Pleasance in London has been at the centre of developing bright ideas and nurturing new talent. Our newest space will undoubtedly become a valuable a part of London's theatre network.
In addition to the refurbishment and our new theatre space the Pleasance also launches a new youth programme for local Islington residents. As a branch of the Young Pleasance company, Young Pleasance London is a new year-round youth theatre for young people aged 16-25. With a mission to create a diverse, inclusive, innovative and socially responsible youth theatre, focusing on verbatim theatre and new writing, this company will develop the voices of young artists and give voices to those in the community who are seldom heard.
The mini-season at Pleasance London is as follows:
Wound Up Theatre Company and Sofi Berenger present BISMILLAH! (An Isis Tragicomedy) by Matthew Greenhough
Tuesday 24 April - Sunday 13 May 2018, 8pm
Press night: Friday 27 April
Dean joined the Army, Danny joined the Islamic State. One's from Leeds, the other from London. Brought together in a basement in Northern Iraq, they reminisce about their torment working in Wetherspoon, share disgust over an airport meal deal costing £4.89, and circle around an awful truth - that both of them just want to go home. This is a hilarious, heartbreaking and compassionate contribution to the vital discussion around the experiences of disenfranchised young people in modern Britain.
---
work.Theatre presents Gifted by Tom Ratcliffe
Tuesday 14 - Saturday 19 May, 8pm
Someone has uploaded videos of Jasper and Milly's sex life online. When Milly discovers this, she is persuaded to take an unexpected and dangerous course of action. Following initial development at Theatre503's Rapid Write Response, as well as Small Things Theatre Company's A Night of Small Things (Old Red Lion), work.Theatre are proud to present this new full length production for a strictly limited one-week run.
---
Les Foules, in association with Theatre Deli present The Year of the Rooster Monk
Devised by Giselle Gant, Nadege Adlam, Nathalie Adlam, Lydia Benecke
Tuesday 22 - Sunday 3 May, 8pm
The witching hour: it's late, it's hot and an out of work actor Giselle loafs on a couch in gentrifying Harlem. Suddenly a call comes through from Mom that changes the course of everything. As the year of the Monkey gives way to the inauspicious year of the Fire Rooster, Giselle must wake up to realities of life - realities that she's been avoiding for years. But she's not alone. Given the opportunity to audition for the part of Oda Mae Brown - the reluctant psychic from 90s movie Ghost - Giselle sees an opportunity to channel Oda Mae's chutzpah and tap into her own #BlackGirlMagic. From here on in she's going to read the signs for what they are.
---
SLAM presents Bingo by Alan Flanagan
Tuesday 5 - Sunday 24 June, 8pm
Press night: Thursday 7 June
Cormac is an Irishman determined to unspool his sexual history - wanking off another lad in the showers after a Gaelic match, losing his virginity under the watchful eye of a looping ad for Footballers' Wives, sampling the sexual and pharmaceutical smorgasbord of London - all of which leads to a defining moment...
Following his first ever STI test, Cormac discovers the unthinkable: he's contracted everything,
running the gamut from the potentially lethal to the irrepressibly itchy and back again. The doctor has pamphlets, but as Cormac sprints into the Archway traffic, only one word rattles around his mind: "Bingo".
Related Articles View More UK / West End

Stories

Shows
More Hot Stories For You