Photos: MAMMA MIA! Arrives at Wolverhampton Grand
The touring production is now playing until Saturday 28 January at the theatre.
MAMMA MIA! the feel-good musical based on the songs of ABBA has opened its 2023 UK & International tour at Wolverhampton Grand Theatre where it is now playing until Saturday 28 January.
The Dynamos played by Sara Poyzer (Donna), Sarah Earnshaw (Tanya) and Nicky Swift (Rosie) posed in their Super Trouper outfits to launch the show outside the Grand Theatre.
The full cast for MAMMA MIA! at Wolverhampton Grand Theatre features Sara Poyzer (Donna Sheridan), Nicky Swift (Rosie/Alternate Donna Sheridan), Sarah Earnshaw (Tanya), Richard Standing (Sam Carmichael), Neal Craig (Harry Bright), Phil Corbitt (Bill Austin), Jess Michelmore (Sophie Sheridan), Christopher Foley (Sky), Tanisha Butterfield (Ali), Freya Humberstone (Lisa), Jaden Oshenye (Pepper), Archie Flynn (Eddie) and Andrew Bateup (Father Alexander) lead the cast.
Further casting includes Clàudia Bahrani, Alice Baker, Peter Camilleri, Henryk Firth, Andrew Gallo, Claire Greenway, Ashleigh Harvey, Ashleigh Jones, Matt Kennedy, Robert Knight, Grace May, Hollie Nelson, Ashley Rowe, Nathen Scott, Marissa Sims and Lucy Walsham.
Fall in love with the irresistibly funny tale of a mother, a daughter and three possible dads on a Greek island idyll, all unfolding to the magic of ABBA's timeless songs.
The UK & International Tour is celebrating 24 years since MAMMA MIA! premiered in London in April 1999. To date, MAMMA MIA! has been seen by over 65 million people in 50 productions in 16 different languages. In 2011 it became the first Western musical ever to be staged in Mandarin in the People's Republic of China. MAMMA MIA! became the 8th longest running show in Broadway history where it played a record-breaking run for 14 years.
Since premiering in London's West End the world's sunniest and most exhilarating smash-hit musical has been turned into two record-breaking movies. Produced by Judy Craymer, MAMMA MIA! The Movie became the highest grossing live action musical film of all time upon its release in 2008. The second film, MAMMA MIA! HERE WE GO AGAIN, opened in July 2018 and is the most successful live musical movie sequel of all time.
With music & lyrics by Benny Andersson & Björn Ulvaeus, MAMMA MIA! is written by Catherine Johnson, directed by Phyllida Lloyd and choreographed by Anthony Van Laast. The production is designed by Mark Thompson, with lighting design by Howard Harrison, sound design by Andrew Bruce & Bobby Aitken, and musical supervision, additional material & arrangements by Martin Koch.
The MAMMA MIA! UK & International Tour is produced by Judy Craymer, Richard East & Björn Ulvaeus for Littlestar in association with Universal and NGM.
Tickets for MAMMA MIA! at Wolverhampton Grand Theatre until Saturday 28 January 2023 are on sale now at grandtheatre.co.uk.
Photo Credit: Alex Styles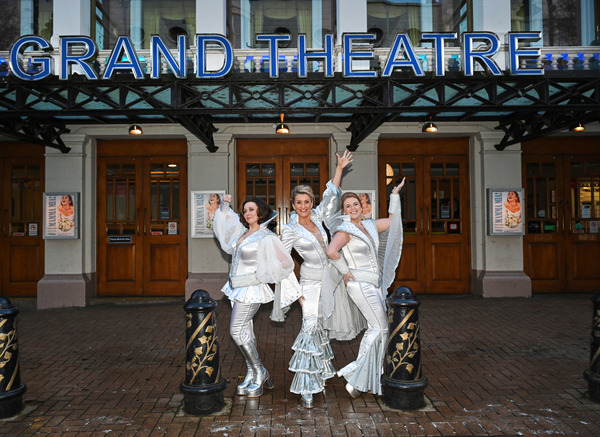 Sara Hearnshaw, Sara Poyer, Nicky Swift

Sara Hearnshaw, Sara Poyer, Nicky Swift