Photo Flash: LEGO Matilda Unveiled in the West End in Honor of Roald Dahl Day
To mark Roald Dahl Day today, 13 September, the Royal Shakespeare Company's Matilda the Musical welcomed to the Cambridge Theatre stage a very special visitor. Emma Moore, one of the four actresses who share the role of Matilda in the West End, supported the LEGO Roald Dahl Hero campaign by posing alongside the LEGO build of Matilda - which is composed of 8,900 bricks and took 48 hours to construct. Scroll down for photos!
Six favourite Roald Dahl child heroes are poised to appear, in stunning locations across the UK, in the form of unique LEGO brick builds to mark Roald Dahl Day - the global celebration that happens annually, on and around 13th September, the author's birthday.
Winner of 86 major international awards, including 16 for Best Musical Matilda the Musical continues to play to packed houses at the Cambridge Theatre, where it is now the longest running show in the West End venue's history. Seen by over 7 million people worldwide across more than 60 cities, the show is now preparing to tour the UK and Ireland from March 2018.
Visitors are encouraged to share their pictures with MATILDA using #LegoMatilda, #RoaldDahlDay and @MatildaMusical on Twitter, Facebook or Instagram.
MATILDA and her fellow LEGO Roald Dahl heroes are sure to be a highlight of Roald Dahl DAY 2017, which this year shines the spotlight onto the iconic child heroes created by Roald Dahl. The young heroes of his stories are distinct individuals but they are united by a spirit of healthy rebellion and resilience. Roald Dahl was, throughout his career, a champion for children.
The six Roald Dahl character brick builds have been created by Duncan Titmarsh - the UK's only certified LEGO professional builder - and his team at the Bright Bricks workshop in Bordon, Hampshire.
Bernie Hall from Roald Dahl's Literary Estate says, "We are so thrilled that the LEGO brick build of Matilda will be making her debut at the Cambridge Theatre, before heading off around the UK and Ireland, on tour with Matilda the Musical. It's a brilliant way to celebrate MATILDA and all Roald Dahl's amazing child heroes this Roald Dahl Day."
The full list of six LEGO Roald Dahl HERO brick builds and their locations are:
BILLY - intrepid hero of BILLY AND THE MINPINS, Roald Dahl's very last book -the Eden Project in Cornwall.
CHARLIE - good-hearted hero of CHARLIE AND THE CHOCOLATE FACTORY - Manchester Central Library.
GEORGE - maverick inventor hero of GEORGE'S MARVELLOUS MEDICINE - Nottingham Railway Station.
JAMES - adventurous hero of JAMES AND THE GIANT PEACH - Cardiff Castle.
MATILDA - anarchic heroine of the eponymous MATILDA - foyer of the Cambridge Theatre in London, home to the Royal Shakespeare Company's production of Matilda the Musical.
SOPHIE - brave heroine of THE BFG - the National Trust's Giant's Causeway Visitor Centre in Northern Ireland.
Photo Credit: David Jensen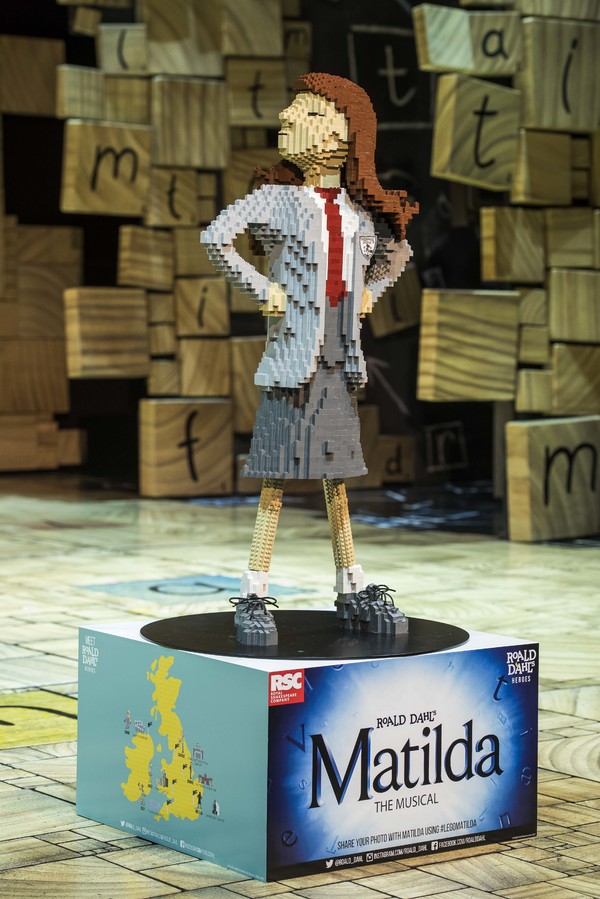 LEGO build of Matilda in honor of Roald Dahl Day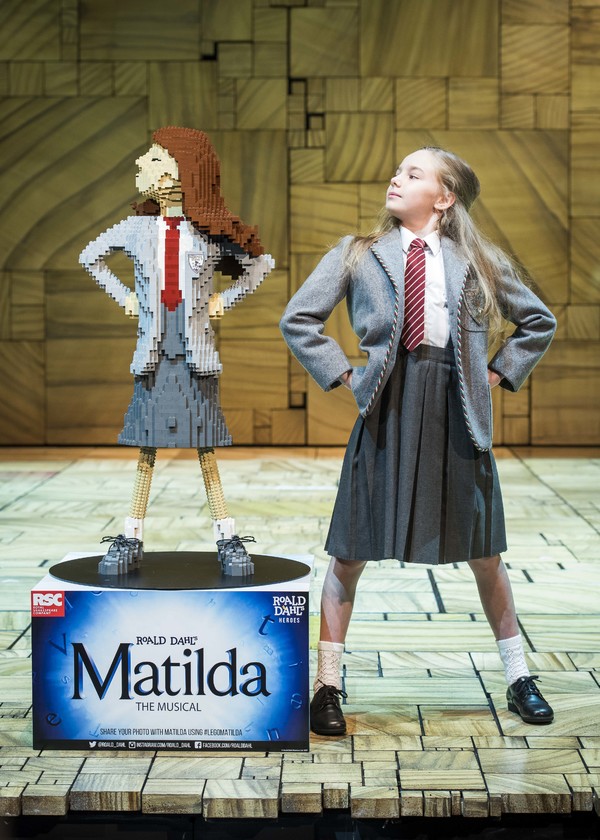 Emma Moore, one of the four actresses who share the role of MATILDA in the West End, poses with the LEGO build

RSC Artistic Director Gregory Doran and RSC Executive Director Catherine Mallyon with the LEGO build

Emma Moore, one of the four actresses who share the role of MATILDA in the West End, poses with the LEGO build

Emma Moore, one of the four actresses who share the role of MATILDA in the West End, poses with the LEGO build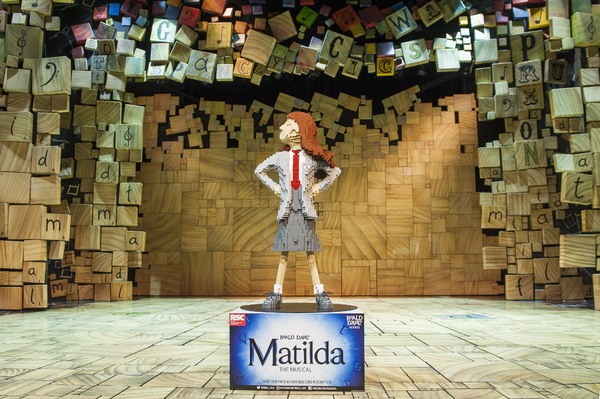 LEGO build of Matilda in honor of Roald Dahl Day

LEGO build of Matilda in honor of Roald Dahl Day

RSC Artistic Director Gregory Doran and RSC Executive Director Catherine Mallyon