Photos: Elaine Paige & Wayne Sleep Mark Royal Voluntary Service 80th Anniversary At London Event
From supporting the war effort to supporting the NHS, Royal Voluntary Service is marking 80 years of helping others by telling its remarkable story through the power of photographs in a new exhibition, The Gift of Time.
To mark the opening, Royal Voluntary Service ambassador and star of stage and screen, Elaine Paige OBE, recreated one of the most arresting images from the charity's archives, Miss Mercury of the WVS (as Royal Voluntary Service was formerly known) which is one of the many images going on display. To recreate the iconic photograph, Elaine dressed in WVS uniform and posed on an original World War II motorbike.
The Gift of Time is being held at London's gallery@oxo to mark Royal Voluntary Service's 80th anniversary and is open until 5th November. Free to attend, visitors will be able to view a range of compelling images from 1938 to the modern day which depict the powerful role the charity's volunteers played during war time and beyond.
The exhibition will feature pictures from Royal Voluntary Service's Archive, which is recognised by UNESCO as one of the most important collections in the UK, particularly for women's history. And bringing the story up to date, celebrity photographer, Nicky Johnson has turned his lens to capture the charity's everyday volunteer heroes of today, in a series of original portraits.
More used to shooting some of the world's top movie stars, celebrities and models, Nicky travelled across Britain to capture the spirit of volunteering today and to photograph a selection of Royal Voluntary Service volunteers who so generously gift their time to helping others in hospital and in the community. The pictures depict volunteers, and those they support, from services such as lunch clubs, Community Companions, Men's Sheds and onward support in hospital. Subjects included Community Companions volunteer John Aylward, who visits 97 year old Stella Green at her home in London every week and Maha Abbas, who provides company to patients in hospital in Leicester.
Royal Voluntary Service was founded as Women's Voluntary Services in 1938, as the nation prepared for war and galvanized over a million women to volunteer to support the home front. From air raid precautions to evacuating children, the tireless efforts of the 'women in green' as they became fondly known were central to winning the war.
In the decades that followed, the organisation and its unique philosophy of voluntary service maintained its place at the heart of civic life. It tackled extraordinary social challenges - from assisting with the migration of thousands of refugees to the UK following the Hungarian revolution, advising what to do in the event of a nuclear attack, and organising holidays for disadvantaged children, to assisting the NHS by providing all important compassion on ward.
Photographer, Nicky Johnston said: "I didn't realise, and I don't think most people do, what Royal Voluntary Service does. Then you find out they do tai chi classes, and hundreds of different things. I work in a different world; I'm usually shooting celebrities; it's a totally different ball game for me. I have to say, I've got quite attached to it because it is so different from what I normally do. And it reminds me of my nan and my gran, who are no longer with us, and how I used to sit and chat to them. It's a reality check. Thank heavens there are people like this around who give up their time to help others."
"I wanted my pictures to be joyous, because the volunteers are amazing in what they do and in giving up their time. The people who are receiving that help are joyous about it too. It makes such a difference to their lives and I wanted to show that."
Elaine Paige OBE, actress and Royal Voluntary Service ambassador said: "The photographs, old and new, tell a remarkable story of the contribution so many ordinary men and women have made to those in their community. I'm delighted to be part of Royal Voluntary Service's 80th birthday celebrations and enjoyed getting the chance to restage one of the charity's most iconic images."
Catherine Johnstone CBE, Royal Voluntary Service, Chief Executive, said: "Our wonderful volunteers do so many different roles, and Nicky's images capture these and their spirit perfectly. For over 80 years, our charity has been inspiring the gift of voluntary service to help others -whether that has been supporting the home front and assisting during an emergency or preventing readmissions by helping people home from hospital to serving food and company to older people at a lunch club."
The free exhibition will run from 31st October until 5th November at the gallery@oxo on London's Southbank.
Royal Voluntary Service is one of Britain's largest volunteering charities with over 20,000 volunteers supporting thousands of people each month in hospitals and in the community. The charity is also one of the largest retailers in the NHS, with its network of cafes and shops providing a valued haven in hospitals.
The Gift of Time: A remarkable story of voluntary service in Britain. From 31st October to 5th November 2018, gallery@oxo, oxo Tower, Southbank, London, SE1 9PH. Free of charge, open to the public, no pre-booking required
For further information on the exhibition visit http://www.oxotower.co.uk/events/the-gift-of-time-a-remarkable-story-of-voluntary-service-in-britain/.

Elaine Paige and Nicky Johnston with Banbury singers

Wayne Sleep, Nicky Johnston and Elaine Paige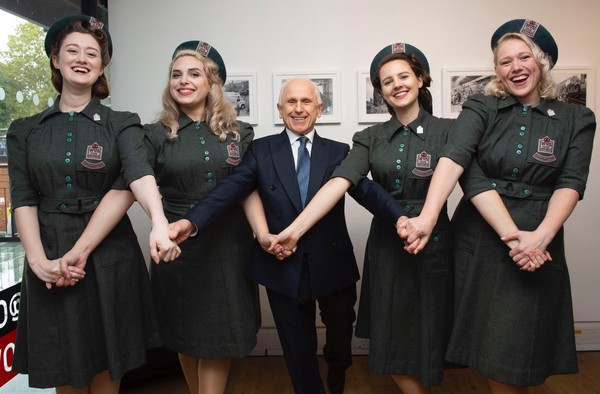 Wayne Sleep with the Bella Donnas

Nicky Johnston with his portraits