Guest Blog: Tigger Blaize On THE SNOW QUEEN at Polka Theatre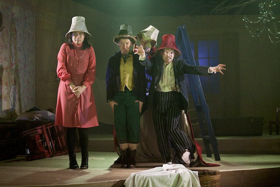 I've wanted to work with Polka Theatre since I graduated from Rose Bruford College of Speech and Drama, and regularly badgered the artistic directors with my photograph and CV. In October, I was invited to a research and development day for The Snow Queen, where the director and designer worked with us to gather ideas for how this show might come together. A day of play!
When Roman Stefanski rang to offer me the role of Robber Girl, I think I may have burst his eardrum with my utter jubilance, and I jumped around the room for about half an hour afterwards.
We had three weeks of rehearsals and they were so much fun. We four actors began each day with a warm-up of daft games, songs and concentration exercises, which were hilarious; all led by the director. Roman is like a naughty schoolboy: his keen sense of play, humour and the ability to create a chilled-out rehearsal room have made it a joy to develop The Snow Queen.
We've certainly had a lot of laughs, and a lot of tea breaks (Roman is generous with tea breaks) I'm a keen baker and over three weeks have made brownies, cookies and a Victoria sponge for my birthday in Week Two! The company bought me a cake too. I've put on three pounds.
This adaptation of Hans Christian Andersen's icy tale has been written by Mike Kenny. It leaves lots of space for embellishing the script with imagery, physical comedy, object manipulation and puppetry. Each day was packed with problem-solving; it seemed we couldn't get through one page without the opportunity to be inventive and feed into the process of bringing it to life.
We discovered quite quickly that we were going to be juggling an awful lot of props and furniture, as the piece is set in an abandoned attic and provides all of the materials required to create the story. For someone who likes order and relative tidiness and minimalism, this is hard to accept! The stage is absolutely trashed by the end of the play.
Ordinary everyday items are used to represent other things - umbrellas, fans, a colander, ladders, a multitude of sheets... The Snow Queen herself isn't played by a single actor, but conjured by all of us, from fabrics, objects and shadows throughout the play. And there's a delicious appearance and disappearance of her at the end, which I won't spoil by describing.
The technical rehearsals were a week of long hours and a steep learning curve in our development - one step forward and two steps back. Sometimes, you wonder if it will come together.
My main character is Robber Girl, who is a savage 'tomboy' with a heart. She is physical and gung-ho - a bit like me. I also get to play a Princess, a Flower and a Pigeon. There's nothing like variation! I'm having a ball: living in London, working on a brilliant show and being supported so well in the family atmosphere at Polka Theatre.
The Snow Queen at Polka Theatre until 4 February, 2018
Photo credit: Bronwen Sharp