Guest Blog: Grace Khoo On AND SUDDENLY I DISAPPEAR: THE SINGAPORE/UK 'D' MONOLOGUES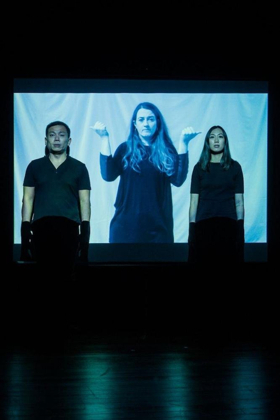 And Suddenly I Disappear: The Singapore/UK 'd' Monologues', inspired by lived experiences of Deaf and disabled people, comes to the Southbank Centre in September as part of the Unlimited Festival. Grace Khoo, a Singaporean theatre-maker and founder of Access Path Productions, is associate producer of the show and a performer.
I remember the moment when I quietly told myself that I would never be the same again, after working with the dazzling trio of Kaite O'Reilly, Phillip Zarilli and Peter Sau. That was nearly two years ago, when the four of us met in London.
Over coffee in the Wellcome Trust café, the gestation of The Singapore/UK 'd' Monologues began. There I was, a Singaporean student doing her Masters in Applied Theatre at the Royal Central School of Speech and Drama, on the cusp of graduating and jumping straight into working with a triumvirate of legends!
Legends I had studied and quoted since my undergraduate days. Legends whose books still sat on the most accessible height of my bookshelf. Legends whose work I witnessed on stage over and over again. I knew that what we were embarking on was going to be very important and evolutionary for my own theatre practice. And perhaps beyond.
More Skype and physical meetings followed. I basked in the warmth and generosity of fellow performer Sara Beer in Cardiff. I was irrevocably infected with the charm and disarming magnetism of visual director and fellow performer Ramesh Meyyappan in Glasgow.
After a rigorous, nail-biting, three-month application process for an Unlimited 2017/2018 International Commission, good news arrived. We swiftly celebrated our first successful step, but a shared mountain of producing legwork lay ahead. Without the good people at Unlimited sharing our strong belief in quality disability-led work, this journey would not have materialised.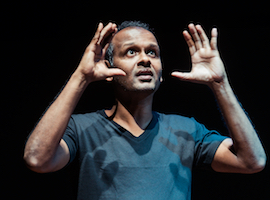 In August 2017, the UK-based team of Phillip, Kaite, Sara, Ramesh, the brilliant star that is Sophie Stone and myself gathered in Llanarth. It could not have been a more productive and magical weekend, full of experimentation, discovery and camaraderie.
After our initial meeting in London, a two-week R&D process took place in September 2017 in Singapore at Centre 42, where we had a three-night showcase for invited guests. That was followed by our sold-out world premiere and five-show run at the National Museum of Singapore in May 2018. Finally, we come full circle at the South Bank Centre with our UK premiere.
To take on a second role as performer, I feel like I have been living and breathing every aspect of this production for the longest time. My mind never strays far from the ethics of accessibility and the aesthetics of access.
Working through international time zones and geographies, building supportive and agency-driven relationships in the rehearsal room and co-creating new theatre vocabularies about access, our UK-Singaporean exchange has spawned a significant community of emerging artists, designers, production crew and audience members, who received our simple message loudly and clearly.
A young country like Singapore must discover the significance of the Social Model of Disability, which holds that disability is not a medical problem to be fixed at the individual level, but the experience of physical and attitudinal barriers created by society at large.
The most pressing call for action is to reflect on current charity-based practices and strive to embody best practices. There is also urgency in our call to smash stereotypes and go beyond mainstream representations of disability. It's a complicated conversation and process. I found myself personally changed and surrounded by a strong collective desire for change.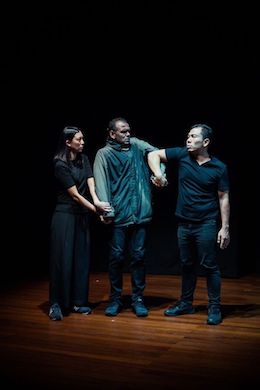 Within my personal capacity, social enterprise Access Path Productions was born out of a necessary response. By producing the Singaporean premiere and regional livestream of And Suddenly I Disappear, my partner Natalie Lim and I found ourselves facilitating conversations about access in the arts with various stakeholders.
Talking the talk naturally led to walking the walk. There wasn't an accessible ticketing platform in Singapore, so we simply built one on our website. The company could not travel to the city of Mindanao to perform at the La Salle University for its Deaf and disabled beneficiaries, staff and students, so we gathered a team and pulled off a quality livestreaming event that reached hundreds of audiences in the Philippines, Taiwan and Hong Kong.
While some are working hard and knocking on doors about inclusion, pushing Deaf and disabled people to rise up and be subsumed into the mainstream, we work differently. Deaf and disabled people have always been around. Inclusion, when you follow the social model, is a given.
We celebrate diversity in experiences, physicalities, voices and energies in the theatre. We are who we are, and we make the work that reflects our process, our camaraderie and common humanity. With And Suddenly I Disappear, we have made something that refuses to conform to the mainstream gaze and unconscious bias about what theatre should be.
I cannot be more excited to be reunited with my 'd' Monologues family again in the weeks to come as we go on tour. Our family has grown bigger with the inclusion of Macsen McKay and Garry Robsen. It will be yet another challenge, with a tightly packed multi-city schedule.
The one word that director Phillip and lead artist Kaite constantly use is "onwards", and the singular drive to overcome all obstacles keeps us moving forward together. So onwards we shall walk with our feet and roll with our wheels. With a spirit of solidarity and love, our company warmly welcomes all to come share the 'd' Monologues experience in the theatre with us this September.
Watch a trailer below!
---
And Suddenly I Disappear: The Singapore/UK 'd' Monologues is at the Southbank Centre on 5-6 September, with additional performances at The Old Fire Station, Oxford on 8 September, Attenborough Centre, Leicester on 9 September and Chapter Arts Centre, Cardiff on 11-12 September.
Published in partnership with Disability Arts Online
Photo credit: Wesley Loh of Memphis West