FOOTLOOSE Boogies Into Sheffield This Summer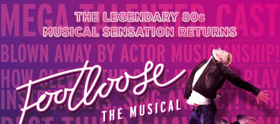 The smash hit production, Footloose: The Musical comes to the Lyceum Theatre stage from Tuesday 29 August - Saturday 2 September.
Based on the 1984 film starring Kevin Bacon, Footloose: The Musical tells the story of city boy Ren, who moves to a rural backwater in America where dancing is banned. All hell breaks loose when Ren gets the whole town up on its feet dancing. Featuring classic '80's hits including Holding Out for a Hero, Almost Paradise, Let's Hear it for the Boy and of course the unforgettable Footloose, the production is bursting with dazzling dancing and electrifying music.
The cast features Maureen Nolan as Vi Moore, best known for performing with her sisters as The Nolans, before going on to a hugely successful career in musical theatre, most notably as Mrs Johnstone in Blood Brothers. Joining Maureen are Joshua Dowen (Cool Rider) as Ren McCormack, the role immortalized on screen by Kevin Bacon, Hannah Price (reprising her performance from the 2016 tour), Reuven Gershon (Let It Be), Lindsay Goodhand (Crazy for You), Laura Sillett (Grease), Connor Going (The Pirates of Penzance), Emma Fraser (The Vaudevillians), Gracie Lai (Avenue Q), Laurence Libor (American Idiot), Tomas Wolstenhome (Once), Alex Marshall (Buddy), Dominic Gee Burch, Luke Dowling, Grace Lancaster, Jamie Ross and Lauren Storer.
Footloose: The Musical is at the Lyceum Theatre from Tuesday 29 August - Saturday 2 September. Tickets are priced from £17.00 and can be purchased by calling the Box Office on 0114 249 6000 or by visiting sheffieldtheatres.co.uk.
More Hot Stories For You