EDINBURGH 2019: POST MORTEM Q&A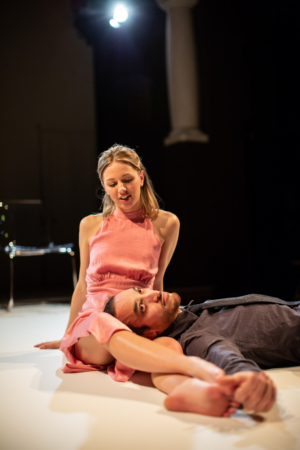 Writer Iskandar Sharazuddin's play POST-MORTEM fuses physical theatre, dance and gripping new writing to present an unflinching, complex and comedic look at young love; the giddy joy, the fragments, the trauma that outlives it and the lies we tell ourselves when it ends. Ahead of the show's run at Edinburgh Festival Fringe he had a chat with us here at BroadwayWorld.
Tell us a bit about Post-Mortem.
Post-Mortem is a play about looking back at moments that shape us, how trauma can outlive love, and the lies we tell ourselves when a relationship ends. It is the story of Nancy and Alex, who fall in love at seventeen. It is a first love that is obsessive and whole-hearted and which breaks. This a play where 10 years later, Nancy and Alex meet at their best friends' wedding and are forced to confront the conflicting mythologies and painful truths of their past.
What was the inspiration behind the play?
I wanted to write a play about a shared experience between two characters which was formative, but where each character had a very different memory associated with that shared experience. At the time of writing the first draft of Post-Mortem I was fascinated with the fact that we, as humans, have a tendency to mythologise big emotional turning points in our lives and that memory can be horribly unreliable. This was what I observed anyway.
I also wanted to write about young love, which felt relatable and accessible. The kind of love where two human beings let all their barriers down and become knotted together. I feel like many of us have experienced this type of love, I wanted to explore what it means when you think you have successfully disentangled yourself from that other person, or the memory of that person, when in reality you haven't quite processed everything you needed to.
How does dance tie in?
The dance in Post-Mortem evolved from some early conversations with the director, Jessica Rose McVay. As a playwright-performer I come from a physical performance background in dance and gymnastics. As a director, Jessica is very interested in movement and the storytelling function of physicality in a piece of theatre. We both had a desire to explore movement in the piece and to look at the interplay of dramatic scenes of naturalism with a heightened physical language.
However, because I tend to allow the form to be dictated by the narrative it was a happy discovery that when Nancy and Alex meet and confront one another about moments in their past, each character is imploding with what feels like an impossible amount of emotions. Language felt insufficient whereas dance, gesture, and movement felt like the perfect way to realise this.
Who would you recommend come to see it?
This is a play for people who like physical theatre and dance that has been shaped by dramaturgy and story. We are trying to blend two forms and to allow them to very comfortably coexist in the same theatrical space. To me it feels like there is a balance of the two, whereas a lot of the dance-theatre I have experienced seems to weigh heavily towards dance over text or vice-versa. I would recommend this play to people interested in dance and for people interested in new writing. In the Venn diagram of audiences there is a crossover between those two things and that is where we live.
I also think it is for the true romantics. It is for the 30-year-old who is going back to Tinder for a second or third time, unsure of what it is they're looking for. It is for someone who has been in love but hasn't been able to grasp onto that feeling again, due to whatever psychological barriers there may be.
Finally, it is a play for the theatre junkie. I'm a theatre maker, I'm interested in the theatre, in exploring and sometimes challenging the predominant ideas around form and structure. The people who obsessively draw up a spreadsheet for Edinburgh (which is not a bad idea!) should come. This is a play we've made for them, the socially minded, politically engaged, and at times economically challenged theatregoer.
What's next for the show after Edinburgh?
Post-Mortem is the result of a nine-year journey of thinking, writing, stopping, thinking, and writing again. I wrote the first draft of this play in 2010, when it had a completely different title and set of characters. For the moment I am just very happy to be presenting this iteration of the play. I would love to find a home for it elsewhere and I would also love to tour this work. It is the first play I have written which feels tour-friendly and small. I don't feel like the journey or my relationship with this play is over just yet. I just can't definitively speak about what comes next.
Post-Mortem is at Edinburgh Festival Fringe from 5th - 26th August (not 19th). Tickets and more information: https://tickets.edfringe.com/whats-on/post-mortem
Photo credit: Ali Wright
Sponsored content