Curve Presents The World Premiere Of MEMOIRS OF AN ASIAN FOOTBALL CASUAL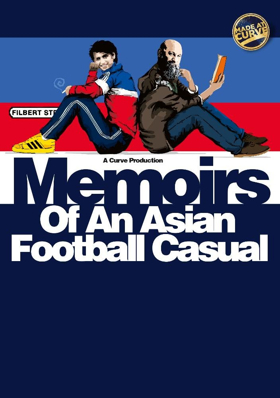 Curve is proud to announce the world-première Made at Curve production of Memoirs of an Asian Football Casual, coming to Leicester from 26th September - 6th October 2018. The production is adapted for the stage by Curve Associate Artist, Dougal Irvine from the 2012 book by Riaz Khan. The immersive experience will be directed by Curve's Artistic Director, Nikolai Foster. Press night is on Wednesday 3rd October at 7pm.
Memoirs of an Asian Football Casual tells Riaz Khan's colourful account of growing up as the son of strict Pakistani parents in the multi-cultural city of Leicester. Riaz finds refuge from the pressures at home to stay true to his cultural roots, when he becomes involved in the football 'casual' culture, and joins Leicester's infamous 'firm' of football hooligans, the 'Baby Squad'.
Decked out in the latest designer gear and ready for a brawl with the rival firm on match day, Riaz and his friends unwittingly create a multi-cultural gang advocating racial tolerance, where the only labels that matter are on the clothes. But as the years go by and the casualties of football firms around the country mount up, Riaz soon discovers the true price of belonging to a subculture of violence.
Set in the 1980s, Memoirs of an Asian Football Casual explores the development of the hybrid youth culture of the time, which developed within a shocking culture of violence.
Curve's Chief Executive Chris Stafford and Artistic Director, Nikolai Foster said: "In our tenth birthday year, we're delighted to be producing this incredible new play by Curve Associate Artist Dougal Irvine, which places our city and heritage centre stage.
"Leicester is renowned for its wonderful multi-culturalism and of course, its record-breaking football team. Riaz's story offers a spirited and unique insight into a niche slice of Leicester life in the 1980s.
"Ultimately this is a coming of age story of redemption and acceptance. We're looking forward to transporting our audiences to the streets of Leicester and the terraces of the iconic Filbert Street ground in this immersive and energetic Made at Curve drama."
Now a De Montfort University Lecturer, Riaz Khan said: "It's an honour to have the team at Curve take my story and bring it to life on the stage.
"For me and the other guys involved in the casual scene in Leicester, being part of a firm was always about escapism from the pressures of family, society and teenage life - you put on the clothes and became part of something but it obviously created a lot of trouble and people did get hurt.
"This is a story about the truth of the times - the racism, the violence, the pop-culture - but also the friendships and integration that came out of it. I walked away from that life and now tell other young people to do the same because there are better paths to take. I was so excited to read Dougal's script and I can't wait to see this show come together at Curve in Leicester."
The production is supported by De Montfort University as part of the strategic partnership between the two organisations.
Tickets will go on sale to Curve Members on Fri 11 May, with general on sale following on Thu 17 May at 12 noon. Tickets can be purchased online at www.curveonline.co.uk, in person at Curve's Ticket Office or the Highcross Kiosk in Leicester, or over the phone on 0116 242 3595.