Connor Bannister and More Will Lead Revival Of Philip Osment's THIS ISLAND'S MINE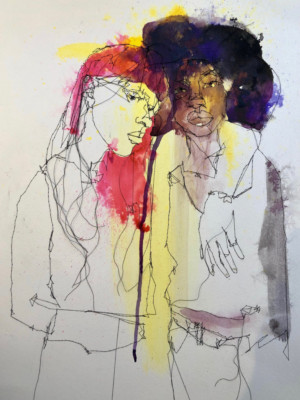 Ardent Theatre Company today announces the full cast for the first revival of Philip Osment's This Island's Mine. Philip Wilson directs Connor Bannister (Luke), Jane Bertish (Miss Rosenblum/Vladimir), Theo Fraser Steele (Martin/Stephen/Prospero), Corey Montague-Sholay (Selwyn/Dave), Tom Ross-Williams (Mark/The Director/Frank), Rachel Summers (Jody/Mme Irina/Debbie/Wayne), and Rebecca Todd (Marianne/Maggie/Miranda). This Island's Mine opens at the King's Head Theatre on 17 May, with previews from 15 May, until 8 June.
Seventeen-year-old Luke runs away to London - away from homophobic playground slurs, headlines that scream 'Don't Teach Our Children To Be Gay' and a family who wouldn't understand him - to Uncle Martin, who he once saw with his arms around another man at a march.
In the capital, Mark is sacked because of fears about colleagues working with 'someone like him'. His boyfriend, Selwyn, faces being beaten up both by the police and at home by his own stepbrother. Meanwhile, Debbie battles with her son, who doesn't want to live with her and her girlfriend. And retired piano teacher Miss Rosenblum - who once found refuge in this country from a terror that swept away half her family in 1930s Vienna - has seen this sort of hatred and fear before.
Soon, these individual stories - of first loves and old flames, alliances and abandonment, missed opportunities and new chances - intertwine to paint a vivid picture of Eighties Britain.
This Island's Mine was originally performed by Gay Sweatshop in 1988. Now, three decades after the introduction of Section 28 banning positive representations of homosexuality, Philip Osment's passionate and lyrical play, of outsiders, exiles and refugees, is all too resonant.
Philip Osment is a writer and actor. His writing credits include the trilogy The Dearly Beloved, What I Did In The Holidays and Flesh and Blood (all of which were nominated for Writers' Guild awards), Buried Alive, Little Violet And The Angel (co-winner of the Peggy Ramsey award), Wise Guys (nominated for TMA and Manchester Evening News Best Play awards), Leaving, Collateral Damage, Fathers Inside and Whole. Osment also translated Pedro The Great Pretender (Cervantes), George Dandin (Moliere), and Kebab (Carbunariu). As an actor, he has performed with leading alternative theatre companies including The Half Moon, Shared Experience and Gay Sweatshop.
Connor Bannister plays Luke. His theatre credits include Let It Be (UK tour), All or Nothing (Ambassadors Theatre) and Floyd Collins (Wilton's Music Hall).
Jane Bertish plays Miss Rosenblum/Vladimir. Her theatre credits include In the Depths Of Dead Love (The Print Rooms), Paper Dolls (Tricycle Theatre), The House of Bernada Alba (Almeida Theatre), A Round Heeled Woman, Hurts Given and Received (Riverside Studios), The Syndicate (Chichester Festival Theatre), Nicholas Nickelby (Chichester Festival Theatre /Gielgud Theatre) and A Family Affair (Arcola Theatre). For television, her credits include Black Mirror, Apple Tree Yard, Emerald City Rosemary's Baby and My Dad's the Prime Minister. Her film credits include Roman Spring of Mrs Stone, Bodywork and Dance with a Stranger.
Theo Fraser Steele plays Martin/Stephen/Prospero. His theatre credits include Doctor Faustus, The Alchemist, Don Quixote, Tamburlaine The Great (RSC), Don Quixote (Garrick Theatre), Woman in Mind (Salisbury Playhouse), Bloody Sunday: Scenes from the Saville Inquiry (Tricycle Theatre), Guantanamo - 'Honor Bound to Defend Freedom' (Tricycle Theatre/New Ambassadors Theatre), The Importance of Being Earnest (Australian tour/Savoy Theatre), and Skylight (National Theatre/Wyndham's Theatre). For television his credits include Genie in the House and Keen Eddie. His film credits include The Golden Compass, Mad About Mambo, Before You Go and Mrs Brown.
Corey Montague-Sholay plays Selwyn/Dave. His theatre credits include Henry V (Tobacco Factory), The Enchanted (Bunker Theatre), Normal (Styx Theatre), The Hotel Cerise (Theatre Royal Stratford East), Little Revolution, ICU (Almeida Theatre) and Carpe Diem (National Theatre).
Tom Ross-Williams plays Mark/The Director/Frank. Their theatre credits include Jubilee (Royal Exchange Theatre/Lyric Hammersmith), We Know Not What We May Be (Barbican), Arming The World (Ice & Fire UK tour), Three Sisters (Southwark Playhouse), On Negril Beach (Bush Theatre), The Forest and the Field (Ovalhouse Theatre), Vieux Carré (King's Head Theatre/Charing Cross Theatre), and Dunsinane (RSC). For film, their credits include Forgotten Man.
Rachel Summers plays Jody/Mme Irina/Debbie/Wayne. Her theatre credits include Dare To Do - The Bear Maxim (The Space), Til We Meet in England (Safehouse), Conundrum (Arcola Theatre), Don Quixote in Algiers (White Bear Theatre), Top of the Shop (Streatham Hill Theatre) and Ex-Periences (Lost Theatre).
Rebecca Todd plays Marianne/Maggie/Miranda. Her theatre credits include Nine Night (National Theatre), Romeo & Juliet (Orange Tree Theatre), Seeing the Lights, Old Times, Rookery Nook (Theatre by the Lake) and Purge (Arcola Theatre). For film, her credits include Simana and 7 Lives.
Philip Wilson directs and designs. He spent four years as the Artistic Director of Salisbury Playhouse (2007-2011). During his tenure his directing credits include The Game of Love and Chance, The Constant Wife, The Picture, Private Lives, Arsenic and Old Lace and The Winslow Boy. He is the recipient of the 1995 Regional Theatre Young Director Scheme bursary and the inaugural 2015 David Fraser/Andrea Wonfor Directing for Television bursary. His other directing credits include Perfect Nonsense, After The Dance (Theatre By The Lake), A Fox on the Fairway (Queen's Theatre Hornchurch), Grimm Tales (Shoreditch Town Hall, Oxo Bargehouse, Unicorn Theatre), The Star, The Norman Conquests, Noises Off, Dr Faustus, The Astonished Heart/ Still Life (Liverpool Playhouse), As You Like It (Storyhouse Chester), Beacons (Park Theatre).