Review: WHAT GIRLS ARE MADE OF, Soho Theatre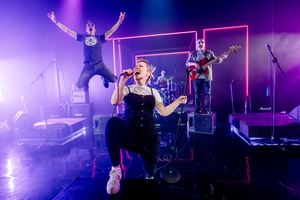 Following its most recent run at the Edinburgh Fringe Festival, Cora Bissett's autobiographical musical What Girls Are Made Of has transferred to London. It's a cool and bold piece with a unique style, so feels at home at the Soho Theatre.
The show charts Bissett's experience as the lead singer of 1990s indie band Darlingheart; there are highs and lows, misplaced trust and big lessons learnt. It's a reminder of how brutal the music industry can be, but more interestingly, the piece delves into how Bissett became the woman she is today.
Most people can relate to how easy it is to become caught up in a whirlwind of dreams, but the consequences here are extreme. We first meet Bissett as a teenager trying to escape her small working-class town; from the get-go, the piece is filled with heart, and you can't help but get swept along by Bissett's tale.
Whilst this is very much her show, it isn't a solo piece. She is joined onstage by three actor-musicians - Emma Smith, Harry Ward and Simon Donaldson - who multi-role throughout, taking on a huge variety of characters. The concept is successful, both musically and stylistically. Ward and Donaldson bring a lot of humour to proceedings and keep the dynamics fresh throughout.
As the show progresses, it digs deeper and we witness events and decisions which have ultimately shaped Bissett as an individual. Her performance is perfectly pitched; she never goes over the top, yet is detailed and emotive. She opens herself up and allows the audience to connect with her personal story.
Orla O'Loughlin's production is slick, effortlessly capturing the atmosphere of a gig - which is impressive, particularly in such an intimate space. Another major strength of the production is that the musical numbers are well balanced and add to the narrative when necessary.
What Girls Are Made Of is real, raw and relatable. Cora Bissett is a major talent and deserves huge praise for leading the show with such ease. There are also some important messages to take away from Bissett's experience, and I'm so thrilled she chose to tell this story on stage in this way - it is a pleasure to spend an evening in her fine company.
What Girls Are Made Of runs at the Soho Theatre until 28 September.
Photo Credit: Mihaela Bodlovic