BWW Review: THE PRIME OF MISS JEAN BRODIE, Donmar Warehouse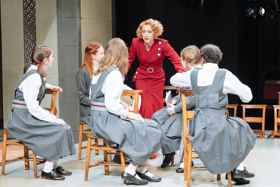 The bells, the bells! They're ringing out at the Donmar - ushering girls into class, and nuns into cloister. It's one of the creative ways in which director Polly Findlay reframes this beloved classic, although a new adaptation from David Harrower also rings the changes.
We still have the familiar setting from Muriel Spark's 1961 novel: the Marcia Blaine School for Girls, in 1930s Edinburgh, where impressionable 10-year-olds encounter flamboyant teacher Miss Jean Brodie, self-declared in her "prime".
Conservative headmistress Miss Mackay is keen to be rid of her, but she has support from two admirers: strait-laced music teacher Mr Lowther, and dashing - but married - art master Mr Lloyd. However, it's one of her own girls who will come to "betray" her.
Spark's novel was first adapted into a play in 1966 by Jay Presson Allen, and went on to become an Oscar vehicle for Maggie Smith on film. Harrower's version follows Allen's in some respects - such as combining several of the girls in the vaunted Brodie set - but diverges sharply in others.
A new sub-plot emerges, following the fractured friendship between painfully needy Joyce Emily and the more assured Sandy - the latter abandoning her pal when she becomes one of Miss Brodie's "crème de la crème". It leads to a richer emotional pay-off later in the story, and also feels depressingly true to schoolgirl dynamics.
Less successful is the continual intrusion of a future timeline, in which a journalist is sent to visit the grown-up Sandy - now on the path to becoming a nun, but also the author of a psychology bestseller.
Much more of a novelistic device, it feels clunky here, mainly dragging subtext into text; we don't need the journalist to parallel the school and the convent. It might have been used to reinforce other ideas, like the slippery nature of truth and history, but instead plays as straight framing - there's little indication of subjectivity.
The production is far more enjoyable focussed on the school itself. Lia Williams' Brodie - though less overtly commanding than previous incarnations - is calculated artifice incarnate: dressed head to toe in scarlet, a towering strawberry-blonde wig, a veneer of coyness, and a sensual purr that draws the listener close. It's almost camp, and gloriously so.
Her putdowns are coolly devastating ("Is there a hyphen used?" she enquires of the hapless Joyce Emily; "You're not suited to humour, Mary"). But her seduction is expert - whether awing a rapt class with romantic tales, or alternately challenging and flattering the shrewd Sandy to win her devotion.
We can see, too, a small-scale version of her hero, the fascist Mussolini: the creation of isolated, cult-like followers; demand of total blind loyalty; rhetorical tricks, such as call and response; unwavering, ill-informed absolutism; and jittery paranoia that enemies are out to get her. She's dismissive of religion, such as Miss Mackay's Calvinism, but assumes a divine status herself.
It's tempting to believe her, but this production is unsparing in its portrait of her flaws - and the (now even more queasy) ways in which she places her girls in harm's way, whether as a surrogate object of seduction by an older man, or into a war zone. It's also cruel to raise their hopes sky-high, simply to satisfy her own narcissism.
Williams plays all of these aspects superbly, flickering between rebel leader, mother, lover, Svengali and fantasist. Her great claim - "Give me a girl at an impressionable age and she is mine for life" - feels dangerously double-edged.
Rona Morison is outstanding as the increasingly savvy Sandy, whose passion for writing begins early, but also leaves her on the outside. Again, the journalist interludes grate given this rich performance; Morison can ably convey Sandy's disillusionment and turmoil without intervention.
Nicola Coughlan is heartbreaking as the neurotic, beleaguered Joyce Emily, so desperate to belong, and the Brodie bunch is well rounded out by Grace Saif, Helena Wilson and Emma Hindle - finding the mix of precocity and innocence that leads them to speak in hushed tones of "committing" sexual intercourse.
As Mr Lowther, Angus Wright provides a wonderful portrait of well-meaning but bemused chivalry, and Harrower also allows Miss Mackay to develop as a reasonable opposite to Jean Brodie, rather than a mere obstacle; Sylvestra Le Touzel, in owlish glasses, is imperiously no-nonsense. However, Edward MacLiam rather overcooks the tempestuous Mr Lloyd.
Lizzie Clachan's spare set is effective, with a mausoleum-like wall that both evokes the claustrophobia of institutions and foreshadows inescapable doom. Rings on the wall, casting shadows, also look like watching eyes, nodding to Brodie's fear of enemy spies.
Throughout, Findlay's production thoughtfully interrogates extremes (selfish individualism versus subsuming "team spirit"). It also asks what liberation really looks like for women in this time, and whether we can ever escape the grip of our formative experiences.
The Prime of Miss Jean Brodie at Donmar Warehouse until 28 July
Photo credit: Manuel Harlan
Related Articles View More UK / West End

Stories

Shows